Why not try sake?
Pour it into a glass, draw slowly close to your nose, then smell and taste it.
An elegant fragrance and a refined flavor with a pleasant texture will never disappoint you. It must be a wonderful experience that even high-quality wine can't give.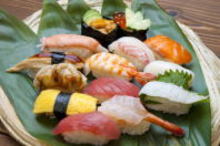 Good water
It rains and snows a lot in Niigata. The rain and snow waters
that fall in the mountains are filtered under the ground,
becoming into a clean subsoil water with less minerals, ideal
for creating characteristic Niigata sake that is delicate, clean,
and light.