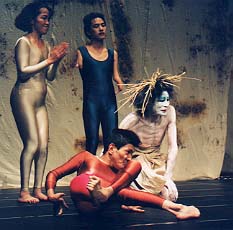 Message from Kazuo Ohno
The Human Being is an Element of the Universe
It is said that the humen being includes a micro cosmos. This small human body incorporates all of the universal elements. Also it is said that the human being includes all of the universal functions. Each element in the body plays its own role and mutually and organically collaborates to support a harmonious life as an individual.
Also I believe that the mother's body is a reflection of the universe and that the visible world is only a very small part of an invisible world.
Among billions of sperm, only a single sperm connects with a single egg and then life is created. I believe that the unconnected sperms somehow become the life memory or universal memory. This memory is printed on the chromosome and produces an emotion to cherish its own life as well as the lives of others.
My idea is that people have a spirit shared with universal consciousness, therefore I heartily hope that the universe will help TAIHEN.


Kazuo Ohno