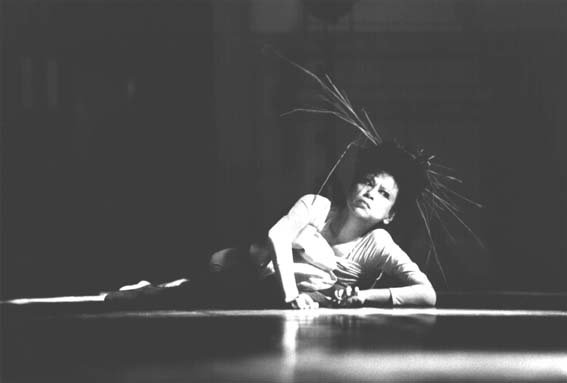 Howl under the moon (Yokohama, 2005) photo by Yoshida, Lieuichi
Manri Kim
Artistic Direcor of TAIHEN
Manri Kim was born in Osaka in1953, the youngest daughter of Honju Kim, an excellent Korean traditional performing artist. At the age of 3, Manri contracted polio, which left her severely disabled.
In 1975, she started the independent living with a 24 hour attendance, which was the first case in Japan. She devoted herself in anti-Eugenic ideology activity for 10 years.
In 1983, Performance Troupe TAIHEN was established, based on her idea that "When a disabled body itself turns to expression, the never-seen beauty can be created." She is an artistic director and a performer as well as the founder of the troupe. All productions has been wrote and directed by her on 1-2 pieces basis since the first show.
Besides creating TAIHEN production, Kim also holds physical expression workshops in Japan and overseas, such as Edinburgh, Berlin, Stuttgart and Kuala Lumpur. With these workshops, she radically proposed the rich diversity of the human beings.
---
Kim's regular workshop at TAIHEN studio is held for 3 days a week for both of the disabled and the non-disabled participants.
Manri Kim physical art studio
Time:

Monday 15:00-17:00

Tuesday 18:30-20:30

Thursday 18:30-20:30

Place:

TAIHEN studio (Metamor Hall)

1-15-15, NishiAwaji, HigashiYodogawaku, Osaka, JAPAN

Fee:

¥2000 per lesson or ¥9000 per month
Further information & reservation:
email:

tel:

06-6320-0344