Seattle & New York, Seattle version in 2002
from 5th to 8th July 2002
Seattle

Settle part written in English is Here

New York part written in Japanese is Here

New York part written in English is Here



We came to Seattle, again.


5th July
We arrived at Seattle on the 5th July.

First day, we watched a baseball night game, Mariners vs. Twins, after checking in the Hotel we were staying.
We booked the ticket at the TicketMaster.com. We hadn't confirmed the booking ticket on the web site, but we got the ticket easily at the Will Call in front of the ballpark gate.
I felt the web system is great and very convenient.


In the game, we knew that Ichiro was off, boo. We were very unlucky.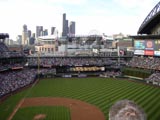 Moreover, we couldn't see Sasaki because the Mariners was lost at that time.
But we could see Shigeki Hasegawa, who is called Shiggy, at the ninth inning.

After the game, I was accidentally put a lot of cheese source on my Jeans from one old lady's dish around the gate. I was more unlucky.
We had to wash the Jeans at the first night in the Hotel.

6th July
We had slept deeply till the noon.
We remained hard jet rag.
Then we enjoyed the cruse of Lake Washington on the afternoon.
In 2001, we rode the cruse of the sea, so this year we did the Lake.

We could look at the floating house.
Lake Washington might be usually calm and safety.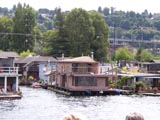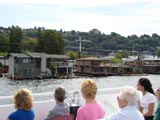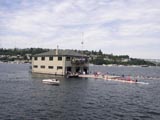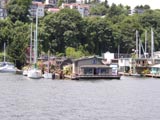 This picture is a bridge which is over the canal between Lake Union and Lake Washington.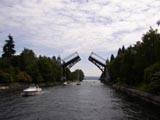 And this bridge is the floating bridge on the Lake Washington.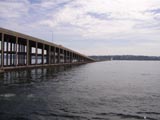 Then, our ship went to the opposite side of Lake Washington where are built a large mansion.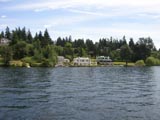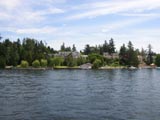 There is Bill Gates' house along the lake.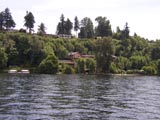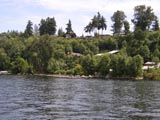 Then we were invited BBQ home party.
At the BBQ we enjoyed eating BBQ and Japanese Sake which are brought from Japan.
After the dinner, we enjoyed fireworks in the night.

7th July
We went hiking in the National Park of Mt.Rainer.
In the last winter, there were snowed much more than usual.
So all places are around the snow.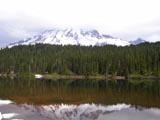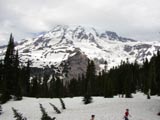 We could look at the wild deer twice.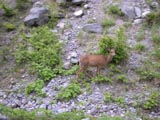 After hiking, we enjoyed the restaurant in a good sports bar.
I tried to eat Huskey Burger which has one pound burger.
I won, but I ate too much...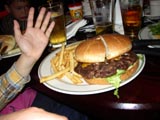 8th July
We went to New York via Detroit on the early air plane.
This picture is the summit of Mt.Rainer which we could see from the air plane.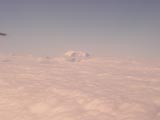 (c) Copyright 1999 Yas xxxxxxxx
本人宛てのメール yas@kanagawa.email.ne.jp