What is AZ-1?
It is a small car (A-car) which MAZDA soled. It is equipped with rear-mid-ship and 660cc DOHC-intercooler-turbo engine. Outer panels are all plastic to make a lighter vehicle. The ratio of front and rear weight is 44:56. 400mm of low center of gravity makes sharp handling of LOCK-TO-LOCK=2.2 and these make it possible to drive the way you want. Man-Machine-Response\this is the proposition of AZ-1.
Showy style including Gullwing. Structure sacrificed all comfort for speed. Because of that peculiarity, we could produce only 4000 cars. AZ-1 is certainly the smallest super car in the world.
We'll tell you the characteristics of AZ-1 briefly.
---
" You can extinguish a cigarette on the ground". . . . By AZ-1, it can be done normally. The height is the lowest of all Japanese cars.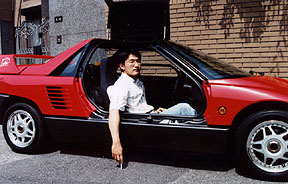 Because of this low height, the sight differs from common cars.
The left figure is the sight from the common car looking the car in front of it and the right is from the AZ-1. If you see the car in front of you from the AZ-1, you can see the license plate in front. If you stand behind your car, you will see how low AZ-1 is.
Because the outer panel ( Body ) is made by plastic to make the light car, chassis itself is made very strongly to keep strength. And its standard is beyond small car and it can run without the outer panel shown in the picture.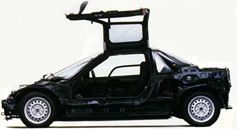 AZ-1 has a capacity of 2 passengers. As you can see in figure,this car is a minimum size passengers can ride. This smallness causes the sense of unification with the car and produce the running the way you want.

Power train
Engine

660cc DOHC 12 valve engine

Turbo charger with intercooler

Max power

64ps/6500rpm (net)

Max torque

8.7kg-m/4000rpm
Dimensions
| | |
| --- | --- |
| Overall length | 3295mm |
| Overall width | 1395mm |
| Overall height | 1150mm |
| Wheel base | 2235mm |
| Tred(front/rear) | 1200mm/1195mm |
| Weight | 720kg |
AZ-1 is a super machine made in the standard of a small car.
---