Characteristics of AZ-1
AZ-1 has many Characteristics of itself represented by interior and exterior. Let's invest its striking part, running, interior, exterior, in order.


Running
Anyway handling is so quick. Lock-To-Lock=2.2, that is, we can control from right limit to left limit with turning the wheel only two times while ordinary car is Lock-To-Lock=3. How many traffic accidents have been avoided thanks to this quickness.
Power is equipped a little or so. Even though engine displacement is little, power wait reciois as much as the car in 1500cc class thanks to its light body, so it can accelerate even on uphill rapidly. General car seemed to feel displeased with being outrun by small light vehicle and so they usually chase us with block smoke, especially foreign cars. It's interesting to see black smoke become small through room mirror and run with some help of the sharp huddling.

Exterior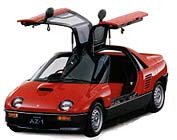 For all, Gullwing. Thanks of this, the car which is so small to be unattractive occupies the attention at a stretch. Gull wing gives not only nice figure but also promote the body strength by equipping high side shill.
Slit on back of right door (driver seat side) is for cooling inter-cooler. That of left door is for engine room.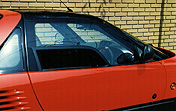 AZ-1 is full glass cannopy, glassed to roof but windows can only this. Opening window is operated by hand. The room is so tight that driver can not turn well the huddle for opening the window unless using left hand.
Interior
Inter-panel with type-D steering made by MAZDA and meter panel by CRUX. In the room there is no space so control panel for air conditioner attaches lightways.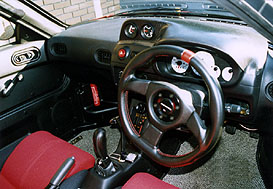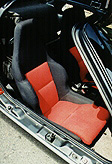 Bucket seat is equipped commonly which keeps stability to accelerating degree 0.8G. Needless to say that's not the reclining seat, in particular the assistant seat dose not only slide. The seat so tight as this doesn't exist among mass-producted car except special type. Some worries about comfort but it's not so bad as the body fits in the seat completely.
At our surprise spare tire sets in the room.(inside the bag signed AZ-1.) There is the space for it in front hood but we didn't set that space here for never to push the wheel at collision. This space can be used as room for some load but you have to pay attention as it may be dusty and muddy soon.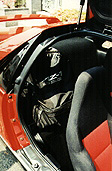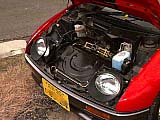 ---