Windows coding
---
With Windos95 Japanese version, multilingual function covers Windows Cyrillic code input.

To implement this function, it is necessary to load
Cyrillic function and
Cyrillic keyboard support
which comes as a part of the system software but provided in CD-ROM or FD and to be loaded as required. Explanation on how to implement the Cyrillic function is explained here.

When the computer is already configured with this function, it is quite simple to input Cyrillic Windows code into the Word.

The computer configured with Cyrillic Windows function has a menu as shown in the figure below on the right bottom of the screen.

Load the "Word" and input russian character as required. The keyboard layout is that of the standard computer layout.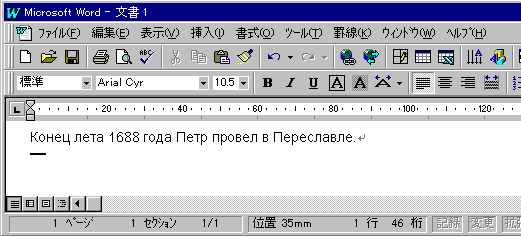 Here you may input Japanese character for your personal local print and storage purpose.
However you can not put Cyrillic Windows code font and Japenese characters in a same fine on WWW home page.
If your computer has not yet configured for Cyrillic Windows usage, following is a breif instruction of how to configure it.
---
How to implement Cyrillic capability into Japanese Windows95.
CD-ROM or FD which contains Windows95 is to be placed on the CD-ROM drive or FDD to inmplement this function.
To view and to write Cyriilic data, two items should be added.
Cyrillic language support and
Keyboard
This addition is not required when you use your computer only to browse WWW.
To implement Cyrillic languge support
Follow the steps below.
Select "control panel" in the My computer.
Select "addition and deletion of applications".
Select "Windows files". and then,
Select "multilingual support".


Then Select "Cyrillic language support".

---
In case of Macintosh
---
With Macintosh to view files of Windows code is quite simple.
Buy the Cyrillic Language Kit or
Get ER Windows font for Macintosh
For more details see, Macintosh code
---
[Top of this page] [Top page (Russian Zenkaku code)] [KOI8 code] [Macintosh code ]