Introduction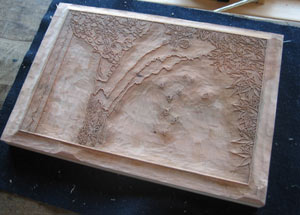 This newsletter is a little bit later than the autumn issue usually is; the stories - a book, actually - that accompany the prints in the new My Solitudes series take up such a huge amount of time for Sadako and myself, that it's difficult to make time for 'extras' like this newsletter.
Do you remember that I told you last time about friend Doi-san's exhibition? It turned out very well, and we'll have a short report on it here.
Most of the rest of the issue is taken up by a discussion of how my work has changed now that I am designing my own prints instead of making reproductions. We'll wrap things up with Sadako's Corner, but don't miss the page that introduces this year's special Gift Print!