Introduction
Here in Ome I'm crazy busy this month - the exhibition is drawing closer day by day, and it's going to be 'touch and go' whether or not I will be able to get the next print finished in time to display it there. Why is it taking so long? The main story in this issue will give you a pretty good idea!
We'll also have a bit of an update on my A Story a Week project, and of course, another column in the Sadako's Corner series.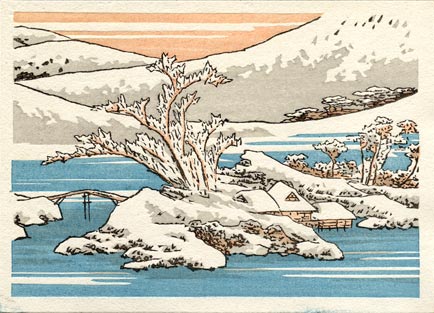 How do you like this year's New Year print? As you can see, it's not something original, but is taken from an illustrated book produced by Katsushika Hokusai.
It's a type of landscape he was very good at, and I'm sure he could draw these things as fast as his brush could move.
Having spent most of the past year working on prints of my own design, it was a very pleasant experience for me to carve this reproduction. There were no worries at all about 'is this any good?' ... just peaceful time spent carving and printing.