I'm a Millionaire! ... not!
Just as this newsletter is being prepared, the first print in my new series - Beauties of Four Seasons - is being sent out to the subscribers who are waiting for it. As part of the planning for this new project, it was necessary for me to go back through my records and inspect some of the cost and revenue figures for the previous two series', in order to make an accurate budget. This sort of analysis had been next-to-impossible for me to do before, but with the new bookkeeping system that I built last year, it is now quite easy. I was able to obtain the numbers that I needed without too much trouble, but I also came across some other numbers that I found not only interesting, but quite shocking.
The Hyakunin Isshu series started back in early 1989, with the first print being delivered to our friends Cho-san the baker and his wife. I am still sending out prints from that series, more than 15 years later, but had never had any opportunity to add them all up before. It turns out that over that period, I have shipped out to collectors a total of 1,110 sets of 10 prints each, for a grand total of 11,100 prints. As they have all gone out at exactly the same price - 10,000 yen each - that means that my gross earning from those prints has been 111,000,000 yen. When I first saw this figure I assumed that I had put too many zeros on the end, so did the calculation again. It was correct.
I then did a similar tally for the Surimono Albums, and found the figures there to be 539 sets of 10 prints, making a total of 5,390 prints at 6,000 yen each for an income of 32,340,000 yen.
Add them together ... and it seems that over the fifteen year period I sent out 16,490 prints, and earned 143,340,000 yen. In US$, at current exchange rates, that's around $1,300,000 ... Good grief, I'm a millionaire!
As everybody knows though, there is a very important difference between the 'Gross Income' and 'Net Income' figures on a business statement, and of course I had to spend a lot of money running my business during those 15 years. But how much do I actually earn? Is traditional printmaking a lucrative career, or am I barely surviving? I know that the motives for collecting my work vary widely among the collectors; some of you may be wanting to help support me because you feel I really need your help; some of you may be collecting my work because you feel I am 'famous and successful'; and some of you may not be thinking of any such things at all, but just like the prints! Once you see the 'numbers' perhaps you will all be satisfied!
Together with this story are three tables/graphs. The first one shows the 'big picture' - the overall income/expenses in yen for the fifteen-year period (to get a rough approximation of $, just knock off two zeros from the end of each figure).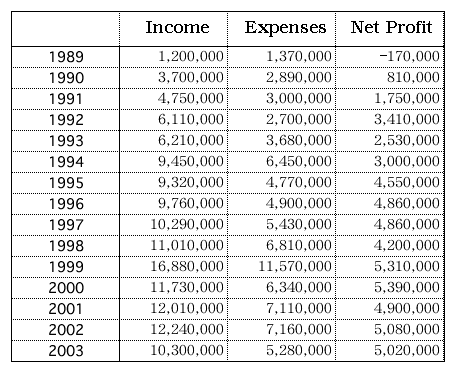 It seems that my income these days after the major business expenses are deducted can be pretty accurately gauged at just around 5 million yen per year. But that too is actually a 'gross' figure, because then the taxes and personal deductions start, resulting in a 'bottom line' figure that represents the discretionary income left to me after all the mandatory expenses are taken care of.
Divide that bottom-line figure by 12, and we arrive at a figure of around 140,000 yen as my monthly income. From this I pay for food, clothing (not much of that!), books/newspapers, and vacations.
The three bars in each year of this 15-year history graph represent the same three figures: Gross Income, Business Expenses, and Net Income. It's fascinating for me to see vividly illustrated in this graph so many of the major events that took place!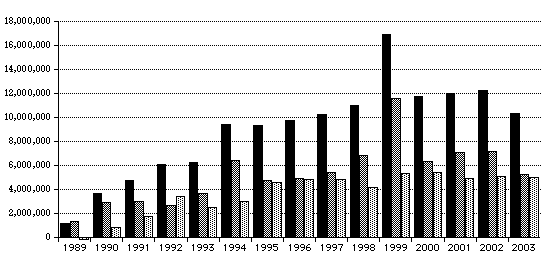 the first two years show almost no income at all. At that time I was also teaching English, and that is what was keeping rice on the table.
in 1991 I closed the English school, and for the next three years, things were extremely tight indeed.
there is a large jump in income for 1994; this reflects the success of the 'half-way' exhibition of the Hyakunin Isshu series. Since that time, I have never been in danger of not having food on the table ...
the giant spike for 1999 of course followed the 'final' exhibition of the Hyakunin Isshu series, with its massive publicity avalanche.
the 'slump' for 2003 reflects my recent inability to maintain the pace of 10 prints per year. Over the previous couple of years, doing the Surimono Albums - with their very intricate and time-consuming work - and doing many reprints of the Hyakunin Isshu series, turned out to be overload.
from 1995 right through to the present, through spike and slump, my income (after business expenses) has been in the same 4~5 million yen band.
In the Halifax to Hamura story a few pages back, I described how I finally made the decision to 'go for it' and move to Japan to try and improve my printmaking skills. If I had had access to figures like these before I came, what would my reaction have been? Part of it would have been scary - I would have seen that life could be very difficult at times - but overall, I think it would have been encouraging. Because the important question (to which I had absolutely no inkling of an answer at that time) - "Would it really be possible to find an audience for this kind of work, to the extent that people would actually be willing to purchase prints?" - has been answered with a most resounding "Yes!" It has been answered 16,490 times ... and counting.
So please read into these figures whatever feeling you wish to see in them. Yes, looking at the top numbers, I would have to say I'm pretty successful, but looking down at the 'bottom', things are a whole lot leaner! This year will be a mixed one; because of the 'change of pace' with the new series, which has yet to prove its worth, the number of collectors has shrunk considerably, and I am only being kept afloat by the back issues of Hyakunin Isshu and Surimono Album that people are also collecting.
Am I rich? No, I don't think anybody would say that. Am I doing OK? Sure! Here I am, sitting in my 'own' home with my belly full, and when we speak of 'making a living' at some activity, that's the basic measuring stick!
As for next year? Who knows which way it will go ... maybe up, maybe down; I'm certainly not going to lose any sleep over it. If I were that type of person, I wouldn't be here doing this, would I!