Sorcerer Playing Manual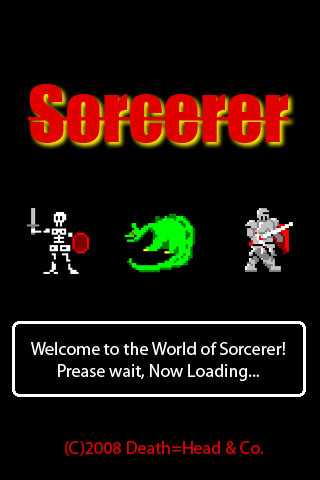 Table of contents
#2 Tutorial(Transfer data from #1 to #2)
#2 Story
---
Tutorial(See First)
Welcome to the World of Sorcerer
A Few Sorcerer Features
Training Grounds
- Character Class Defined
- CHARCTER STATISTICS
- HOW TO CREATE A CHARACTER
The Castle
- OLD GEESE' TAVERN
- ADVENTURER'S INN
- THE TEMPLE OF SHINY GOD
- MURPHY'S TRADING POST
- THE EDGE OF TOWN
Adventuring
- CAMP
- WHAT IS DISPLAYED
- MOTION COMMANDS
Combat
- COMBAT OPTIONS
- OPENING TREASURE CHESTS
Tips for Beginners
Magic
- PRIEST SPELLS
- WIZARD SPELLS
Welcome to the World of Sorcerer

Sorcerer is unlike any other game you have played on your iPhone. We have been able to create the most challenging fantasy war game available for any iPhone and iPod Touch.
Very briefly, Sorcerer lets you create and control a number of adventurers, who go off on expeditions in search of loot and glory. The more successful a charactre or group is, the more powerful they become.Each character is specialized. Some are good fighters, some can cast magical spells of many types, and some are good at defeating the many traps that guard the goodies. As a character becomes more powerful, he may gain some general abilities, but in all cases, cooperation is the key to success. From one to six players can adventure at a time, with each one controlling one or more characters. Over the course of many, many adventures, the characters may be able to fully map out the maze and wrest from it the arcane items that are carefully guarded in the more inaccessible depth. However, this can take quite a lot of playing. Fortunately, additional SCENARIOS with greater perils and rewards are available, and your characters can move onward and upward. In these scenarios, you may explore caverns, crumbling ruins, or even chart out the unmapped and unknown mysteries of the huge world of Sorcerer.

A Few Sorcerer Features

MULTI-PLAYER:Sorcerer allows up to six character to adventure at a line,and more than 20 can be stored.
COMPLETE CASTLE:All adventureres start and end in the castle.Features provided include Tavern,Hotel,Temple and Trading Post.
SPECIALIZED CHARACTERS:All Sorcerer characters are unique individuals.They can be of five races and eight classes,have differing abilities,cast spells,fight,etc.
MORE THAN 50 SPELLS:Spells are used to involke supernatural aid.There are more than 50 that can be cast,and they vary in power and effects.Certain characters can learn certain spells and certain magic items can also cast spells.
HOUNDREDS OF MONSTERS:Monsters travel in groups like characters do,and in many cases have similat abilities,like spell casting.Monsters also guard treasures,and may be found with other compatible monsters.For example,a lair might contain a frost dragon,4 Evill Bishops and 9 bushwackers.
3D MAZE:The maze is displayed in 3D perspective just as you would see it if you actually were in a maze looking in a particular direction.Many tricks and traps are to be found in the maze,such as Stairs,Pits,Chutes,Dark areas,Rotating Rooms,Elevators,Teleporters,and even areas where Magic does not work.
SPECIAL GOODIES:In certain places in the maze unusual events and objects,unique in themselves may be found.The adaptable nature of the database allows us to program "SPECIALS" which may only happen once! What they are,we arn't saying.

This manual is designed to teach you how to play Sorcerer.Only rarely,however,will we reveal information about the internal workings of the Sorcerer game system.This is in direct contrast to other game systems where all the rules are visible.Part of the fun of Sorcerer is expenmentiing to find out the best methods for handling various situations.
The best way to learn how to play Sorcerer is to go through the manual in order and actually try out the options described.With this idea in midn,get out your Sorcerer diskette and we will start the game.

---