Front page

Japanese
A Japanese version
of my home page.
Masters thesis
On the Japanese
Self Defense Forces
Gun control
Gun violence in
America, and what
can be done
Picture gallery
South Africa,
Mount Fuji,
and others
Writings
East Asian politics,
travelogues, and
humor
Jason's Adventures in Wonderland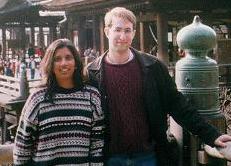 This is Sailaja and me at Kiyomizudera temple in Kyoto. I recently put a lot more in the picture gallery, so feel free to visit.

NOTE: This website is about seven years out of date. This line is just about the only change I've made in it since the summer of 1998. So this is a nice freeze-frame of my life from then. I really don't care enough to update it.

I was born in Colorado Springs, Colorado (80909). Then I got sick and tired of natural beauty, so I moved to New Jersey, where I attended Fort Lee High School. I went to Rutgers College (of Rutgers University, of course), and graduated, after much coffee, with degrees in English and East Asian Studies. While there, I blew off studying by spending my time doing parliamentary debate, and writing for The Rutgers Review and The Daily Targum. After college, I ignored the call of the real world, and went straight to Harvard University, graduating soon thereafter with a master's degree in the Regional Studies--East Asia program. From there, I rushed to Tokyo, Japan, where I worked for two years for an amazingly great Internet Service Provider called ASAHI Net. My job, alas, was top secret. I could tell you, but then I'd have to eat some pizza. The rest of my resume is chock full of fun. No, really.

Now I'm a student at Duke Law School. I just started, so I have little to say about that right now.

Sailaja is my love of five years (and counting). Formerly a journalist at The Home News and Tribune, she now lives here in Japan with me. Her current job is really cool -- she works for Urban Connections, a media information services company in Tokyo. Recently, she has written the English version of speeches for Prime Minister Hashimoto, Emperor Akihito, and a host of other Japanese government officials.

I have a sister, Ilana, who just graduated from Millersville University. She now works for United Cerebral Palsy in Pennsylvania. She's cool.
---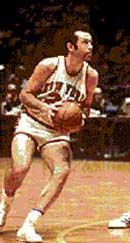 Interests
I am a policy geek, and I am currently writing a biweekly column on East Asian Politics for an on-line magazine called Suite101. (Go read it! You need a membership, but it's free, so it's cool.) If you want, you can read my columns on this page as well.

One of my hobbies here is helping to spread debate in Japan, both as a tool for learning English as a foreign langauge, and just because I like to argue with people.

I'm very fond of playing and watching basketball, and I really miss watching the Knicks on television. By the way, the guy in the photo is none other than "Dollar" Bill Bradley, a great guy, other than the fact that he went to Princeton.

A great love of mine is music, especially playing jazz piano and bass. (Click here for a picture of my favorite bass player, Christian McBride.) I also recently bought a trumpet, and would love to jam with anyone who feels they can keep up with me! (If you have a pulse, you can keep up with my trumpet playing.) I'm always looking for people to jam with, so feel free to e-mail me. Now! Unfortunately, I didn't bring my bass to Japan (nor, for obvious reasons, my piano), but I have recently bought one. (An electric bass, that is. I don't have room for an upright. Nor, for obvious reasons, a piano.)

Although I have a good job, and am therefore not currently looking for employment, any offers to play bass in a heavy metal band will be seriously considered.


The following number of people were
bored enough to visit me here: