Report of "lain talk live" on 27th February in "Loft-Plus-One",Shinjuku, Japan.

A Talking live about "serial experiments lain" was occurred.
Many Lain's fan gathered a "Loft-Plus-One" to talk about lain's world. This is only one event in the real world, not on the network. Speakers are Mr.Ueda, Mr.Konaka, other creators, and Wakana Aono, who is a manager of famous fan site for lain in Japan, as a representative fan.

---
Opening
I arrived at live house before an hour, There have already been many fans. It shows lain's popularity. At the entrance, I knew selling "scenario experiments lain" which is scenario of lain, with signature by Mr.Chiaki Konaka. Since I wanted the book with signature, I bought it one more.
We sat benches and drank beer while waiting an opening. There are many dolls which are designed by Mr.Chiaki Konaka on the center table. Those were beautiful and funny.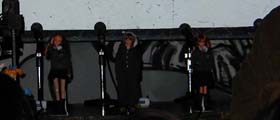 In fact, I sculptured a lain figure and brought it to present Mr.Chiaki Konaka. He displayed my figure while an event, and talked about it.
The event start were late because many fans were gathering the live house. I heard that most audience have ever been in this live house.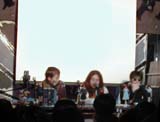 Mrs.Mizutama, Mr.Konaka(Writer), Mr.Ueda(Producer)


At the opening, Mr.Ueda, Mr.Konaka appeared with Mrs.Mizutama at the center table.
I supposed that both two key persons leaded to create lain's world. They began to talk about lain's creating process from its planning. The game planning were started earlier than TV planning at the beginning.

While live, a lot of episodes were continuously talked, for example, the relationship between game and animation, the special topics at the making and so on.
Some staffs with making lain were also continuously spoken at the table.

These were pictures of staff member, but I added mosic effects for their privacy.
| | | | | | | | | |
| --- | --- | --- | --- | --- | --- | --- | --- | --- |
| | | | | | | | | |
| Mr.Nakamura(Animation mainly Director) | Mr.Kishida(Character designer for animation) | Mr.Kakudou(Director at 9th story) | Mr.Takemoto(Sound Director) | Mr.Abe(Original Character designer original) | Mr.Okuda(Video jackets designer) | Mis.Ide(Assistant producer) | Mr.Nakahara(Game system programmer) | Mr.Aono(The famous fan site manager) |

All member were very young. I thought they tried to make new visual stories by themselves.
---
Episodes
"When Game was planned, Mr.Ueda and Mr.Konaka produced."
"When Animation was planned, Mr. Nakamura and Mr.Kishida added members."
"Mr.Ueda decided to add him to lain's members because Mr.Ueda liked Mr.Abe's picture in the his hompage."
"At the result, Mr.Abe designed original characters and art."
"In the making animation films, Mr.Nakamura and Mr.Kishida worked the traditional animation parts."
"Digital effective parts used animation, for example Computer Graphics, were produced by Mr.Ueda."
"At the beginning of making animation, Mr.Nakamura didn't trust to use digital effects. However, after the middle stories, he trusted digital techniques."

I was surprised they didn't use high performance digital editing system like Henry, Frame, and so on for making films. I've supposed to use them frequently. (Henry and Frame are very expensive non-linear editing system. Some complicated operations are necessary to use them. I know it, because I have a little experience to do. They were usually lent with operating staffs when using these system.)
But staff member were able to lend them. So, they used AffterEffect, which is the editing application on the Personalized Computer.
While using digital technologies, traditional style parts were made by member's best. For example, sounds were composed after deciding video continuity. I think it's crazy. I'm sure "lain" was born from the staff member's passionate jobs.
Some valuable video were played on the center screen between talk live. For example, a first film "WIRED" before adding digital effects were played. Since I had an interest in the process to create movie, I enjoyed them.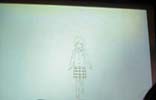 At the end, many web masters and fans from the floor spoke about "their lain". We had happy hours.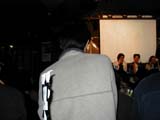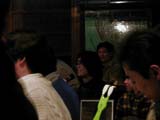 ---
Ending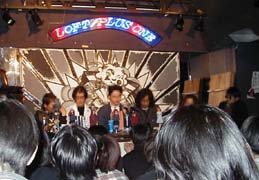 I enjoyed and excited this talk live for three hours. I hope this creating staff members will make new interesting contents. I thank for all members in this event. Thank you very much.
---
Back to "lain" page

Back to Top page in English

---
Yas's Page in Japanese
My lain page in Japanese
sculptured lain figure page in Japanese

mail to yas@kanagawa.email.ne.jp