AZ-1 after mass-production
Since the mass-production has started, it was made an effort to reduce the stocks by producing various special types of design because of the unpopularity of AZ-1. This unpopularity were caused by too expensive for small sized light cars and too small interior room. The high popularity at the motor show which led to decide the mass-production, was already lost at when AZ-1 had started to sell during the middle of collapse of economy. The target of monthly selling was 800, however it was never achieved. Because of that, it was stopped producing at after only a year from the beginning of selling(Oct., 1992).
Audio version which is called TYPE L was brought out. It is special type of design car by putting super-woofer for option in rear. There are no changes for its appearance.

| MAZDA speed version | |
| --- | --- |
| | Next one was MAZDA speed version. Changing the design of bonnet-bumper in front and putting the wing in rear. The colors were all-red and all-blue. By the way, all-black and all-silver were produced for MAZDA speed version. |
| M2 1015 | |
| --- | --- |
| | |
At the last, the special type of design car was appeared, which is called M2 1015. Actually this car was planned by M2 which is the car-atelier. Because of the reduction of stocks, Mazda were given the design of this car from M2 and produced(actually the body of stocks were replaced). Different points from Mazda speed version are fog lamp which is put on the middle of a hood, front-bumper, and wing in rear(which has different form from Mazda speed version). The colors are all-white, all-black, and silver-stoned-metallic. These three types were limited to produce only 50 from Jul., 1994. Later, these were limited to produce 50 for addition(from Oct., 1994), however it is unknown whether they were sold out or not. Also half of cars were taken the order style, so it is also unknown that how many cars have sold for each colors. And also there are "half 1015" because some parts of this car were sold individually, so it is hard to know the correct numbers. However the emblem which is written "M2 1015", is put in rear on the real M2 1015.
However the history of AZ-1 which is on the market did not end yet. After this type was out of produce in 1996 autumn, the new type of body has brought out. This had been produced by Mr. Kosaka, who is famous collector for Abarth, cooperated with Italian design team. The picture at below is specially gotten by great cooperation of Saburo Japan which sales its body originally.
Many problems were appeared, however the price of this car and others had been decided anyway. One million(yen) for only the body kit, and add one more million for fixing, repairing(but there are some problems for accuracy of the design), and coating at shop which is appointed by Saburo Japan. Of course it is an expensive. If you have confidence you can put these by yourself. However even if you do some mistakes on one panel, it is unable to order only the panel. It is always delivered of one whole car. So it is helpless when you damage the panel that will not able to repair anyway by an accident.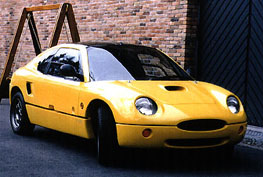 ---