Abut software
Do you want to do these things?
| | | |
| --- | --- | --- |
|   | Play the area again and again. |   |
|   | Play the area with slower tempo without changing pitches. |   |
|   | Draw separator on Wave graph. |   |
|   | Show list of notes by analyzing frequency. |   |
|   | Play original sound and copied sound at the same time. |   |
STEP1 Load music from CD or Wav file
Put a CD into PC and click [Load CD] button. If you only have a wav file, click [Load Wav] button.
After loading the file, wave graph will be displayed.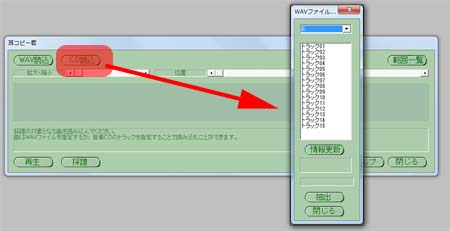 STEP2 Mark area for work
Do not start with whole tune. Select a area which contains several bars.
Mark the area with mouse and play it.
If you decided area, click [Copy Down] button.

STEP3 Determine location of separator
The harder part of copying down is picking rhythm up. Musical styles such as Rock and Jazz has many syncopation, and difficult to find a start location of the bar.
Immediately after loading the tune, separators are drawn as temporary. The fist task is that put these separators on correct position.
Even with complicated tune, you can find at least one location of start position of bar. If you see zero volume location, it is may be start position. If you find one, click the location and push [Bar Info] button. Click [Add Separator] button, then location of separator will be changed.

Return to the former dialog box and begin to set width of separator. Mark some area that is about eight note length. Wave graphs consists of lumps. Try to find a lump that length is about eighth note. If you find one, mark it with mouse. Click [Bar Info] button, and click [Base Width] button. After this operation, positions of line will be correct.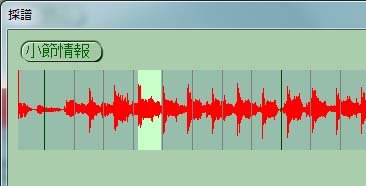 STEP3
Pick up notes from one or two bars
Let's start picking up notes. For this task, select area that is one or two bar length.
Mark the area and click [Analyze] button. With this operation, the starting position of the mark and the starting position of bar should be the same.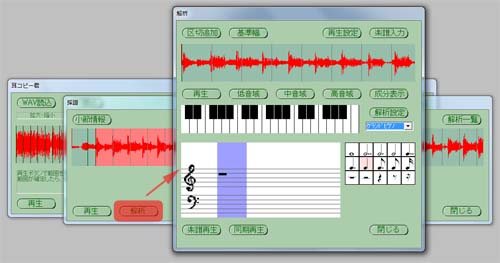 Wave graph of marked area will be appears with another window. You pick up notes one by one within this area.
Mark one note and listen to it again and again. If you find length and pitch of the note, input it staff with keyboard and length buttons.
After marking a note, click [Low] [Middle] [High] button, then it starts analyzing frequency and keyboard will be colored. Yellow keys are most possible notes.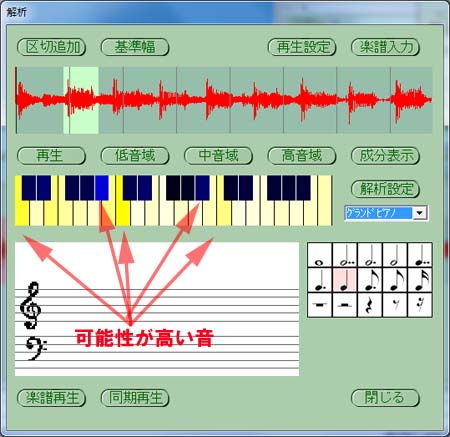 You can change play tempo of sound without changing parches. Maker it slower, then easier to pick up notes.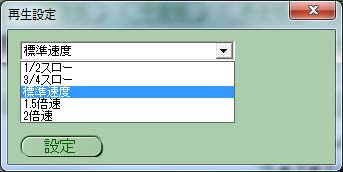 STEP4
Compare original sound and copied sound
If you click [Sync Play] button, then original sound and staff sound will be played at the same time.
Compare the sounds and find the wrong note if any.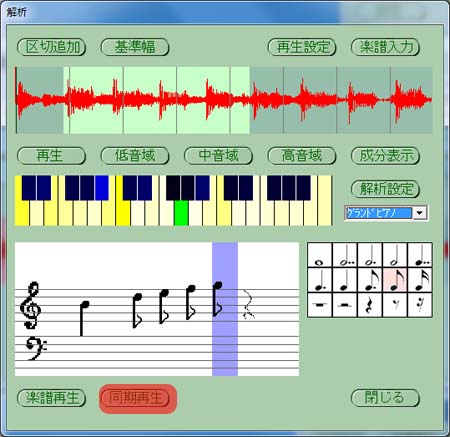 Download from here!
Freeware
 

This tool is Freeware.
This version can be used until the end of year 2010. If you want to use this tool after that, please download newer version.
Version 1.01
Last update 10/03/02
Next update 2010/12/31

Windows 95
Windows 98
Windows Me
Windows 2000
Windows XP
Windows Vista
(32Bit / 64 Bit)
Windows 7
(32Bit / 64 Bit)
?
?
?
?
O
? / ?

? / O

Before Windows2000, need to have gdiplus.dll.
 
 
Download
300k