What is Desktop music program?
Always music!
Stays in Windows and keeps playing music all the time. It changes musics reacting to PC operation. The window can be hidden in task bar. To open the window again, click an icon in task tray on right bottom of screen.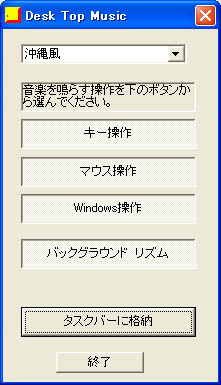 Download is here!
Warning!

This is a free software. We will not take any responsibility upon any results after downloading the program.
PC with small CPU or memory will hung up at frequent intervals. In this case, better to stop running the program. Pentium 4 or faster machines recommended.
This is a freeware!

Additional functions are coming soon.

Version 1.0
Last update 04/08/29
Next update ?