About Software
Creates Movie files for mobile device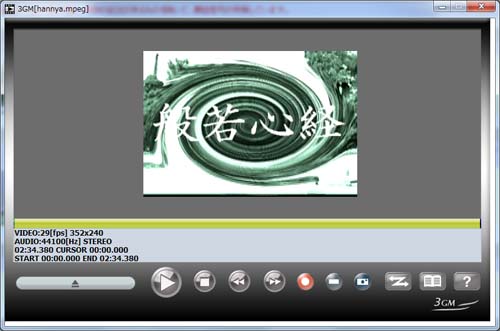 3GM takes wmv, mpeg, avi files and converts them to 3GP and 3G2 files. These movie files can be played by mobile device such as cellar phones.
Convert wmv file
3GM can convert wmv files that is created by Windows Movie Maker.
Convert mpeg1 file
File extension of "mpg" and "mpeg" can be converted to 3GP and 3G2.
avi file support
3GM can convert avi files to 3GP and 3G2 files.
Output 3GP and 3G2 files.
3GP files and 3G2 files can be played by cellar phones.
Download is here!
Shareware($15.00)
Trial use (free)
Trial use free
 

You can use 20 days or 25 conversion for trial use.
Notice
Part of help information is still Japanese.
Before sending shareware fee, make sure that you can do what you want with this software.
Version 1.27
Update 10/01/30
 

Windows 95
Windows 98
Windows Me
Windows NT
Windows 2000
Windows XP
Windows Vista
(32/64 Bit)
Windows 7
?
?
?
?
O
O
O/O
O/O

If you are using Windows 2000, install DirectX 9.0 or later version.

Double click "Config.bat" after installation. "Config.bat" is in installation folder.
Download (ZIP)

Download (MSI)
Windows Installer (Download either zip or msi)
Download (ZIP)
If you need program and data fies without installer.
 
Mu-tech has MPEG-4 AAC licence.of VIA.
Mu-tech has MPEG-4 VISUAL license of MPEGLA.