Introduction
This newsletter is nominally supposed to be about my printmaking work and related matters, but now and then something comes up that is important enough to push David off the front page. As you can see, this is one such issue!
Over the past few years my two daughters have been vying to see who can present me with the biggest news items. Elder daughter Himi has been 'winning' that contest hands down recently, what with getting married, and then producing two children in quick succession!
But Fumi hasn't been sitting still; she has been quietly working away in the background, and one day this spring, stepped forward in cap and gown to claim her reward - a degree from the school of business administration at the University of British Columbia.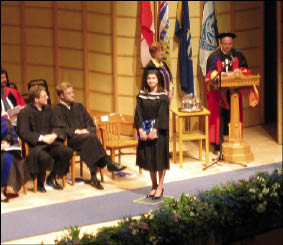 Finally, we have somebody in the family with some real business knowledge! (But I wonder if I'll be able to afford her consulting fees!)