Introduction
What a wet summer we are having this year! As I sit at my workbench, I watch the Kiyomi River flow by below my window, but the mood these days is quite different - instead of the usual gentle trickle of the stream over the rocks, there is now a constant rush of water.
As my building is set very high above the water level I am in no danger of flooding; but with the extra 'action' taking place just in front of my workbench, it is sometimes a bit difficult to concentrate on the work.
I wonder how many hours in all I have 'wasted' sitting staring at the river!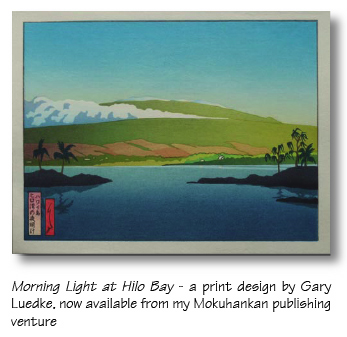 After the flimsy little newsletter I sent you in the spring, we're back to the usual size for this summer issue. But not back to the usual number of stories; when I started writing the story that became the main feature this time, I guess I got a bit carried away, and didn't leave much room for anything else.
But I managed to squeeze in the Annual Report for last year, have a short Mokuhankan update for you, and certainly didn't miss getting a story from Sadako for her corner!
I hope you find something of interest inside; there should be plenty to report come autumn ...