Introduction
It has been just over three years since I last saw Himi-chan, and when I said good-bye to her at Narita airport that day, I couldn't imagine that our next meeting would look like this!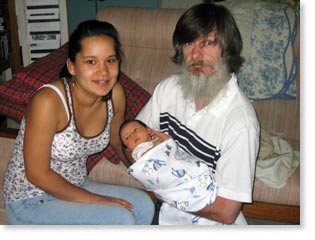 During the years that my two girls were growing up, the thought that they might one day become mothers was always present, so there is no reason to feel too surprised that Himi now has a child of her own. But that the day has arrived so quickly ... now that's a surprise!
***
Family news provides the 'main story' in this issue - I made a quick trip over to Vancouver to meet the new arrival in the family, and brought back a few photos for you.
There are new arrivals in Mokuhankan this time too, with a small collection of books joining the prints in the slowly growing catalogue. Do you think colouring books are only for children? Perhaps there is a surprise for you here!
There is also - wonder of wonders! - an update to the Studio Diary construction report series, some thoughts on next year's work, and then everything is rounded off with Sadako's Corner.
I hope you enjoy this issue!