2005 was an average 'media year' for me, with a sprinkling of magazine stories and a few TV appearances. It was a good balance; interviews and appearances are fun to do, but do take up a lot of time, and the work schedule didn't leave much room for such extra-curricular activities!
Here is a taste of some of what went on ...
Tokyo Seikatsu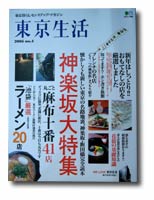 Early in the year one of the 'glossy' lifestyle magazines in Tokyo decided to write about my work; it was interesting to see my prints featured in such close proximity to photos of fine dining, expensive shopping, and upscale residences! (It's a good thing they didn't come to my own home to take pictures!)
Quote: "... so the reaction of people who are confronted by his work for the first time is usually the same. And this reaction? Most people think of woodblock prints as 'flat' objects, but to see David's hand-printed traditional works is to appreciate not just the blend of the multiple colours, but the skillfull three-dimensional printing on the rich Japanese washi."
Science & Technology Journal, May 2005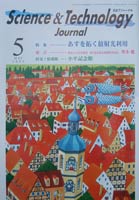 This one was a bit different - it wasn't a story written about me, but a story written by me. I was a bit surprised to have a magazine focused on high-technology ask me to write about my low-tech work, but that certainly made the choice of topic easy!
"Some might say it is a waste of all those hours for me to carve the blocks by hand when they could be carved by a robot while I did other things. I guess you know my reply to this ... No, those hours were not 'wasted'; those hours were used! Think back for a moment to a time a hundred or more years ago, when this job of woodblock carver was common in society. Did anybody think that those men were wasting their time? Of course not; they played a productive part in the society of the day. Then why - simply because it is now possible to do a particular job mechanically - would we think that it is wasting time to do it by hand? What a strange idea!"
Design, Summer 2005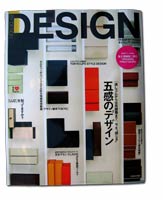 Another glossy magazine! This one glossy beyond belief, full of ultra-modern photography of ultra-modern objects: trains, electronic appliances, furniture ... And tucked away at the back, four pages about my woodblock printmaking! The group of young people who visited me to research, photograph, and write the story were extremely serious about showing my work in an attractive way, and this magazine has to be the finest presentation of my prints I have ever seen. They look far better on the page than they do in real life (which I guess is par for the course for this type of magazine).
Quote: " ... He has no particular desire that his name should become widely known. He does this work for no other reason than that he likes carving and printing. ... His face when seen while working is somewhat frightening; enveloped in the work, deep lines become sculpted there. It is frequently said that we can clearly see a person's life visible in their countenance, and this is certainly the case with David. His face could itself be one of his carvings."
Young Sunday, February 2005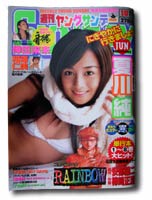 What to say about this one!? When I got the phone call "We want to write a manga story about you ...", I thought at first it might be some kind of a joke. It wasn't though, and a couple of months after an interview with the manga artist, the 10-page story appeared in one of the popular magazines (and was subsequently published in book form together with other stories by the same writer). It purports to be about a young Japanese looking for some advice on life matters who 'learns' from David that a big part of a happy life is having people appreciate one's work ...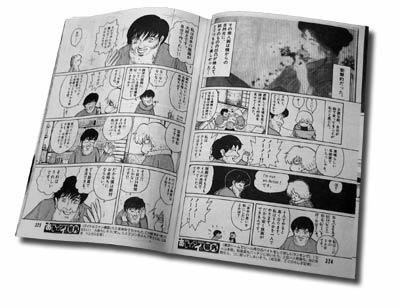 O-Edo Iki-iki
One of the TV appearances was a 'shorty' - a two minute filler program, part of an on-going series featuring craftsmen working in fields with some relation to the Edo-era, and that certainly covers me!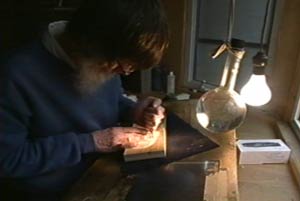 As for the content, there wasn't much that would be new to many of the readers of this newsletter, but I had to smile when I heard the closing lines of the narration: "Isn't it wonderful to have this blue-eyed printmaker showing the whole world how to appreciate Ukiyo-e!"
O-Hiru Desuyo!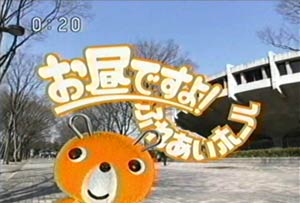 This one was the highlight of my media year: an appearance on NHK's live noontime variety show - It's Lunchtime! These are such fun to do! It's kind of unreal, standing backstage waiting for my turn to come, and then upon hearing my name called and the curtain lifting up, stepping forward into the lights and the applause from the studio audience. And this one was live! The producer had mentioned that the program was usually watched by around 4,000,000 households each day ... Gulp!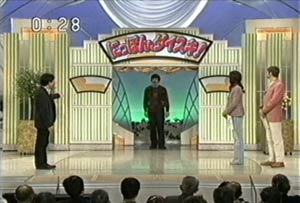 Now I'm not such a wonderful public speaker in Japanese, but once the sequence gets under way, it's not so difficult; the main point is to try and answer the questions concisely, without wandering off into convoluted answers that would bore everybody.
And this program had a special feature that made it even easier for me; I had brought some of my printing supplies to give a live on air printing demonstration - my brush and baren could do the talking! This has its own difficulties though, as the paper and block moisture condition has to be just right in order to pull a good impression of the print, and a TV studio is of course not the best place to try that.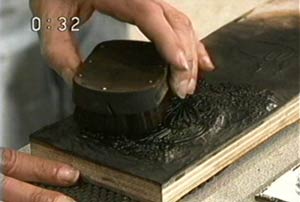 It turned out well though, and when one of the guest 'talents' tried printing, even he could do a good job!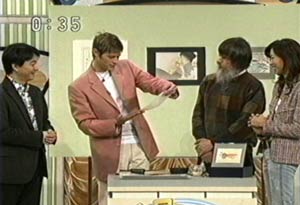 They even gave us lunch - on camera - to which we of course all said in unison ... "Oishii!"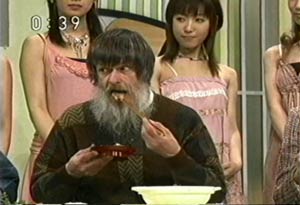 I used the word 'unreal' to describe my feelings at getting that kind of 'star' treatment in front of the cameras, but what is much more unreal is walking back to the station after the broadcast. I walk down the busy avenue through the crowds of people, and - of course - nobody takes the slightest interest in me. Nobody knows who I am, nobody recognizes me, nobody cares at all! Keeps my feet firmly planted on the ground!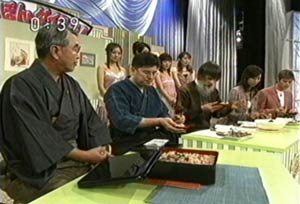 Who knows what next year will bring?