Set-up day for the very first exhibition I held - at the end of the first year of work on the Hyakunin Isshu series 16 years ago - was absolute chaos. I had been offered the free use of a small 'storefront' room not too far from my home in Hamura, and had gladly accepted. When I arrived early on opening day to set up the exhibit of the ten prints though, I found that the owner had 'forgotten' to prepare the room, and it was piled full of boxes, tables, and chairs - there was even a motorcycle sitting in the centre of the room, dripping oil onto the floor. You can imagine how I spent the next couple of hours, trying desperately to get the place ready before opening time at eleven o'clock!
Well this year there was no motorcycle, but it was just as much of a rush trying to get ready in time. The Kotsu Kaikan building doesn't allow access overnight, so there was only about 2 1/2 hours to get everything set up before 11 o'clock, but unlike that first exhibition, where I had done it all alone, this year there was plenty of help. Ten of us worked like beavers opening boxes, building displays, and pinning things up on the walls. Thank you so much to the friends who volunteered to come and help so early in the morning! We just made it in time - even one person less and we would have been late!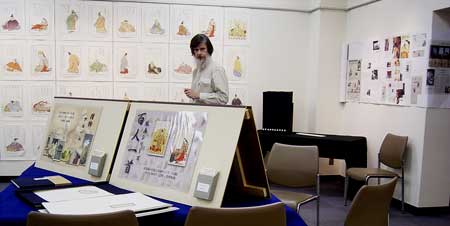 Looking through back issues of this newsletter at previous 'Exhibition Reports', I see that nearly every year recently I used a similar phrase: "... media attention was sparse this year ...". In the years when I was making the Hyakunin Isshu prints there was always plenty of media attention, but since the end of that large project the newspapers haven't generally found my exhibitions so newsworthy. (This has of course made me realize that it wasn't I who was 'special', but Hyakunin Isshu itself!)
This year was no different, and there were not many mentions in the press. But am I crying the blues? Not at all! The collectors 'came through' wonderfully again - passing on the exhibition information to friends and acquaintances - and we actually had the busiest show since the big one at the end of the poets' series six years ago.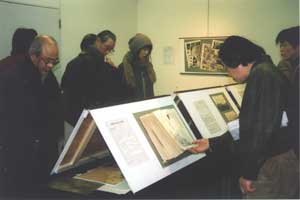 The New Gallery ...
The move to the Kotsu Kaikan building - forced by the closure of the Gallery Takano in Shinjuku - has turned out very well. Although the amount of floor area is about the same, there is somewhat more wall space, and the fact that the area is divided into two rooms allows us to create different lighting effects and is also a benefit when the Gallery Talk is on; people are able to browse prints at the same time.
For this first exhibition at the new location, we basically used the same display design as previous years, but now that we have a 'feel' for the space, we'll be able to make the layout even more attractive for next time. Set-up volunteers, stand by!
Gallery Talk ...
Because the Kotsu Kaikan only rents their rooms on a one-week cycle starting Sunday, the Gallery Talk had to be on opening day this year. This meant that I had a very busy day indeed: an early start for the set-up, then the Gallery Talk, both on what is traditionally our most crowded day of the week. So I was a bit worried that I might be a bit too frazzled to do a good job. And after the less than stellar performance I gave in the previous two talks, I really wanted to hit a home run this time.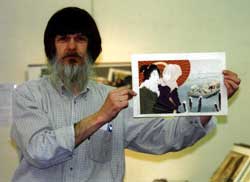 Well, I don't think my ball left the park, but it was a much better talk this year; I stayed a bit more relaxed, didn't jump around too much from idea to idea, and I don't think anybody fell asleep in their seat. One thing that helped to keep it a bit more interesting was input from the listeners: manga artist Mr. Reiji Yamada brought a proof sheet from a comic book story on me that he was preparing for publication, Mrs. Shizuko Matsuyama showed us a calligraphy scroll she had made using one of my prints, and Mr. Nobuaki Sato brought a fat album he had put together containing new year cards and letters I had sent him over the years. I should encourage more of this participation - perhaps for next year's Gallery Talk all I will have to do will be introduce people for a 'Show & Tell'!
The New Series ...
There is actually a bit of a contradiction inherent in each of my exhibitions; ostensibly they are for the purpose of displaying the print series that has just been completed - this year was of course the 'Beauties of Four Seasons' - but for me, those are 'done' and I don't have too much interest in them any more ... what I mostly want to talk to people about is always the upcoming print series - in this case the 'Hanga Treasure Chest'.
Well, I had my chance; I had a sample on display, and was gratified to find that the idea of receiving a fresh print every two weeks was of interest to plenty of the attendees. Orders were good, and this year too, it looks like there will be enough collectors to support my work. Many people expressed concern that I was setting up an unbearable schedule for myself, but I have calculated it carefully and think that it should be doable. And as I write this - with six of the prints having been sent out - I find that the frequent deadlines are indeed helping to keep me focussed on the work. (As if I needed any help with that!)
All in all, it was a very good show this year, and I am looking forward to a long and productive relationship with the Kotsu Kaikan. I had 12 years in a row at the Gallery Takano ... it'll be interesting to see what kind of 'streak' I can put together at this new location ...See you there next year!