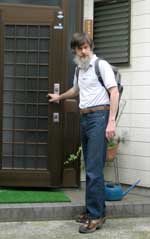 I live in Tokyo. Yes, I know most of you know that 'fact', but I wonder if you quite understand what it means. A bit of research tells me that the population of Tokyo proper currently stands at more than 12,000,000 ... all my neighbours in Tokyo! So I'm sure you can imagine my local environment ... Or can you?
I thought it might be interesting to take you along while I took a walk one recent morning, so I put a camera into my little pack, along with a drink and a snack. Let's go!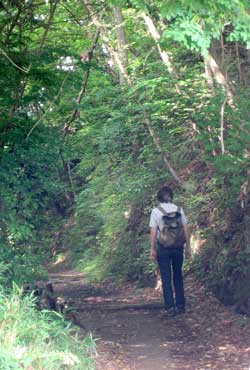 Just around two or three minutes after leaving, we are at the entrance to the wooded hills behind my home. It's still early in the morning, so it's still pretty cool in there, but it should warm up a bit as I go along, I think.
My home is at an elevation of 180 meters above sea level; these hills run to around 300 meters, so we're not exactly climbing mountains here. But the slopes are steep in places, enough to make one catch one's breath a bit.
These pathways are generally accepted to be 'public right of way', but of course every inch of land here is owned by somebody. Back a generation or so ago, this land was used just as intensively as the flatter ground down below.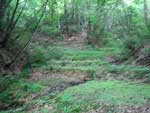 Every possible flattish space was cleared for growing food, and all the slopes were 'tree farms', with cedar trees lined up in strict rows.
All that has changed now; the fields up here were abandoned long ago, and the tree farms are going the same way. Here and there you can see a zone that is still being maintained - the trees properly thinned out and neatly trimmed - but for the most part, these woods are in very poor condition.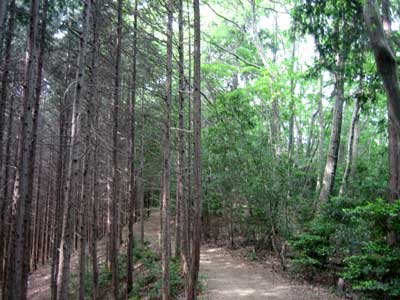 Crossing the Akigawa Highway, the only major street we are going to see this morning ...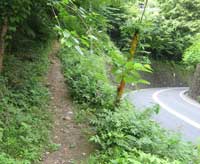 Once safely across and back up into the woods, it's time for a break and a snack ...
And then, we enter the upper reach of the Onita River valley, Tokyo's hidden 'Shangri-la'! This valley is the site of a failed property development attempt in the years after the war. I am told that the entire place was logged off to supply lumber desperately needed for rebuilding at that time, but that a proposed subsequent housing development was scotched partly due to concerns about Tokyo's water supply (one of the main water 'intake' points is on the Tama River just below this valley).
So the valley was just left as it stood, stripped of its woods, and fenced in by the real estate companies. That was more than 50 years ago, and what a wonderful place it has now become!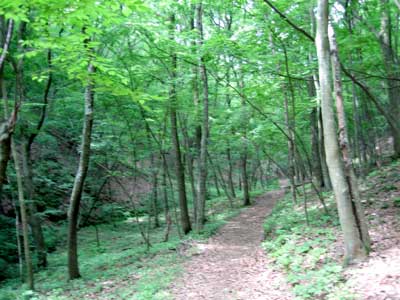 The natural forest that grew up is now in a mature phase, and thanks to the brush gathering activities of the villagers who live near here, is in places a most pleasant place to stroll, totally unlike the dark and gloomy untended cedar forests we saw earlier.
A few farmers live and work along the river bottom, but for the most part, the valley is quiet and undisturbed.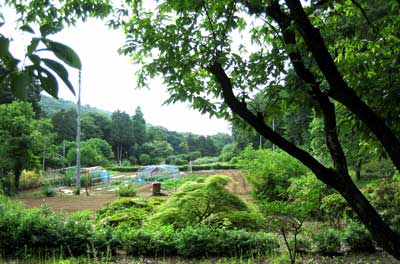 I have no idea about the future plans of the real estate corporations who own most of it, but as Onita has in recent years become quite a focus for citizen environmental groups, perhaps we may hope that it stands a chance of preservation.
To continue our walk, we go back up to the ridge, which over the next half-hour or so of strolling, gradually slopes down towards the Tama River at the mouth of the valley, where we can no longer avoid 'civilization' - coming out onto the main road that runs there.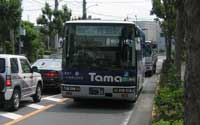 And in fact, rather than avoid it, here comes a most civilized thing indeed - a bus that will take us back home!
Back home just about exactly four hours after setting off ... Time for lunch and then a short nap, before getting on with today's printmaking work! I hope you have enjoyed this little stroll around my 'neighbourhood'!