Each year at the exhibition I prepare a wall display consisting of clippings from news stories on my work that appeared in the previous year. Over the 16 years that have elapsed since I first made my work publicly available, the media here in Japan has been wonderfully supportive of my activities, and the display has grown larger and larger.
To some extent, this is because 'the Japanese' find the idea of a foreigner working in traditional crafts unusual enough to be worthy of comment, but I do like to think that if a 'typical Japanese guy' had done similar projects, then his work too would be considered 'newsworthy'.
Although I myself ask for a lot of this coverage by sending out publicity materials in the months preceding each exhibition, some of it also comes 'out of the blue' as editors see or hear about my work somewhere and think that it would suit their needs. I almost always reply positively to requests for print media interviews, but have to be somewhat more selective in the case of TV, as some of the offers that come in are for venues that are not particularly conducive to quiet contemplation of my work, to put it mildly!
As many fans of my work, especially overseas, do not have the opportunity to see these stories/programs, I thought it might be interesting to introduce some of them here in this newsletter. Here is a 'pickup' selection from last year's media 'appearances' ...
'The Foreigner who has become a Japanese Craftsman', Gaten Magazine, July 2004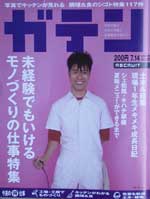 This is my third appearance in this magazine. Although the main purpose of the publication is to provide 'Help Wanted' advertisements for those looking for jobs, they also run stories that showcase people working in a variety of occupations. I noticed though, that in this issue there were no ads looking for printmaking craftsmen!
"My ability to see has also changed; the prints I made some time ago come to seem like 'junk'. The best I can do today, just becomes 'junk' later. But I'll just keep trying as long as I can - always trying to do better work than the day before. If you keep on doing the same thing long enough, you're bound to get better at it! That recipe makes for a happy life!"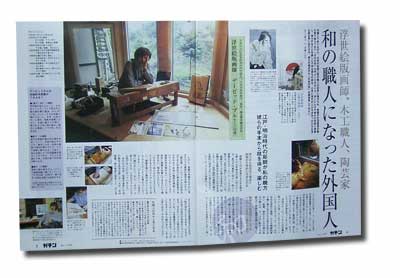 'Woodblock Print Craftsman David Bull', Consensus Magazine, September 2004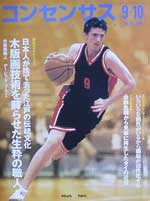 This is a 'house organ' for the electronics giant NEC. Although there wouldn't seem to be much connection between what they do and what I do, the column in which I appeared is entitled 'Creative Dynamics', and features people who are kind of 'cutting their own path' ...
Writer: "In David's view, the printmaking craftsmen at the turn of the Edo-Meiji periods reached the absolute acme of the craft."
Dave: "Japanese woodblock prints are completely different from those of China or Korea. Europe also has a woodblock printmaking tradition, but it seems the Japanese craftsmen didn't use these influences. Japanese woodblock prints truly were created and developed in this country; we really can say they are 'Made in Japan'!"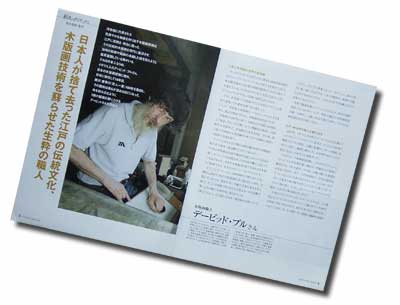 'I am a Craftsman, not an Artist', What's Up?, 2004-5 issue.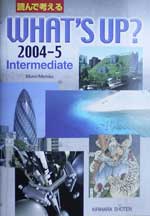 Not a magazine, but an English textbook for high school students. I was very happy to cooperate with this publisher, as I think it is important to expose young people to the idea that it is indeed possible to make a living with traditional arts and crafts.
Quote: "David moved to Japan to study the skills to produce ukiyo-e when he was in his mid-thirties. He struggled to gain the traditional skills for a long time. Eventually, however, with the help of many Japanese craftsmen, he mastered the skills. Now he enjoys reproducing ukiyo-e. He has finally made his dream come true in Japan."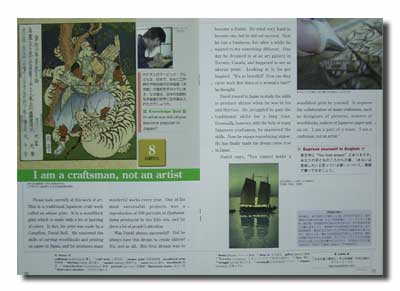 'Kitano Takeshi's: Anybody Can be Picasso', TV Tokyo, October 14, 2004
Prime-time programs of this sort are famous for extreme 'quick cutting' and for cramming as much information as possible into a short space, but even though there isn't much depth to the content as a result of this, I'm still happy for the opportunity for a wide range of people to come into contact with my work.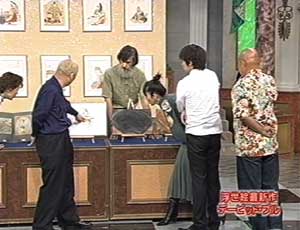 Q. "So of course I guess you are concerned about preserving Japanese traditional culture?"
A. "I don't think about that sort of thing so much. Why am I doing this? Basically, just because I like it! Any tradition will be maintained naturally, as long as we have both sides: people making things, and people using things; that's the best way I think."
'Minna Ikiteiru', NHK Education Channel, November, 2004
This program was much more 'peaceful' and carefully prepared, a 15 minute 'mini-documentary actually. NHK is very thorough, and this program took a lot of preparation time, more than I could really afford to spend. But after the broadcast, I learned that it had been worthwhile, as reaction from viewers was very positive and appreciative.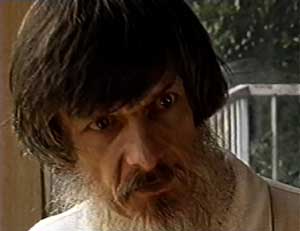 "It's difficult to believe that somebody could have actually made this - such incredibly fine carving, the delicate colouring, the beautiful paper ... It's absolutely unbelievable. There is also woodblock printmaking where I come from, but it is completely different ..."
"If these lines aren't carved smoothly and cleanly they would be strange. But if they are too clean, that is also wrong. To create the most natural line, the knife must move ... steadily and effortlessly."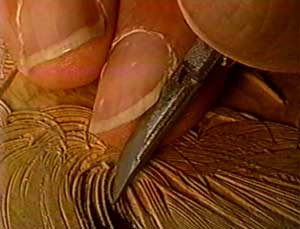 Narrator: "Challenging the techniques of a hundred years ago; at the present time, just how certain things were carved has become lost. The way these lines are carved to look like natural brush strokes, for example. The answers may be in these old books."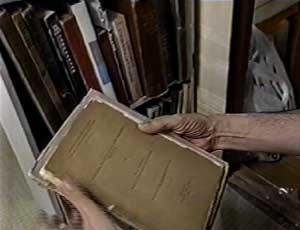 David: "The books on these shelves are my teachers. We can read descriptions of the Meiji printmaking process; some of them quite detailed."
Narrator: "In this book, the technique of carving brush strokes is mentioned, but not the actual method of how it was done. There is only one way forward - trial and error. Exploring these unknown techniques is one of the most interesting parts of his job, David told us."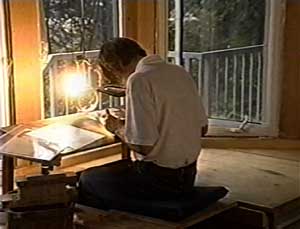 That's all we have room for this time ... I wonder what the next phone call will bring, and what I'll be able to include in this space a year from now?