The last couple of months before leaving for Japan were of course a very busy time. This wasn't really a 'move', with possessions being shipped around the world, it was more like an adventure trip; we rented a locker and put most of our things into storage.
A glitch to our plans came along during our preparation; I received notification from the Japanese consulate in Vancouver that my application for a visa had been rejected. This was a major problem, as without a visa that permitted an extended stay, we would have no chance to get established in Japan. I knew that upon arrival at Narita I would be given the standard three-month tourist term which could probably be extended for another three, but after that time, I would have to leave the country.
But I wasn't about to let this 'bureaucratic obfuscation' get in the way. The four of us said our 'goodbyes' to our friends, and flew anyway; it was July 1st, 1986.
Himi and Fumi were at this time just turned three and one; Fumi wasn't even clearly walking yet, but rode on my back in a carrier, the way her sister had done on our trip around the world a couple of years earlier. Her mother's backpack carried clothing for the four of us, and a small plush toy for each of the girls rounded off our 'necessities'.
Could I speak Japanese? Nothing but the most rudimentary greetings. Where would we live? I had no idea. How would we make a living? That was a bit easier ... I carried with me a notebook containing a carefully thought-out proposal for an in-home English conversation school: a four evening per week schedule of classes at levels from elementary students up to adults, with the rates worked out at a level that would allow us to survive while we ... while we did whatever it was that we were going to do!
But without a visa, all this planning would be for nothing; tourists in Japan are not allowed to work. So in the airplane, as we approached the airport, I tried to think of something to tell the immigration agents. There really wasn't much choice - I just had to introduce the four of us, tell them of my desire to study woodblock printmaking, and throw ourselves on their 'mercy', hoping against hope that they would permit me to stay ... and work.
We approached the immigration counter, and I started to tell my story. The agent listened for a bit, and then interrupted, "Is this your wife? Are these your children? What's the problem? Why don't you just apply for a spouse visa?"
I was floored. During all the run-around with the Japanese Consulate in Vancouver, never once had they mentioned that such a thing was possible, even though the four of us had sat together in their offices discussing exactly these matters! Of course, I immediately asked for this, but it wasn't quite so easy, as our Canadian 'common-law' marriage status was not acknowledged by the Japanese government. Even though we were clearly a 'real' couple, with two children in tow, the rules were strict: no marriage certificate - no visa.
Well, that was easy to fix. I entered the country that day on a tourist visa, and then after a few days orientation while staying at her sister's home in north Saitama, the two of us registered a marriage at the local town office. They wanted a photograph of the four of us, so we had a local shop take the one you see here. After putting in the papers it was lunchtime, so we went out to a local noodle shop for the wedding feast! I then went back to the immigration offices to process the required paperwork. The application was accepted, and I was home free! The new visa was still only for three months, but it was much more extendible than a tourist visa, and more importantly, I was permitted to work.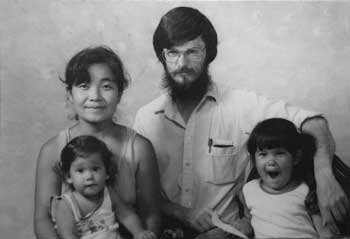 The next order of business was a place to live, so my search campaign got underway. Each day she and the children stayed with her sister while I got on the train and headed down to the Big Mikan to look for a place. The first day was quite a shock, and quite disappointing. I had headed first to Asakusa, the district where most of the old craftsmen seemed to be living, but one visit to a local realtor there showed me that my plans would need some adjustment. For the four of us, plus a workroom and place to teach English, I considered that we would need what is known as a 3DK apartment, but in the downtown Tokyo area, the monthly rent for such a place was three to four times the amount I had budgeted. I had to look further afield.
Each day I targeted a particular area, visiting realtors and looking for something suitable, and each day I moved further and further away from central Tokyo. After a few days, I had worked my way out to Kokubunji, in Western Tokyo, and finding nothing there, asked them to suggest something. They looked in their files and pulled out a few rental advertising flyers. I selected one which had a reasonable price, and set off to see it, heading even further away from Tokyo, up the Ome line. It was in a place called Hamura, which looked pleasant enough, but when I located the apartment found that it was situated on an industrial boulevard with huge trucks rolling by in a non-stop stream. No go. Nothing for it but to go back to the station and head home ...
I made my way randomly back toward the station. It was a wonderful sunny day, and the town really looked quite attractive. Once away from that industrial area the streets were quiet and peaceful, and there seemed to be many parks and treed areas. I happened to pass by another realtor's office, and seeing the displays of apartments for rent in the window, went in to see if they had anything available. It was the smartest move I ever made - not only did they have some brand new buildings just coming available for rent, but they were open and friendly to me, even though my Japanese was extremely rudimentary. They got me into their car, and drove me around Hamura, pointing out parks, day care centers, the sports centre, and a host of other amenities. When we stopped to inspect the apartment I saw that it was wonderfully open and bright, of course spanking brand new, and was at a rent that, although a bit tight, was manageable.
The next morning, I was back there bright and early along with the kids' mother, and after she added her approval, we paid the required deposit, guarantee money, and advance rent, and signed the lease. The next day we carried the girls and our single backpack, and moved in.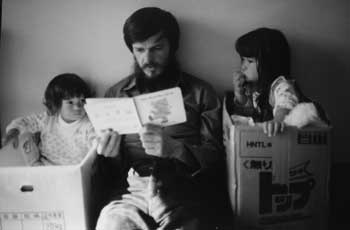 I was to live in that apartment for the next fourteen years, longer than any other place I have ever resided. The girls quickly became acclimated to the culture, and the community was wonderfully 'open'; within a few days of moving in we had dozens of friends, and it seemed as though our entranceway was never without a pile of shoes jumbled in it. The idea of teaching English while I got started with printmaking worked wonderfully, and for five very full years hundreds of our neighbours, of all ages, paraded through our rooms each week to enjoy the classes. Life in Hamura far exceeded my expectations of what our life in Japan would be like.
And of course, one day in the library there, Egami-san the librarian showed me a book containing an image from Katsukawa Shunsho's 100 Poets. What that led to has been well described in early editions of this newsletter, so this is where we will leave this story. As they say, "This is where I came in ..."
* * *
So there we have it - finally the From Halifax to Hamura story is done. As I mentioned back when it started, most Western readers are probably thinking, "So what's the big deal; this guy moved around a bit, did a bit of this and that before settling on something; we all do that!" But many of the Japanese readers have grown up in a society where young people did not have very much freedom to experiment and 'find themselves' the way I was able to, and now that Japan is moving toward such a freer way of doing things, quite a number of people are worried that today's youngsters lack 'direction'.
I think you can guess that I have no real concern about them. Yes, social patterns in Japan are very much in upheaval at the moment, and I certainly would not claim that 'everything is going to be OK', but overall, I welcome the current move away from a rigid lifetime employment system that forced a very early and unchangeable decision on a career, to one that allows people more flexibility to change and adapt as they pass through different stages of life.
If I had not had such flexibility, where would I be now ... I cannot imagine. During the years we have been reading about in this series, I needed freedom to be able to try whatever I wanted to turn my hand to. I needed a surrounding society that accepted my skills and abilities at face value without worrying about 'certification' or 'education'. And most importantly of all, I needed freedom to be able to fail without censure or condemnation.
My parents may sometimes have wondered whether or not I would ever 'amount to something', and perhaps I caused them a measure of grief and worry along the way, but they were smart enough to support me when I needed it, and to keep out of the way when appropriate. Given the rather narrow-minded attitudes prevalent in the society in which they grew up, I have no idea where they learned to be such good parents, but I hope that I have been able to do as good a job with my own two children. Only time will tell!
Thank you for reading along ...