So yes ... 'and baby makes three' ... the doctor had confirmed it; 'we' were pregnant! Because the mother-to-be was not quite so young, and as this was to be her first child, amniocentesis testing was recommended; one side benefit of this is that the child's gender is uncovered, and we learned that the baby would be a girl. This knowledge was a kind of 'bonus' to the pleasures and excitement of the pregnancy - we were able to choose a name for the 'child inside', and even imagined that we could feel what kind of personality was developing.
But how to choose a suitable name for a 'culturally mixed' child? How were we to know which of the two cultures she would live in as an adult? Should we give her a Japanese name or a western name? The obvious solution, of course, was to give her both; her mother chose the western name 'Anne' (Japanese readers will probably be able to guess the inspiration for that name!), while I chose the Japanese-sounding name 'Himi'. Actually, 'chose' is not the correct word, because rather than select a name from among those in common use, I created one from scratch. That can be a bit of a dangerous thing to do, as a child growing up with a strange 'label' instead of a name can encounter many problems along the way, but this is not such a problem in Japanese; as long as the name is euphonous, and doesn't carry any unpleasant resonances, it will be accepted readily.
I also got out my dictionaries and selected what I thought were appropriate kanji characters for her (of course getting her mother's approval!) although being entirely unsympathetic to superstitions and astrology, I have to say that I paid no attention at all to such things as lucky/unlucky 'stroke count'. (It seems that I selected well, as she likes the name very much, is very proud of it, and was extremely angered recently to discover that somebody else was using 'Himi' as their 'handle' in an internet chat space!)
As part of the preparation for the birth the two of us attended pre-natal classes, but as it turned out, not much of what we practiced there was to be of much use - the birth was not easy; it took two days, and ended in an emergency caesarean operation. I 'shared' the entire two days with her, including the operation, and although women who read this will probably scoff, I have to say that it was the most intense and draining experience of my life. The two of them were both immediately whisked away into intensive care wards, Himi for intravenous feeding, and her mother for blood transfusions to replace what she had lost during the rapid operation.
The birth was actually more dramatic then we knew at the time; completely unknown to anybody then (the spring of 1983), the blood supply in Vancouver hospitals was heavily contaminated with HIV. When in later years I read in the newspapers about hundreds of deaths from AIDS among people who had received blood transfusions during that period, I had to think back to that day when a nurse reached into a cabinet and randomly choose a couple of blood packages for transfusion into Himi's mother. Our family was spared ...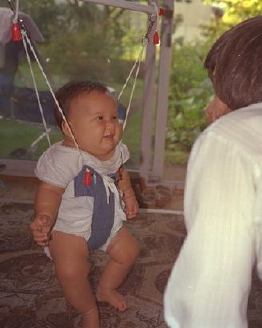 After this dramatic episode, our lives settled down to a comfortable routine. Of course, the newest member of the family demanded lots of attention - she was one of those babies who cry incessantly for the first few months of life, and she sometimes wore us both down to a frazzle - but we continued along pretty much as before, Himi's mother with her language studies, and me off to the music store every morning and working on woodblock prints in the evenings. I made three or four prints per year during this period, sometimes copies of old Japanese designs, sometimes 'originals'. I printed only a very few copies of each one, just to see how it had 'turned out', before moving on to the next one. I certainly didn't consider myself a printmaker, just somebody experimenting with the form.
As I have mentioned before, autumn was the busy season in the school music business, but once that rush was over, the schedule loosened up a bit. I talked with Bill about getting some time off, and that winter I arranged for another three month break. Himi-chan was now seven months old, and there were two sets of grandparents eager to meet her, one in Japan and one in England. The route was thus decided: Canada to Asia ... then around to Europe ... then around again to Canada. A three-month round-the-world trip with a seven-month-old baby on my back? Sure, let's go!