This second trip to Japan was also happening in the wintertime - the music business was seasonal, and summer/autumn were far too busy to take breaks. So again I saw a Japan of clear and clean blue skies ...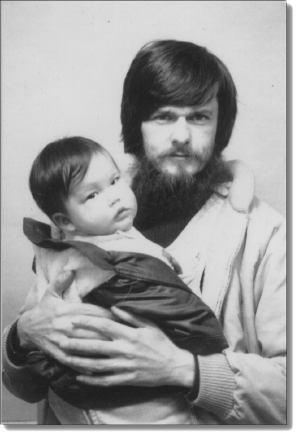 In later years when we talked with people about this trip, many of them expressed surprise that we had travelled so far with such a young baby. But I think that babies are actually very tough creatures; although they are 'helpless' in the sense that they have to be fed and carried about, they are actually quite 'vivid' and vigorously healthy. At least Himi-chan certainly was! We carried with us a small food 'mill', and at each meal we used this to grind some of our own food into a paste form suitable for her to eat.
Soon after Himi's birth, we had carried her about in a chest carrier, but she was now old enough to sit up by herself, so I used a light aluminum baby carrier which I wore like a backpack. She sat in this, with her head facing forward just beside mine, and I could turn my head to talk with her. On buses, trains, and while I was walking, she watched the world go by from this comfortable perch, of course also spending plenty of time sleeping with her head resting on my shoulder.
But enough about babies - what about the printmaking? Looking through my pocket diary of that trip, I can see it is full of entries like this:

train to Yurakucho to Riccar Museum
train to Shibuya to Ota Museum
train to Ueno to National Museum
train to Jimbocho
train to Asakusa to visit Shimano-san and order woodblocks ...
Yes, I was trying to 'catch' as much knowledge and information about woodblock printmaking as I could. At this point though, I had not established any contact with actual workers in the field, people who I could watch to see how prints were made. So I thought about contacting Mr. Adachi again; he had been basically friendly on my trip two years earlier, and I thought he might let me spend some time upstairs in his workshops, watching the carvers and printers there.
Himi's mother phoned and made an appointment for me and I went over one morning. Mr. Adachi seemed a bit busy, preparing for an upcoming exhibition, but sent me upstairs into the carver's room, where I found just one carver working that day, a young man appropriately named Horimoto-san (the word Horimoto could be translated as 'the foundation of carving'). He spoke no English, and I didn't speak anything but the most rudimentary Japanese, but that wasn't really too much of a barrier. In any case, I didn't intend to disturb his work, but just wanted to watch and watch and watch and make notes. I've still got my notebook, and can see the sort of things that I learned from Horimoto-san: the order of knife strokes when cutting both narrow and broad leaf shapes ... the way to hold the blade when sharpening ... how to use the kehiki with a ruler for one side of straight lines ... and pages of other points.
I guess I stayed up there for a couple of hours, then said my 'thank you' and returned home. The next morning I was back on their doorstep; Adachi-san seemed a bit surprised when he saw me, but let me go upstairs again, this time into the printers' room. Here I had no chance at all to try and speak with any of the very busy men, but again filled page after page of my notebook with comments and rough sketches.
And perhaps you can guess what happened next ... The third day, when he opened the door and saw me again standing there, he exploded. I had no idea what he was saying, but the meaning was quite clear, "You again! I told you we were busy! What do you think you are doing, coming back here again?!" He asked me for our phone number, and then as I stood there, called back to where Himi's mother was waiting. "Look, tell this guy that 'enough is enough'; we are really busy here and don't have time for guests ... Cheeze, give him an inch and he takes a mile!", and he thrust the phone back at me. She was short and sharp, "Say thank you, apologize for the trouble, and GET OUT OF THERE RIGHT NOW!" I did. My diary shows that this was January 12, 1984 ... almost exactly 20 years ago ... I haven't dared ring that doorbell ever since!
I should add that in subsequent years, I have met these men again: Adachi-san I see occasionally at kumiai (craftsmens' association) events, Horimoto-san comes to many of the annual exhibitions to see how I am doing, and a group of the printers also came one year, even bringing me a present of a baren for my work! But even though I've come a long way in that 20 years, there is still so much I could learn from better contact and communication with these men ... but of course, this is Japan, and everybody - including me - is so busy!
A few days later, we left Japan, and the rest of the trip was pretty much pure vacation; we had open-ended 'round-the-world' tickets, and booked each leg as we went ... some time in Hong Kong, over to Germany (where I had to visit a music trade fair), then Belgium, and of course to England to spend time with Himi's western-side grandparents. Three months after leaving home, we landed back in Vancouver, and our now 10-month-old Himi-chan completed her first global circumnavigation! She has done a lot of air miles since then, and as you will read later in this issue, she's still travelling!