At first glance - as you have a quick look at the illustrations on this page - you may feel a bit of 'time slip'; these images look as though they belong in the Hyakunin Isshu print series I made in previous years.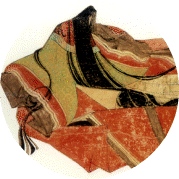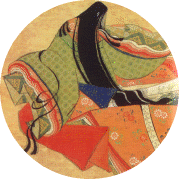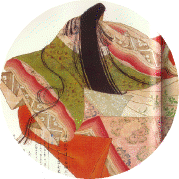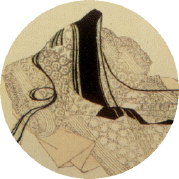 And yes, these pictures are indeed purported to represent poets in that august group. But why do I say 'poets' in plural; don't they all represent the same person? Well ... I suppose that depends on your point of view; let's look a bit deeper!
Here are some raw facts about these four images:
1) the poetess Ono no Komachi, from a set of '36 Poets' illustrations.
2) the poetess Murasaki Shikibu, from the Kano Tanyu collection 'Hyakunin Isshu Ga-cho'.
3) the poetess Sagami, from the same collection.
4) the poetess Ono no Komachi, from a late Edo woodblock book by Okada Tamechika.
But these are all the same picture! Not only is the overall pose the same, but nearly every fold of the kimono and every twist and turn of the hair is identical. What's going on? Has David uncovered a case of rampant plagiarism among this group of artists? I think the word plagiarism - which is such a 'hot' word in Western journalism and academic circles recently - is not particularly appropriate in this case. Plagiarism implies intent to deceive, and I rather doubt that there was any deception involved in the production of these works. The word that we should look at for an explanation is manabu, which a Japanese/English dictionary tells us means 'to study in depth; to learn; to take lessons in'. But right at the bottom of the list of definitions for that word we can also find this: 'follow the example of', and that is the key to the explanation of this case.
Although I do not know any specific details of the history of the artists whose work we are seeing here, I can make some guesses about how they got started as artists. They presumably showed an aptitude for drawing at a fairly young age, and when they became old enough for it, were sent to the studio of an established artist for proper training. 'Proper' training meant learning to draw things in the manner of the master, or more precisely, in the manner of the master's school, because of course everybody in the group drew things in a pretty much identical style - that's what it meant to be part of the group. Students learned the way to draw bamboo, flowers, mountains, and all the rest of the myriad 'words' in the 'vocabulary' of the studio. Of course, among the things they learned was how to draw drapery, the folds of layered kimono like we see in our examples.
To the best of our understanding they did none of these things from 'life'; it wasn't necessary for a young lady in kimono to come in and pose for them - they simply copied from the pattern books and sample pictures that were part of the studio environment. Originality was not considered a virtue - the ability to absorb and reproduce the given style was. The word used to describe the activity those students were engaged in was manabu, used in that sense of learning from existing examples.
We should thus not be so surprised when we see works that at first glance seem to be so derivative. When the job called for an image of a Heian-era woman in multi-layered kimono these men knew exactly what to put down on the paper - they had done it so many times before. Whether the image was supposed to represent Ono no Komachi or Murasaki Shikibu was of no consequence, because the concept of expressing the personality or character of the person being depicted was not part of the equation. Form was everything.
Given this background, we can now understand just how much of a unique and astonishing achievement the set of portraits of the Hyakunin Isshu poets created by Katsukawa Shunsho in the late 1700's really was. Shunsho had received his training in a similar fashion - in the studio of Katsukawa Shunsui - and his work shows that he learned his 'lessons' well; his craftsmanship is beyond reproach and his command of the vocabulary was as strong as any of his contemporaries. But he went a step beyond this, and brought a new aspect to the business of making pictures: he started to show real people.
Of course he hadn't the slightest idea what any of the old poets looked like - they had lived many centuries before him - but that's not the point; when he put brush to paper, the result was living images. This was especially noticeable in his work for the kabuki theatre. Previous to this, images of kabuki actors on the stage had never tried to show the actor, but only a formalized depiction of the role. The faces were just 'cookie cutter' images, and the viewer was able to tell who was being shown only by looking for the crest that was invariably placed somewhere in the picture. Shunsho's actor portraits however, were recognizable as actual people, not just formalized mannequins. (Sharaku was later to carry this idea forward to a remarkable degree, but he had to stand on Shunsho's shoulders to do it.)
So how did this come about? If Shunsho was so well-trained in a tradition extending back for generations, how was he able to see things differently? I think the answer is clear - he was obviously greatly influenced by contact with western portraiture. Our image of Tokugawa-era Japan as being a totally walled-off and isolated society is actually not correct, as educated men in Tokugawa society, especially those living in the major urban centres, had much more access to imported western materials than we commonly understand. I see this when studying old prints from this period that illustrate imported items such as mechanical objects like clocks and telescopes, exotic pets from other countries, and of course books and pictures.
Shunsho was one such man, and it requires no great leap of the imagination to understand his reaction to being exposed to images in which the feelings and personality of the subject were expressed, as they had come to be in portraiture of that day. He didn't become a 'western' painter of course, simply his work was affected by the things he had seen, and subtly transformed.
It is not my intention to denigrate the Japanese artists at all, or to try and prove that they needed 'help' from the West. But in recent years, we have seen such a flood of material about the influence that ukiyo-e had on European art during the years after the 'opening' of Japan, that we tend to forget that ships do sail both ways across oceans, and that ukiyo-e itself had already been influenced to a degree by contact with western forms of art. As will always happen as long as there is communication and contact, certain men in any society - those who are open and ready to listen - will find their creativity enhanced by an infusion of new ideas.
Do I believe that such influences are always positive ones? Absolutely not, and when we follow the story a bit further, and investigate Michelangelo's influence on subsequent generations of artists, both in his own society and around the world, I think we will find a less benign result ... But let's save that one for next time!