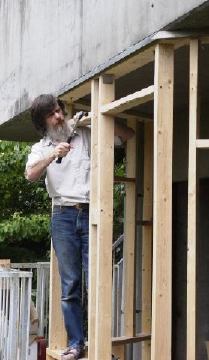 I missed putting this 'Studio Diary' section in the last newsletter, but things haven't been standing still down there! In the winter issue I showed some photos of the framing of the inside walls; this time we'll see the new outer wall going up ...
Of course I'm doing this with Canadian-style 2x4 construction, although in this case, because I need strong insulation, I'm using the thicker 2x6 (giving me about 15cm of insulation). Putting the wall up was fun, although it was a bit more complicated than most walls, because of the odd angles that the parts meet.
Here with this story are a few photos showing the way it happened ...

I've got to tell you about the windows! When I was planning this construction, I first visited the showroom of Japan's major sash maker to get a price on some. I looked at samples of both Japanese-made windows and some that the company was importing from America, then sat down with one of the showroom staff members to work out some prices. It was an absolute fiasco, and I can't give you a final total of the price they quoted, because I just got up and left part way through. The big kicker came when they gave their estimate on a set of windows of the approximate size. The price was very high - somewhere around 400,000 ~ 500,000 yen - and the deal was already looking like a 'no go' when the lady asked "And from which maker would you be ordering the glass to go in these windows?" I did a bit of a double-take, not understanding this rather strange question, so she then explained that the price she had quoted so far was just for the outer sash of the windows - now we would get down to business and talk about glass ...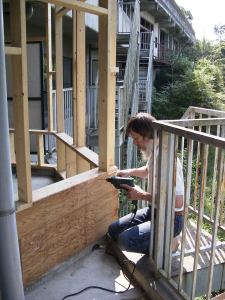 Well, that certainly made the decision easy - I would have to import a set of windows from North America myself. I got home, got on the internet, and started firing off inquiries to various companies who had products that looked like they would fill the bill. A small company in rural Ontario Canada - Thermotech Windows - had a very interesting product line; the windows were neither aluminum (which conducts heat to the outside very rapidly) nor vinyl (very weak on windows this large), but were made of fiberglass reinforced plastic. They were triple-glazed, gas filled, and were coated with a substance that eliminates heat loss out through the glass at night. They could make sizes that would suit my needs, and the openable windows came ready-fitted with screens.

I asked them if they would quote on a project for Japan, and they did: for the four units just about $1800 (US$), and for shipping from their factory in Canada over to Yokohama just about $300. This worked out to just about 238,000 yen - half of the Japanese quote (which hadn't yet included either glass, or such things as delivery, etc. ...)
I placed the order, and sat back to wait for the notification from Yokohama. When the crate arrived a couple of months later I headed down to the port to arrange for customs clearance and transportation. These of course added more costs to my investment:

     13,000 yen ... unloading from ship
      9,282 yen ... 3.9% import duty
     12,330 yen ... 5% consumption tax
     18,000 yen ... truck from port to my home

So for a total of just under 300,000 yen, a fraction of the price of the 'best' Japanese product, I have a set of wonderfully strong, fabulously well-insulated, top-of-the line windows. And they really are very well made: they are solid and strong, and the three layers of glass are bonded into a single sealed unit. The openable casements have a very tight seal, and there is no chance of any drafts once the strong latch has pulled the window closed (with a most satisfying 'thunk' sound!).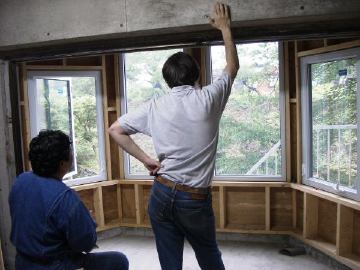 A few years from now, when it's time to get to work on the house upstairs, it's going to be fun shopping around among the North American 'package' home builders to see what they can make for me!