Chasing the Grail ...
A couple of pages back, in the 'Halifax to Hamura' story, I used the phrase the 'fount' of all traditional printmaking knowledge ... the Holy Grail ... Japanese readers of this newsletter perhaps wondered just why I used such a seemingly exaggerated expression, after all here in Japan knowledge of woodblock printmaking methods is easily come by; every library has books on the subject, and it would be a rare community which didn't have a least a few hobbyist printmakers from whom one could learn things.
But of course, overseas the picture is very different. Although a number of books on the subject have been published in English over the years, getting actual contact with woodblock printmakers is pretty much impossible. Now woodblock printmaking isn't actually a very 'high-tech' process, and to make rudimentary prints is quite simple, but to move above that level and produce fine work is a different story. The simple materials and techniques can actually be used in extremely subtle and sophisticated ways, and it becomes quite impossible for someone working alone to duplicate what has been learned during the 300+ years of technical evolution of the craft.
So for someone in the position that I was in those days - living in Canada and endlessly struggling with such things as how damp the paper should be, how the pigments were mixed, how to hold and use the baren ... there was no exaggeration at all in referring to Adachi's workshop in Japan as a kind of holy grail.
More than twenty years have passed since the visit described in that story ... and now it is I who is here in Japan, spending his days sitting in a workshop surrounded by a jumble of carved blocks, stacks of washi, shelves of pigments and supplies, and drawers of woodblock prints. And although I sometimes find this a bit difficult to believe, my own workshop has become a similar 'Holy Grail' in the eyes of some.
I should hasten to interject that in no way am I trying to equate my own workshop with that of a place like Adachi, with its long history and vast reservoir of accumulated knowledge. But everything is relative, and to the twenty-years ago David - or to people like him - a visit to this room would indeed be a visit to the 'fount'.
Over the years, I have had many requests from people who wish to learn printmaking with me. In general, I am polite but not so enthusiastic in my response to them. I used to be very open to such requests, but learned that most of the time spent with such visitors was actually wasted, because they never continued with their printmaking - making a woodblock print (at least of the traditional type in which I specialize) is an extremely slow-moving, time consuming, and repetitive task, and requires a certain combination of personality traits: patience, stubbornness, the ability to postpone 'gratification' through endless tribulations, and perhaps most of all, a willingness to cut your losses and start all over again when necessary. In the old days, when young men were starting their working life, they were simply told what profession to take up, and 'personality' didn't enter into the equation, but in our own age, we each choose our vocation voluntarily, and this particular 'combination' seems to be not so frequently found.
But this year, for the first time, I had a different experience. A young man from the Ukraine contacted me last summer to ask about the possibility of visiting here. He was at that time in Japan for a short stay so I agreed to an afternoon visit. He was personable, seemed quite interested, and asked good questions; nothing was then promised between us, but he obviously understood my reticence to spend time with would-be printmakers, because during the winter I received a package from him containing two very intriguing woodblock prints that he had made. That was all the confirmation that I needed - he was a doer, and not just a talker - so when he asked this spring if he would be able to come and work here for some weeks during the summer, I assented immediately.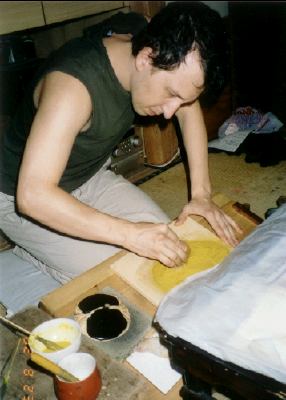 Slav (his full name is Vyasheslav Varlakov), spent most of August here; we set up an area for him to work down in the first basement, and he spent long hours nearly every day hunched over the carving bench that he had brought with him folded inside his suitcase (he took it apart and turned it into a printing bench later). Slav is a professional engraver, working mostly on metal, jewellery, etc., and so is very familiar with the pace of this kind of work. But although he already has a satisfying profession, he is still fascinated by this kind of printmaking, and wants to explore it as thoroughly as he can.
He is not my apprentice, and I am not his teacher - he is completely self-motivated, just as I have been during the years of my own progress 'up the ladder'. The main benefit for him being here this summer was simply to rub shoulders with me, to feel the rhythms of the work, to feel the moisture in the paper, to bring his own methods a bit closer to traditional ones ... just the kind of things I myself wanted to see so desperately all those years ago.
Slav has now returned home (he is currently living and working in New York City), but I know that sometime in the next couple of months, I will receive a package in the mail - the finished print that he was carving while he was here. I did not 'help' him make that print, but I know that I may see my influence in it here and there, perhaps in the way that the gradations are made, perhaps in the way that a few of the colour areas overlap, perhaps in ways that I can not even see myself. And maybe, if Slav still thinks it would be worthwhile, maybe he will be back here again sometime, to set up his bench in a corner somewhere, to cut another print while listening to the Kiyomi River gurgling away outside the windows ...
How many more will follow him ... ?