I'm certainly not much of a scholar, even when it comes to a topic I feel a great interest in - like woodblock printmaking - and have to confess that when it comes to remembering the reams of 'names and dates' that fill most history books, my eyes glaze over pretty quickly. That should be no surprise to the readers of this newsletter, as I am sure that if you look back through the more than 12 years worth of back issues, you won't find anything on the 'XXX begat YYY' type of art history!
But I do read a lot, and I do keep my eyes open, and I do feel it is important to know 'the big picture' when it comes to the history of my field. Over the years I have been able to 'put 2 + 2 together' and would now like to share with you some interesting ideas about the origins of Japanese printmaking. I think there might be some things here that surprise Japanese readers - traditional printmaking in this country is both less Japanese and yet at the same time more Japanese than one would expect ...
Most discussions of the historical roots of any Japanese tradition start like this: "Our story begins, as these stories all do, in China ...", and the writer then goes on to describe how the particular tradition he is discussing first arose on the Asian mainland and then later made its way through what is now Korea and then over to the Japanese islands. We can think of many Japanese traditions with such Asian roots: the written language, buddhism, pottery making, etc. etc. Printmaking too does seem to have ultimate origins that way, because when we investigate museum collections we find the absolute earliest examples come from China rather than Japan, but the story is not so simple.
The earliest woodblock prints, wherever they were created, were cut with a sharp knife on planks of wood. After the image was formed, it was daubed with ink of some kind, a sheet of paper was placed on top, and the impression was taken by rubbing the back with something (we are talking about a time long before the invention of presses). This very simple 'technology' - wherever it originated - travelled easily and came to be used in many places around the world. One interesting and very important point about this early printing was that unlike sophisticated technologies like pottery or metalsmithing, the tools and technology used in making a print could be basically figured out from looking at the finished product. It was not necessary for experienced craftsmen to actually travel from country to country for the technique to spread - it was enough for the prints and books themselves to travel; local craftsmen could work out the rest for themselves. In other words, the idea of a printed image was the important point - reverse engineering could then produce a technology adequate for the creation of similar products in the new region. The most fabulous example of this process is the Japanese multi-coloured woodblock print as it evolved in the Edo period.
Monochrome printing had been known for centuries in both Japan and China; crude buddhist images are the prints most often cited when looking for early examples and who came first is a matter of scholarly debate. But the earliest prints in colour do seem to have come from China, and some of these are reverently preserved in the British Museum in London.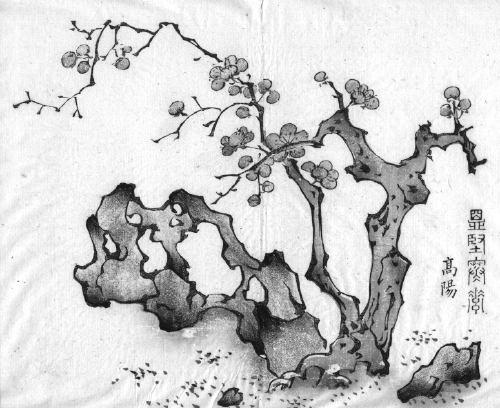 The idea then seems to have crossed the water to Japan, and in subsequent years we see the beginnings of Japanese colour printmaking. Did Chinese craftsmen cross over to carry the technique to Japan? I believe not ... the two types of print are made with technologies as different as night and day, and I think this is a classic case of reverse engineering - the Japanese saw samples of the prints, and developed their own way of making an equivalent product.
Let me show some fundamental points of difference between the traditional colour prints of the two cultures:
Paper: Chinese paper is thin and flimsy, similar to the delicate stuff used for calligraphy in both cultures. When printing, it is enough to merely touch the paper to the pigmented block; vigourous rubbing is not necessary (nor possible). Printing must be done with dry paper, as it is impossible to handle when moistened; accurate registration is impossible and colours cannot be properly fitted 'between the lines'.
Japanese paper has incredible 'body' and pigment must be driven down into it, not just 'patted' onto the surface. It must be moistened before use by the printmaker, but remains very stable - making precise registration possible.
Printing tools: As only a light pressure is needed because of the flimsy paper, the Chinese tool is a simple block of wood wrapped with horsehair or plant fibres.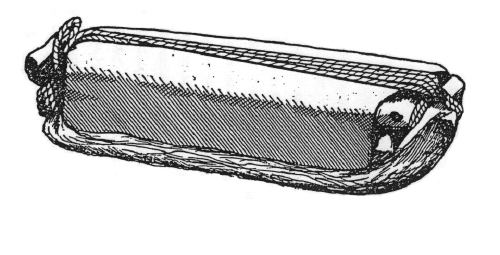 For printing on the stronger Japanese paper though, something that would allow a much more vigourous pressure was required, and the tool we now know as the baren was developed for this (more on this below).
Registration: As the Chinese paper was not moistened for printing, the entire stack of paper could be kept out in the 'open air' while printing. The 'colour block' consists simply of small scraps of wood cut in the appropriate shapes, stuck to the surface of the table with a pine resin - there is no 'woodblock' as such. Registration is thus crude indeed, but for the type of image the Chinese were creating, this was not a problem.
But in Japan, as the main impetus behind the development of colour printing was the reproduction of images in the ukiyo-e style - images with strong outlines and flat colour - sharp registration was critical, so the kento system was developed, consisting of a pair of marks carved into each block into which the paper was fitted. Japanese paper also had to be kept in a covered stack to keep it in a properly moistened and stable condition; if the paper dried a little, registration would be impossible.
I've listed these factors separately, but actually they all work simultaneously and inter-relatedly. Full-colour Japanese painting had existed before this period, but no attempts to reproduce coloured paintings by printing had been made until the contact with Chinese colour prints provided a trigger. Once the idea had been planted - that it was possible to make prints in colour - the local craftsmen (over a period of years) developed the tools and techniques to do the job. So, was Japanese colour printing a completely 'home-grown' affair? Well, it seems that this is not quite the case ... the plot thickens!
One of the greatest mysteries of Japanese printmaking is the origin of the printing pad we know as the baren, the circular coil of braided bamboo slivers, backed up by a disk formed from multiple layers of extremely thin paper, all wrapped in a bamboo sheath. Nothing anything like it exists in any other culture, and it was apparently developed here in Japan. But again this seems to be a case of reverse engineering - development of a product based on a concept originating elsewhere. Not China in this case ... but Europe.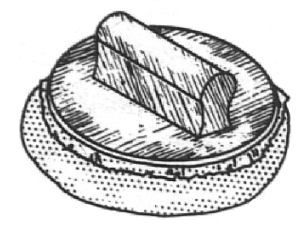 Europeans came to Japan during the 16th century, and among them were Jesuit priests from Portugal. These men were intensely interested in spreading their Christian faith, and they brought with them to Kyushu a collection of printing equipment with which they published religious items and rudimentary language training material. The equipment must of course have operated on methods common in Europe at the time, and here is where things get interesting. Type was positioned, ink was applied with a leather dabber, paper put in place, and the back of the paper was then rubbed by hand with a circular tool known as the 'druck-ballen' (this illustration is based on one published in 1420 showing the tool used at that time). 'Ballen' is the German term equivalent to 'ball' as in our English 'ball of the thumb', which is the obvious choice for the part of the hand that would be used in the earliest pre-technical printing days.
This took place in Japan in the late 1500's and early 1600's, up until the Jesuits were expelled by the Tokugawas, and before there is any trace in Japanese records of such a tool as the baren.
It requires no large leap of the imagination to imagine Japanese watching this printing going on, and when trying to recreate what they had seen, developing their own circular printing pad, completely disregarding the Chinese oblong (and clumsy) block of covered wood. What was inside the European 'ballen'? I have no idea, but this obviously would be no barrier; I am sure that many materials were tried initially, and the coiled bamboo turned out to be so effective that it became the standard pattern. And of course, the similarity of the German word 'ballen' and the Japanese term 'baren' needs no explanation ...
Some time ago when I was discussing these things with a Japanese printmaker, he resisted the idea that the Japanese had 'borrowed' the concept for the baren from Europe; he strongly insisted that it was an 'original Japanese' idea. I think such a viewpoint is misplaced; there is no shame involved in picking up a concept from another culture. Ideas from distant lands are grafted together with home-grown notions to create something better than either could be independently. The Japanese planted the 'seeds' they had received, developed an incredibly efficient tool like the baren, then nurtured multi-colour printmaking into a form that grew to stand as one of the greatest achievements of world art - there is no shame involved in that at all!
But then, as somebody born in Europe, I would say that, wouldn't I!
Note: I must acknowledge Mr. Michael Schneider as the source of information on the old German 'Ballen'. Mr. Schneider is an Austrian printmaker who has a special affinity for Japan, having spent four years here in the 1990's studying at the Tokyo National University of Fine Arts and Music and working with Japanese printmakers. A fine artist ... and a scholar! Thank you Michael!