Any person living here in Japan who wishes to begin making woodblock prints has a very easy time of it, as there are many sources of information on how to get started. Those who want to work with a 'guide' can join a class at a local culture centre, while those who would rather work alone can head for their local library and check out a stack of 'how to do it' books, or even easier, can turn on their TV and tune in to the printmaking programs on NHK's education channel.
But for people in other parts of the world things are a bit more difficult. Some books on printmaking are in the bookshops, but they are mostly about etching, lithography or other modern processes - not woodblock printmaking. Over the years there have actually been a number of very interesting and useful books written about woodblock printmaking, but because they had never been 'best sellers' when they were new, they are now extremely difficult to locate.
Here's one example: in the early 1890's, the Japanese government made a gift to the U.S. National Museum of a complete set of printmaking equipment, including carving and printing tools, pigments, blocks, paper samples - everything involved in the process of making prints. In addition to the materials themselves, illustrated written descriptions of many aspects of the craft were included, and these descriptions were published in a detailed pamplet issued by the Smithsonian Institution in 1892. This pamphlet is now rare indeed, and is very expensive and extremely difficult to obtain. The very interesting information is thus 'locked up' and inaccessible by printmakers.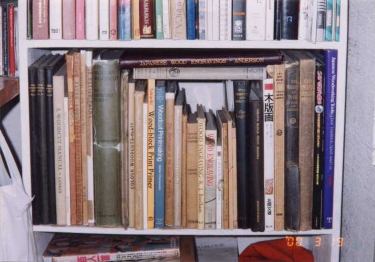 Until now, that is. For this pamphlet, every word of it and every single illustration, is now up on the internet on my website where it can be read by anybody with an interest in its contents. A couple of years ago I started to search for these 'classic' books on woodblock printmaking, and have been able to track down quite a number of them. On my website there is now a complete 'Library of Books on Woodblock Printmaking', more than twelve volumes in all, including a large group of 'how to' books. Simply by sitting at their own computer screen, anyone can now go to my website, and can read these books and look at the illustrations, just as though they were holding the actual volume in their own hands.
But isn't this illegal? What about copyright laws? Well of course, I have no wish to 'steal' other people's work. But copyrights do have an expiry date, and all of the books in my 'Library' are old enough to now be in the public domain. There are no barriers, either legal or moral, to copying and distributing this information.
Other highlights of the Library are the complete manual of printmaking instruction written by F. Morley Fletcher in London in 1916, and the famous and incredibly informative book 'Japanese Wood-Block Printing' published in English by Hiroshi Yoshida. It was especially gratifying to make the Yoshida book available (with the permission of his family), because this excellent work had an unfortunately restricted distribution, being published in 1939 - a particularly inopportune time for Japanese/Western relations ...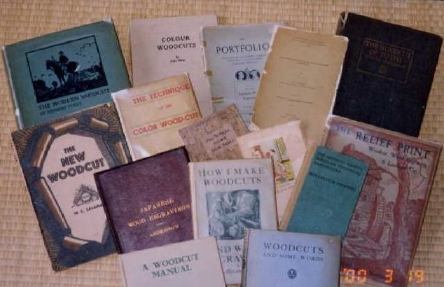 Are these books in my Library actually being 'borrowed' and read by anyone? One interesting thing about an internet website is that it is possible to keep track of how many people view each part of it. In the relatively short time that these books have been up on the internet more than 1100 copies of these books have been downloaded in their entirety by interested viewers who wanted to keep a copy on their own computer, for reading and study at their leisure. I receive a lot of mail from these viewers, many of whom have told me just how much they appreciate the information, and how much their work has improved as a result.
Even as I am sleeping here in Japan this evening, some young potential printmaker on the other side of the world will be 'clicking' his way through one of those interesting books, his eyes growing wider and wider as he learns more about this wonderful world of woodblock printmaking. Perhaps he will gather together some tools and materials, and start cutting ... Just what sort of prints he will make I cannot tell, and indeed, that is not my concern. For me, it is enough that knowledge and experience is being passed on to eager learners. That is an important responsibility of an experienced worker in any field, and I am very happy that I am able to do this with my printmaker's Library. I myself was strongly influenced by a particular book that I ran into in the early days of my interest in this craft, and I suspect that I am not unique. Just how much influence this library will have on the world of printmaking is not something that can be easily measured, but I like to think that it might be very wide indeed.
The books in my library are actually sitting right here on a shelf in my workroom, but their contents are visible from anywhere in the world ... What magic!