It has been four years now since my daughters moved over to Canada, and I've grown used to making the trip to Narita at the beginning of every summer to welcome them back for a few months' stay. This year was a bit different though, as instead of welcoming them to Japan, I was with them on the plane. I had attended a printmaking workshop in Canada in late June, and my return from that event coincided perfectly with their own travel plans, so we arranged our tickets so that we were on the same flight.
I had a couple of days free after the workshop was finished, so we were able to spend some time together in Vancouver. They showed me their home and around their neighbourhood, and I was even re-introduced to the family cat 'Mimi', who had helped keep me warm during long printing sessions in Tokyo years ago ... Did she remember me? I have read that cats cannot remember much beyond a span of three years and it seems that this is perhaps correct - she showed not the slightest glimmer of recognition ...
But once these duties had been discharged, the three of us were free to get down to more important business - browsing through the local used book shops! In recent years, it has become easier for me to find good books, as the Internet has made book shops all over the world accessible from my computer, but long-distance shipping costs make books purchased that way very expensive, and I have to ration myself carefully. So I wanted to make good use of this chance to 'stock up'; I had lots of room in my bags ...
What did the girls think of this plan? "Let's go!" was their immediate response. They like reading too, and the shelves in their bedrooms are filled to overflowing ... But there is always room for more books, so away we went, off to their favourite used book shop. Why is it their favourite? Because when they go shopping there the books are always free! But I think I had better explain ...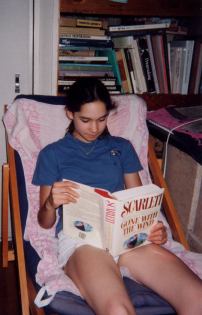 When they had lived with me here in Japan, I had of course encouraged them to read as much as possible; we frequently visited book shops, and rarely came home empty-handed. But when they left for Canada, I had been afraid that they might stop reading books - they were not so comfortable reading English at that time, and it would have been easy for them to fall out of the reading 'habit'. So I contacted a good used book shop near their new home in Vancouver, made an advance payment to the owner, and arranged for him to send an anonymous 'gift certificate' to each of the girls. They were not to know who had paid for their book shopping, nor were they to be told how much was available on their account. They were very pleased about this (of course!) and during the intervening years treated their book privileges wisely, buying a reasonable quantity of books. I made additional payments to the shop after seeing that the experiment was working well, and as time went by, the girls came to know how their reading was being financed. It was to this same shop that we now headed together ...
When we went in and talked to the lady at the counter, we got a bit of sad news - the elderly owner had passed away shortly before, and she (his daughter) was now running the place. But after I introduced myself, she said that she knew about our family 'deal' there, and the three of us were soon deep in the dusty stacks. I was delighted with the selection they had, and my pile started to build up with no trouble at all. We then started to look for some books for the girls and I had the interesting experience of taking them around the shelves looking for books that I myself had enjoyed when I was about their age. Their interests of course don't exactly match my own, but there does seem to be enough overlap that I was able to find a number of books that I was sure they would enjoy.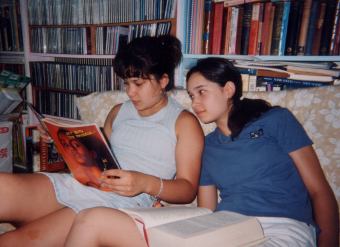 They also chose plenty without any help from me, and after a couple of hours, we 'checked out' and staggered back to their home to drop off our heavy bags. That wasn't the end of our book shopping though, as there are many other good book shops in their area, and when we arrived at the airline counter at the airport a couple of days later, we were in big trouble when the lady there saw me trying to lift one of our bags onto the weighscale! But we had calculated everything pretty well, and after we did a bit of juggling from one bag to another to even things out a bit, she let everything go through. Things weren't so lucky at the Tokyo end of the flight though, as I dropped one of the heavy bags on my toe in the terminal at Narita, and a few days later the damaged toenail fell off. But that was a small sacrifice to make for the nice pile of books that now sits in my workroom waiting for me to start digging my way through it!
The girls also brought some summer reading material over to Japan with them, and I had to smile when I saw one of their choices - a big fat novel around 800 pages long. Maybe you know it - the new sequel to the famous old novel 'Gone with the Wind'. I no longer read novels, but have fond memories of reading similar multi-volume, multi-generation stories when I was a teenager (my choice was R.F. Delderfield ...). It has been interesting watching the two of them during the past few weeks as they make their way through this large volume, two bookmarks marking their progress (they take turns with the book). I doubt that they understand everything that they are reading, as their knowledge of American post-Civil War social structure is pretty weak, but I'm not too worried about that - their knowledge will build up piece by piece; to be engrossed in reading is the main point. And engrossed they are ... for all 800+ pages it seems ...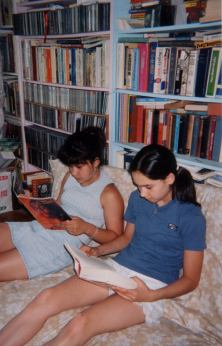 Before we came away from the bookshop back in Vancouver I renewed the 'deposit' with the owner, and this coming year too, once they are back home, they will be able to read as much as they like. Do you think this is extravagant of me? I don't see it that way. When a child needs food, the parent provides it without question; when a child needs shoes and socks, the parent provides these too ... School supplies, sports equipment ... we provide all these things for our children. Is not ready access to books at least as important as these?
This autumn, as I sit here in Tokyo working my way through the new pile of books, I will think of them over in Vancouver doing the same with their own books. Maybe I am 'spoiling' them ... and when they get to be adults and I no longer sponsor their activities, they will be shocked to find that when they go into a bookshop they have to pay to take books home! But that is a risk that I'm willing to take - for now, I'm just happy to see where they like to keep their noses - in a book ... and the fatter the better!