I have mentioned before in this 'Hyakunin Issho' newsletter how I have been in contact in recent years with printmakers in other countries via [Baren], the internet discussion group for woodblock printmakers which I started two years ago. This group has been steadily growing in size, and quite an international community of woodblock printmakers has come together. But typing messages to each other by email can sometimes be very frustrating - there are so many things we would like to talk to each other about. So recently, some of the members of the group have been getting together for meetings in various places in America, and last October, I too took a quick trip over there to meet one of the members, Mr. Matthew Brown. Sadako-san and I went together, and we had a wonderful time visiting Matt and then seeing the autumn colours in New England and in Quebec.
Here is our 10,000 kilometre 'Visit to a Craftsman'!
* * *
When we arrived at the airport in Boston, late on a chilly October evening, Matt was waiting for us in the arrival area. In order to pick us up, he had driven many hours from his home up in rural New Hampshire - it seems he was just as eager to meet this printmaker from far-away Japan as I was to meet him! As we drove through the dark streets of Boston and headed out into the countryside on the way to the place we were to stay that night (with family friends of his), he pointed out various sights for us, including his alma mater, Harvard University. Unlike my own truncated university career, Matt's was full length and full of honours ... it seems that there are many possible paths to take to arrive at the same place!
When I first 'talked' to Matt somewhere around two years ago (on my computer screen), I had thought that here was a person with whom I could enjoy an interesting and productive exchange of ideas, and now that we were meeting in person, I found out that I had been correct - the conversations that first evening would have continued all night, had not the other people around us finally suggested, at nearly two in the morning, that it would be better if everybody went to bed ...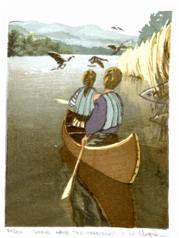 The next morning, he took us over to the famous Walden Pond, a place I have always wanted to visit, and as we strolled around its banks we picked up the conversation where we had left off the night before. What did we two printmakers talk about so intensely? Things like what chisels to use, what kind of wood is best, technical points like this? No, not at all. Although later in the week we did move into that kind of discussion, in those first few days we had much bigger fish to fry; what does it mean to be a printmaker, how can one be sure he is creating a coherent body of work and not just a scattering of pretty pictures, are we just making little 'decorations' for people's homes or is there a deeper significance to what we are doing? Big, and difficult questions ... But questions that must be asked ...

I see though, that I am getting a bit ahead of myself in telling you this story. Before I can tell you about Matt's ideas, I have to give you a better picture of who this man is. Japanese readers of this newsletter, even those without deep knowledge of printmaking, know that here in Japan the world of printmaking has two quite different 'faces': the world of traditional printmaking, with its strict divisions of labour, and the world of 'sosaku' (creative) printmaking, with the artist being personally responsible for every part of the work. When sosaku printmaking began, back in the earlier part of the 20th century, those 'creative' printmakers made a conscious rejection of technique in their work; they refused to try and carve beautiful lines, or to print smooth colours. In their minds - the rougher the better. They had to do this to distance their work from that produced in traditional ways.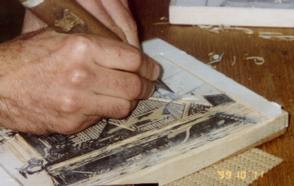 Everybody reading this newsletter of course well knows my place in this picture - I am not a creative artist; I am a traditional technician. But where does somebody like Matt fit in? About seven years ago when he started to develop an interest in woodblock printmaking, he was working as a cabinet maker, a trade he had taken up after graduation. He got the printmaking bug pretty seriously though, and it wasn't long before the cabinet making started to fall to one side, and the printmaking began to devour more and more of his time and energy, until he reached the point, just as I did around fourteen years ago, where he decided to make the switch and become a full-time printmaker, giving up the other work.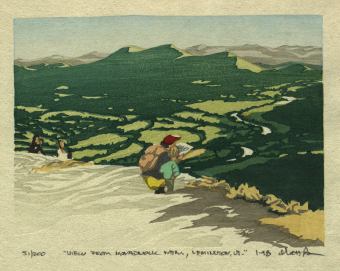 But Matt, unlike the sosaku printmakers here in Japan, has no need to make a specific rejection of anything. He is unencumbered by the heavy history of Japanese printmaking, and thus has free access to any imagery, or any technology. Does this landscape design 'need' a beautiful traditional gradation in the sky? Then use one ... Does this particular print 'need' to be printed on 'hosho' washi, instead of a European paper? Then use washi ...
So Matt is completely free to explore the entire world of the woodblock print, to select what he considers the most suitable elements, and to study them deeply and use them in his work. He enjoys perhaps the best of both worlds - he is a creative and original artist, working with themes that owe nothing to traditional work, but he can be completely willing to accept and use traditional techniques where he feels that he can make better prints by doing so.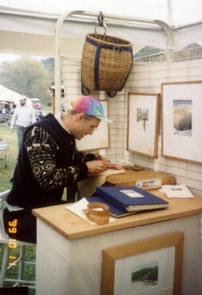 This explains of course, why he was so interested to have me visit his home and workshop - for Matt, I am a 'window' into the deep Japanese tradition, a window that he wants to keep open as wide as possible, not one to be closed off and hammered shut, as so many other printmakers do.
Despite this basic difference between us, in other ways we are quite similar - Matt too has a young family (mine are girls ... his two are both boys). He too is self-taught, working mostly by trial and error, but being willing to accept advice from more experienced workers at every opportunity ... He too, is making a living from just his woodblock printmaking activity, something very rare in any country ...
Another area where we share the same philosophy is that of the need to 'educate' our collectors. From many years back, I have considered it very important to make sure that the people collecting my prints know as much as possible about 'how and why' they are made; Matt too, does the same thing. His task is more difficult than mine; here in Japan most people have a background that includes some knowledge of woodblock prints - they basically understand what they are looking at - but over in America, people have no such knowledge - Matt has to 'teach' them what a woodblock print is, right from the ground up. Every time he has an opportunity to show his prints, either at exhibitions or New England craft fairs, he sets up a series of panels that show something of the history and process of woodblock printmaking, and of course he does demonstrations of the process whenever he has a chance.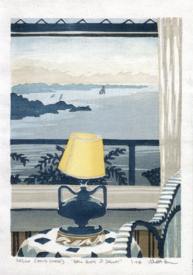 Perhaps the most basic of the many questions we wrestled with during my visit was the idea of 'theme'. Some members of my internet printmaking group consider their printmaking to be a vehicle for social change; they make prints expressing political or activist viewpoints. In my case, I have no such desire at all. Yes, there is ugliness and injustice in the world, but I will battle such things with words, not images. So for me, there is no theme to my work - practically any image will do; my theme is the woodblock print itself - to show people its inherent beauty. But Matt is an artist, and although he too may enjoy prints for their beauty, the image is the important thing. Is he then, a member of this 'activist' group? Well as you can see from the illustrations accompanying this story, he is not. His prints reflect the things he sees around him: his family and the surrounding countryside.
Now what do you think about such a theme? Those activist printmakers I mentioned a moment ago would perhaps say "Waste of time! Just pretty pictures!" (They of course have even stronger words for my reproductive printmaking work ...) But is it a waste of time for a man to hike among the mountains behind his home, to take his sketchbook with him to try and 'catch' the things he sees, and then when he returns home to try and interpret these things in wood, pigment and paper? Well, if this is a waste of time, then I would have to admit that all art is a waste of time. There is a time and a place for battling the injustices of this world - and there is also a time and a place to 'stop and smell the roses', as the expression goes. Those who can find no time for these things in their own lives - for their family and the nearby fields and mountains - are surely missing something very important. It is Matt's mission to keep reminding us of them, and to help us understand how important they are to us. A suitable theme indeed, for a man's life work ...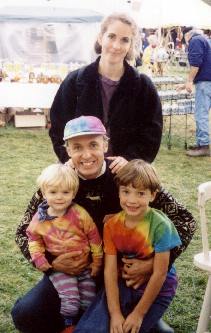 After nearly a week of most enjoyable discussions, the time finally came to leave New Hampshire, and to say goodbye to Matt and Elizabeth, to 'birthday boy' Nathaniel (he was seven that week) and two-year old Asher. But the goodbye was only temporary, because I'll be back. It won't be easy arranging future visits, not with 10,000 kilometres separating us, but there is no question in my mind that I'll be back here again some time, to climb Smarts Mountain with Matt, and try together again to wrestle some of those big questions into submission. Questions that don't really have answers, but which do need to be tackled ...
See you then, Matt!