From Fumi - 12 years old, just finishing grade six ...
School in Canada is very different from school in Japan. School starts at 9:00 in the morning. Until then we can't go into the classrooms, but we can go to the library. The library has many computers, many English books, many French books, a few Japanese books and a few Chinese books. When the bell rings we go to our own classes and start the morning exercises. But if it is nice weather we usually go for a walk around the school.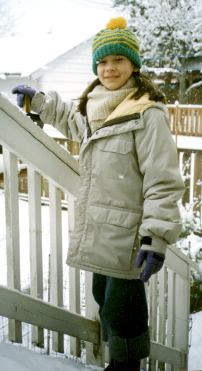 At the recess if it is nice weather we can't stay inside, but the schoolground is so big we can do anything we want. If it snows we can't throw snowballs. We can eat snacks whenever we want except during class time. At lunch time we have one hour. During lunch time we can go home to eat lunch, go to the store to buy lunch or just eat lunch at school. Sometimes we have hot dog days. The school doesn't supply food, except on hot dog days. On those days we can eat hot dogs, pizza, doughnuts, chips, juice or hot chocolate. When we finish lunch, we can play 'till the bell rings. School always finishes at 3:00 in the afternoon. There is no school on Saturday and Sunday.
The school has a lot of interesting events. When we finish one we have to look forward to the next one. The first one I'm going to talk about is Halloween. Have you ever heard that word before? Halloween is on October 31st. On that day we need to wear costumes to school. Everyone looked weird. Some people were wearing spooky witch or monster costumes, but some dressed as pretty princesses or cats. Others were wearing funny costumes. On that day every class is playing games, eating treats and having a good time. Even teachers are wearing costumes. Halloween is not only at school. At night we wear costumes and go to other people's houses and shout "trick or treat", and whoever we shout it at has to give us a treat. I was dressed as a witch. I went from house to house for three blocks and got about a large bowlful of candy. When I came back home the neighbours had started setting off fireworks. Almost all the houses have a pumpkin with a face carved in it and a light inside beside the front door. My sister and I carved our pumpkin. It was hard to do but the pumpkin looked quite good. Next year we are going to make it much cooler.
Not only is Halloween interesting, on December 5th there is an event called Pajama Day. On that day everybody is wearing their pajamas to school and holding stuffed animals. Everybody is wearing pajamas so it looks as if everybody is just out of bed. If teachers want to they can do too. There is also Beard Day. On that day, everybody wears a beard, even the teachers. The principal came to each class and took a picture. If you didn't bring a beard to school, you could make one at school. The principal always has a beard, so he wore a big fake beard. There is also the Christmas Concert. The Christmas Concert is a very big event. Every class either sings a song or does a skit. Our class did two songs. One was hard to memorize but we practiced for a whole month so I had it memorized. I thought our songs were good, but when I saw what other classes did, I thought our songs were bor-ing. Even the teach-ers did a skit and the principal also sang and danced. It was fun to watch. The Christmas Concert was on December 18th. On that day parents come to watch the concert and buy tickets for seats. I was late so I couldn't buy any tickets, but luckily my mother got a seat. Valentine's Day is soon coming and I hope there will be a special event for it.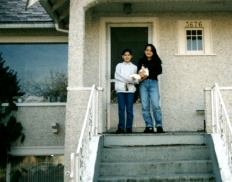 In Vancouver there are squirrels, skunks, geese and raccoons. All year long you can go to Stanley park and feed them. There are skunks living under the front steps of my house and sometimes it is very smelly around the front door. Raccoons live in the forest close to our house. Squirrels are everywhere. We even feed them inside the house. Our cat chases them, but when the squirrels stop she stops too. She grew up in Japan and does not know what to do with squirrels! Life in Canada is fun!!!
From Himi - 14 years old, just finishing grade eight ...
Life in Canada is very different from in Japan. I arrived in Canada on April second on my birthday. It was good having two birthdays in one year (because of the time difference). I became 13. Normally 13 year-olds go to secondary school. So I'm going to Lord Byng High School. I think some of you are wondering why I'm only 13 and going to a HIGH school. It is because in British Columbia elementary schools are from grade one to seven, while high school is from grade eight to twelve and because of my age I went one grade up. This is why I'm going to high school.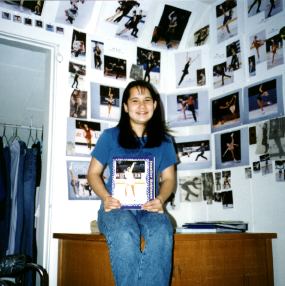 Lord Byng has a special program, different from other high schools. It has an ESL program. This is very important for me . It is a program for students for whom English is a second language. For me ESL is a boring class since almost everyone is Chinese and they don't speak English. I take three regular classes and five ESL classes. The three regular classes are Physical Education, Math and Applied Skills. Applied Skills is a class that grade 8 students take. Every elective that students can take later in high school is taught for a few weeks in Applied Skills so that students will be able to see what they would like to take in later years. All my writing classes are ESL classes. My ESL classes are Literature, Composition, Communication, Social Studies and Science. I think next September I will be out of ESL. I'm getting good at speaking English, but not writing or reading. But it is not too bad.
My school's daily time table is pretty different from that of other schools or Japan. We have eight subjects split over two days. Day 1 is 'A' block, break, 'B' block, lunch, 'C' block, and finally 'D' block. Day 2 is similar, with blocks E, F, G, and H. It goes like this: Monday Day 1, Tuesday Day 2, Wednesday D1, Thursday D2, Friday D1. The next week is opposite: Monday D2... School starts at 8:40 every day and ends at 3:10 every day. In Japan school starts at 8:00 and ends at 5:00, so here it is easier for me. I like my school timetable very much.
My school has a school dance four times a year - the Halloween Dance, the Winter Dance, the Valentines Dance and the Spring Dance. We use the school Gym and grades 10, 11, and 12 do the music, decorations and food. At Halloween everyone wears a costume and it's so neat. At the other dances no one dresses up. The Winter Dance was a big Video-dance. We danced and watched videos at the same time. Sometimes the grade 12s performed a dance. The dances normally are from 7:00 to 10:00. I think that I need a date to go to the Valentines Dance. There will be smoke from the dry-ice and colorful lighting. The music is Rock 'n Roll. Japanese schools should have dances!
In Japan I was fashionable, but on the first day of school I discovered that here I was not. I was so embarrassed. I didn't know and I thought it would be the same. Unfortunately I didn't have any money to buy fashionable clothes so I had to wear fashionable-in-Japan-but-unfashionable-in-Canada clothes. But now lots of money is coming in. I get $4.00 each week allowance and $20.00 for teaching piano to my friend. I have had my ears pierced. Every girl and even some boys have their ears pierced. Other than that even girls of 13 or 14 wear make-up. At first I didn't want to wear any make-up but now I think I should since every girl who wears make-up has a boy-friend. But I don't really know how to apply make-up.
Even outside of school I do lots of interesting things. In summer I go blackberry or strawberry picking. I can pick blackberries anytime I want to because everywhere in the city there are blackberry bushes. The berries are black when they are ripe. They are very sweet but the bushes have many thorns. Strawberries are different. If I want to pick them I have to go to a farm where strawberries grow.
If you want, you can join a Summer Day Camp at the Community Center. We get together in a group and play together or go to some special place. You need to pay money but it is very cheap and fun. I went to a Day Camp once. I joined the Pool Day Camp which had to do with water. Normally the camps go to a park or something like that, but we went to a water park.
I take skating, piano and swimming lessons. I like skating lessons. I do it at the Kitsilano ice rink. I always learn lots of jumps and spins. Lessons are 45 minutes long and are twice a week. When I don't understand what the teacher says I ask one of the officials during public skate and he teaches me carefully. I go skating almost every day because I love skating. It's really fun. Sometimes it's too crowded and I can't jump or spin but I have very good time learning basic skills. Skate has endless things to learn. When I grow up I'm going to be a skating teacher.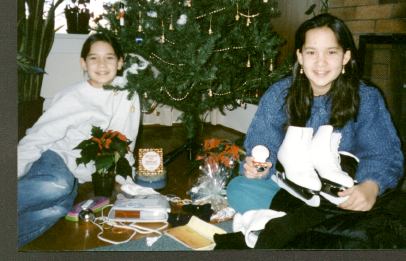 Piano lessons are good but a bit boring. The teacher is strict but very kind. She is very beautiful. When I started piano she gave me more homework pieces than I had had in Japan. I'm doing tons of difficult pieces. I spend more time practicing than before, but sometimes I get bored with a particular piece and don't practice it. When that happens I have to play the piece for 1 or 2 months. I get tired of it and I practice to get it over with. But I'm getting better bit by bit.
I hate swimming lessons, but my mother made me take them. She thinks floating in water will help my back and swimming will make my legs strong.
Like I said, I am having a great time in Canada. The school is good and my English is getting pretty good. Sometime you should visit Canada!