I was browsing through some back issues of this 'Hyakunin Issho' newsletter recently and came across a photograph that made me groan when I saw it. The picture was in a story about the baren-maker Gosho-san, and was a close-up of his hands holding a baren - my baren. The newsletter is from 1991, so I guess the photo was taken more than six years ago, and as I look at it now, I realize that Gosho-san must have been very embarrassed back then when he saw it in the newsletter.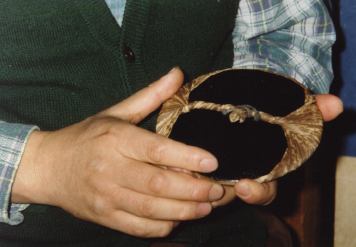 You see, although the baren itself is very well made, the bamboo skin covering has been tied very badly (by me, of course), and I am sure he was worried that everybody who saw it would assume that this was an example of his work!
There are two ways to gauge a craftsman's abilities: the easiest is obviously to see the product itself; by direct inspection, we can see what level of work he can produce. The second is a bit more roundabout, but no less accurate. By simply looking at his tools, we can understand what kind of craftsman he is, and what his work must be like. Any experienced printmaker who sees that photograph of my baren knows instantly what my prints must be like. He can see that the bamboo skin is not pulled tightly around the disk, and that the colour in the prints must therefore be weak; he can see that the 'tucks' around the edge of the disk are uneven and too large, and that I must be using the baren in a similar way - unevenly and with a jerky motion. He does not need to see an actual print to arrive at these judgements (which would be correct); he need only see this photograph. To inspect a craftsman's tools, is to inspect everything about him. He can have no secrets ...
It is perhaps because of this that some of the experienced craftsmen I visit are quite sensitive about their tools. They do not like to have other craftsmen looking closely at them, and certainly not picking them up and handling them. I made a few mistakes this way in my earlier days in Japan, before learning something about how these men feel about tools. I thought nothing of picking up a knife, inspecting the edge, and then commenting on how sharp it was ... It just seemed like a natural and 'open' thing to do. Looking back now though, I think that they must have been angry with me, but were too polite to show it. Of course the knives were sharp! It was an insult to suggest that they could be otherwise.
My own feelings on this have become mixed over the years. I do not pretend to share the same emotions as these well-trained 'shokunin'; I am, I think, more simple. If you want to look at my tools, go ahead. I know my work has room for a lot of improvement, and this makes me less sensitive to criticism. But even as I say this, I have to admit that I can't avoid feeling somewhat possessive about my tools, and if another craftsman my own age or younger were to pick up my carving knife and inspect the blade, I would feel a bit ... less friendly toward him.
Many non-craftsman visitors come to my workshop, and the respect these people show for my tools ranges from extravagant to non-existent. When it sometimes happens that a visitor who has come to see my prints reaches out to pick up a knife or chisel, I remember my own curiosity years ago, and I merely warn them "Those are very sharp. Please be careful not to hurt yourself ... " But sometimes a photographer or TV cameraman with a desire to arrange a 'good' shot, gets a bit over-eager and starts to rearrange the tools on my desk, banging the steel blades together as he does so, and I have to change my warning to "Those are very sharp. Please be careful not to hurt them ..." This is unusual though, and most people are very respectful of the tools.
So my apologies go to Gosho-san for printing that picture, and please let me assure everybody that there is nobody ... nobody ... who can do the difficult job of tying the bamboo skin as well as he can. Here's what his tying job really looks like!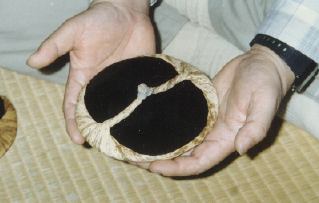 ---
During the printing process, the bamboo skin covering the baren soon wears out with the rubbing, and it must be frequently replaced. To an experienced printer, it is the work of a few moments, and is done without even leaving his seat at the printing bench, but for the relative beginner, it is a cause of great frustration. It is a delicate and complicated job - and if the bamboo is not tied tightly and neatly, the baren will be very difficult to use. Back in the days when that picture was taken, I was having a terrible time tying the skin. The one in that old photo is one of my better attempts!
The problem for me was that while full-time printers do this re-tying job almost every day and thus soon become adept at it, my 'one-print-per-month' schedule meant that I was faced with this job only on far-scattered occasions, and thus never developed any fluency at it.
As a result of this frustration, I constantly postponed changing the bamboo, and only broke down and faced the inevitable when the skin became absolutely too worn out to use. I would turn to the job with a heavy heart, and would inevitably spoil three or four skins before getting one tied in a way that would at least be barely functional. I dreaded the job.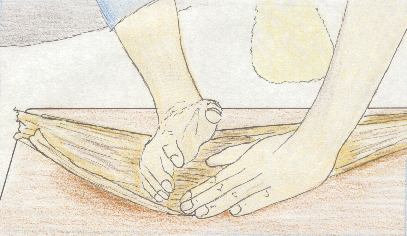 But after years of this kind of frustration, I realized that the situation would never change unless I tried something new. I made myself a promise that each time I tied the skin I would relax and approach it calmly and coolly - imagining that I was in a room surrounded by experienced printers all watching me work. I would try and move my hands the way that I know they would move - with smooth and quiet confidence. That was a couple of years ago, and it seems that this new strategy is working - my skills are improving, although very slowly indeed. My heart no longer sinks when it is time to change the skin. Although my tying jobs are certainly not as beautiful as Gosho-san's, they have definitely improved, and I am no longer ashamed when people see the baren on my tool bench.
And perhaps ... just perhaps ... the recent improvements in my colour printing - the deeper and stronger colours - might have something to do with this. Perhaps!