New
I found early Joe's photos on "gettyimages" (Michael Ochs Archives)

Putting a cursor on the middle edge of the frame, you can watch 4 rare Joe's photos. (Aug. 30, 2017)
---
Steve Merchant, a good friend of Joe, sent me his photos. (Thanks Steve !) (Aug. 17, 2011)

---
Guitars . . .
Joe's first guitar was a $17 Harmony steel strings flat-top guitar.
The left Photo shows Joe at 14. Joe plays his second guitar Martin 00-42 with DeArmond pick up.
from Innner Photo of "LIVE AT DONTE'S"



from back cover of "Sound Of Synanon"

When Joe was at Synanon house. Joe plays Fender Jaguar guitar.
I think Joe mainly used this guitar early Pacific era (1961~1963).

(note on Mar. 5, 2000) Joe plays a Fender Jazzmaster here not a Jaguar. Each gutar's shape are almost the same, and Joe plays a Jaguar on the video titled The Genius of Joe Pass (Vestapol 13073), so I misunderstood. Anyway Joe played those solid body guitars in the early Pacific era.


"I've always stuck with the same basic kind of Gibson, like the model I play now(1976), an ES175. It's the only kind of electric I've ever played when I had a choice. I've had this one since 1963.Back in my Synanon days, I didn't have a guitar of my own ; all I had was a solidbody rock and roll guitar that belonged to Synanon. I was playing a gig at a local club with it when this guy named Mike Peak came in and saw me playing jazz with a rock guitar. A few months later, on my birthday, I came home and there was this brand new ES 175 that he had bought for me. He was in the construction business and played a little guitar himself and just felt that I should have the proper kind of instrument. It's the only electric I've used since then.(Guitar Player, April '76)
I think "the birthday" must be Janually 13th on 1964. And this is his ES 175D. Joe played this guitar mainly 1964~1980.



from the cover of "LIVE AT DONTE'S"


He also started to play D'Aquisto guitar from circa 1970.
( I think Jimmy D'Aquisto made custom model for Joe)

Photo by Takao Miyakaku

From 1980 to 90, Joe contracted with Ibanez. So he mainly played his signature model JP-20.

Mike Rosso, a friend of Joe, gave me the information about Ibanez.(see the article #022 ~ 024 at the "Salon" corner.)





Gibson made "Joe Pass Custom Model" during '91~'92. It was the same ES 175 type guitar. (The body is little bit thinner than ES 175. see below) It is very beautiful guitar and sound Fantastic ! The height between strings and flet board is mirracle. Very smooth action.


Photo by Takao Miyakaku
---
from My collection


L to R : Eiji Tanaka, Joe & Me ; Photo by Takao Miyakaku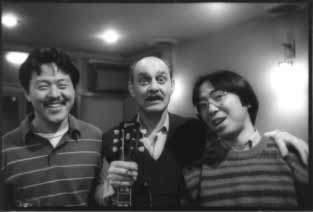 In 1987, Joe came to Japan as a member of Oscar Peterson quartet. Joe found some nice Japanes restaurant named "Kitchen Hiroshi" near from his hotel. Joe stayed Tokyo a week and had every lunch at there. "Kitchen Hiroshi" was very small non-snobish place and the owner, Mr.Hirosh Saito, served fine foods in the best price. Joe loved him, the place, the regular customers and atmosphere. Finally Joe asked to Mr. Saito having a little concert there for good foods and memory. Mr. Saito accept this unusual propose. So 1 night special concert was took place. The member was David Young on bass and Martin Drew on "Yellow pages" with brushs !! Mr. Saito pleased the gig and served many foods and drinks for everyone. (there were only 10 sheet for the customer. But there were 30 people at that night.- New record !!) After the gig, Joe wanted to pay all dishes. But Mr. Saito didn't recieved the money. So, I suggested Joe that instead of paying money, why don't he promise to do another gig when he come again. Joe agreed with my idea.
Joe have a chance to do it in 1990. 2 B &W pictures on here were taken at that time. Unfortunately, "Kitchen Hiroshi" was gone at that time, so the concert was took plase at "Hanazushi" - Mr. Saito's brother's Sushi restaurant.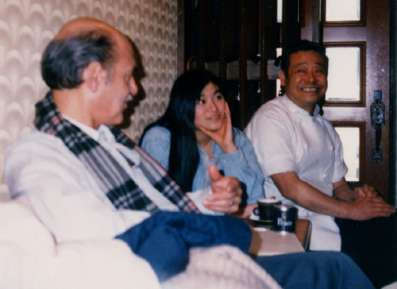 Joe and Hiroshi with his daughter at "Kitchen Hiroshi" in 1989.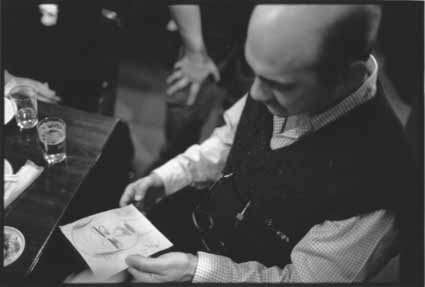 Joe loved this portrait drew by my son, Daisuke ( 6 years old -1990).

Photo by Takao Miyakaku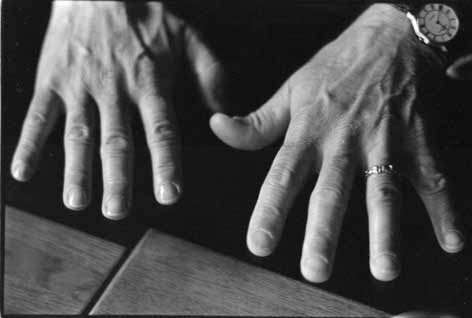 Left photo shows Joe's nails.
Joe used to play using his fingers, but he didn't let his nails grow long like classical guitarists. (look his right hand) Long nails give them big sound. So, his acoustic guitar sound was soft, warm & gentle.
Photo by Takao Miyakaku
---
John Pisano send me a SPECIAL photos !! (Jul. '02)
THANKS A LOT, JOHN !! (Click Photo for checking them --->
---
About photographer;
Takao Miyakaku is a Japanese free lance photographer.
When I worked at the dealer of YAMAHA, some 12 years ago(1987), Takao bought an electric piano for his daughter thru me. After I knew he is a photographer, some idea came into my mind, and I asked him that did he has a wish to take a pictures of Joe, and he was interested in my idea.
One day, I took him to Joe, introduced him and asked, "Do you mind if Takao takes your pictures ?"
Joe said, "I don't mind."
Joe gave him a permission to take pictures at any time. Takao took many pictures, I'm sure he took over thousands pictures for free. I supose he had no will to SELL them, only for his interest for art.
When I knew Joe's passing, I asked Takao to attend the funeral. And he did come to the funeral with me.
Now you can see his art works on some of Joe's CDs, 4-CD box titled "Joe Pass Guitar Virtuoso", "Joe Pass Quartet Nuages(Live at Yoshi's)" and "Unforgettable".(some credit was misspelled, though)

Takao published "JOE PASS/Collection Of Takao Miyakaku" in Jan. 2000. Now you can buy the book at "Souvenir Shop".(Mar. 4, 2002) see SAMPLEs
---
From the Passalaquas Photo Album


---
here is a part of Joe Pass Memorial Hall(J.P.M.H.)
If you happened to visit here by searchig something --->

Go to Top Page of J.P.M.H.