This is the page from yours. If you want to say something about Joe Pass, please send your questions, opinions, memories and stories to me. I will upload them from time to time.
Please write e-mail to Taboux5t-oois@asahi-net.or.jp


See the latest article--->GO


At first, I tell you my story.

---
#001 Meeting with Joe Pass by Tabo Oishi
It was the summer of 1974 when I heard Joe's play first time from the radio. Until then, I had not interested in any Jazz music. I was just interested in Rock music. But when I heard Joe, It was a shock for me. I couldn't believe that was solo playing. Fortunately, I recorded the radio program, so I started to copy the tune "How High The Moon".
It took 3 monthes to copy it. Then I could understand the tune was played by solo.
From that time, I have payed attention to only Joe's music. ( I didn't know about Jazz music. So I had learned all Jazz music from Joe.)
Then I bought the book titled "Joe Pass Guitar Chord Book One" in 1975. The contents were little bit dificult for me at that time, but I thought that Joe must be a warm parson when I found follwing sentence in the book.
"A special thanks to my good friend, Steve Merchant, who spent many hours editing my book and eating my wife's pasta. . . . "
And I thought "Pasta !? It must be delicious. I wish I could eat the pasta."

I imagined how was Joe like.
The face looked like some gang star for me.
Was he a strict person ? Was he a warm person ?
I only concentrated on Joe Pass, himself and his music. And my attachment for the pasta was glowing in my mind.
(" Someday I will check the taste of it !")
Funny dream. But it realized.

In 1978, Joe came to Japan. It was the first time for him. I asked all hotels in Tokyo and could find his reservation. Then I was waiting at his hotel, taking my girl friend, Yoko - now my wife.
After one hour had past, Yoko asked me when Joe would come in. Then I noticed that I didn't know actuall time when Joe would arrive.
After waiting there about 5 hours, finally we could meet with Joe. He was very tired at the moment, so we just say hello to him and went to coffee shop to appease my excitement.
When we were talking there, Joe came into the coffee shop taking his friend, Norman Jacobson.
They sat very near table from us.
I said to Yoko, "I feel that I have to say something to Joe ."
Yoko answered, "Don't bother them, 'cause Joe said that he is tired"
"OK, I see."
I stood up and went in front of them and said, "Hi, may I help you something ?"
Then, Norman said, "Yes. Do you know the place called 'PITINN' in Roppongi ?"
I knew that Joe would play there and I would come to, so I said, "Yes. Joe will play there, right ?"
Then Norman said, "Yes, that's right. Is there large place or small place ? Joe wants to know it."
Wow, I felt that I was in trouble. Because I just knew by the name, I had never gone there before. And I felt I have to give them right information that I didn't know, otherwise I would loose a chance to talk to them.
'large or small ? . . . I never been to there . . . I don't want to cheat them . . . how do I say . . . '
Norman was looking me up with smile, Joe was gazing me without smile, and I felt time goes by slowly.
Then I answered,
"Middle place."
Then Joe said "Well, sit down."
It was the start point of our friendship.
We talked there and ate dinner with them and fortunately I could made friends with Joe & Norman.(Several days later, I went to 'PITINN' and found the place was 'middle place'. I felt just like 'pass the exam.')
At the summer of 1979, I went to L.A. and visited his house, I could eat Alison's (his wife at that time) pasta ! ( the taste was very good, tomato sauce with meat-ball.)

Joe came to Japan 11 times. And every time, when he came to Tokyo, I spend almost whole day with Joe, except his napping time. Eating, drinking together, tuned up his guitar at the back stage, changed strings, I did everything that I could do for him. But I never ask him personal guitar clinic. I don't know why.
Maybe I loved his personality more than his music ? or I didn't want to bother him. We only said bad jokes and spending good time together.

Joe's death was very shock for me. I believed that he would be getting better. I attended to Joe's funeral. And also I went to Tribute Concert of Joe Pass at MIT taking my friend (Eiji Tanaka - he used to play harmonica with Joe at Blue Note Tokyo. Joe called him as "blues man"). We played blues at the concert.

The meeting with Joe Pass changed whole my life.
I still concentrate on Joe Pass.
Musically, I keep playing in my living room. I am a living-room player !
(I often play with Eiji, but he lives in far distance from Tokyo)
That is my story.

---
#002 from Carol Kaye(Carol Kaye, May 16, '99)
Nice site Tabo! Congratulations....I know that Joe would have liked this site, a tribute to his musical genius.

I worked with Joe on a couple recording sessions, an organ album about 1970 in LA while I was getting my publishing co. (Gwyn Publishing Co. Inc.) going with my bass books and wondered why this great player didn't have his own book out.

He brought me a manuscript of his music that someone had helped him put together and I published it as "Joe Pass Guitar Style" -- using his great profile as the cover -- it fit him so well, also recording him on the tape that comes with the book.

Then successfully brought out his next books and tapes that go with his books. Alfred Publishing is the legal owner of the books and tapes you mention, and their address is:
Alfred Publishing Co., Inc., PO Box 10003, Van Nuys, CA 91410-0003, phone no. is (1-800-292-6122, and (818) 891-5999.

I sold the co. to them many years ago and keep some Joe Pass items on hand, but I too buy from them.....his tutors are the best guitar items on the market I believe, they've taught many fine jazz musicians well.

Joe wasn't very busy during that time (1970-72), wasn't working much, so the extra income he rec'd from the book sales (very good back then) helped he and Alison buy another home and he enjoyed better success after that.

I was pleased to see him go on to do some phenomenal playing after we had worked some seminars and trio concerts together 1970-71-72 (with Paul Humphrey on drums or Harvey Mason sometimes).

Yes, it was a shock here too when he passed, his music tho' will live forever. And it's wonderful that you have this website for him, a real tribute to his greatness, beautiful! All the best to you and your family Tabo...... Carol Kaye carolkaye@earthlink.net

---
#003 from Robert Taylor(Robert Taylor, June 19th, '99)
Hi there, I love your website and have been searching for a nice site about Joe Pass for quite some time. I am in the process of collecting all (if possible) Joe Pass recordings, but am focusing on the releases under his own name. I have all of the titles on CD, but am struggling to find the older records. Do you have any recommendations on where I can locate these? In particular the "Rolling Stones" album and "12 Strings".

The first time I heard Joe Pass was from a friend who was studying jazz guitar while we were in high school. He played me "Catch Me" and my ears were never the same. Thanks,

-RT
---
#004 / Tabo
Hi, Robert. I recommend you to visit Online Record Stores.
http://www.fmi.uni-passau.de/~schneide/music/record.html
I hope you could find and get the albums.
Tabo

---
#005 from Matthew Goldberg(Matthew Goldberg, Aug. 6, '99)
I first became interested in jazz guitar after hearing Kenny Burrell.
But when I eventually heard Joe Pass, I decided "this is the guy I want to sound like."

I had the privilege of hearing Joe in concert about a dozen times. A couple of times I heard him with the incredible Oscar Peterson, and once with Ella Fitzgerald. The other times were solo gigs, which I actually prefer.

I spoke to Joe briefly once or twice. One particular occasion was at Blues Alley, the finest jazz club in Washington DC (USA). I ran into Joe in the men's room between sets. I requested that he play "Skylark," which all jazz musicians know is very beautiful but very difficult (lots of key changes). He responded no, he hadn't played Skylark in at least 5 years, and it was too difficult to attempt without practice. I was a bit disappointed.
But Joe came through. About halfway through the second set he played "Skylark." It was beyond flawless--just beautiful beyond words. But that was Joe Pass.

On another occasion, Joe was looking at his watch and started to stand up at the end of a set. I called out "Come Rain or Come Shine." Joe looked at his watch some more, then sat down and decided to play it. He went on for about 6 choruses, and no two of them were the same.

Martin Taylor comes very close, but I have still never heard anybody who can match Joe's technique (the least important element, I believe), repetoire, sensitivity, sense of time, feeling for blues, and immense harmonic vocabulary. He was the greatest ever.

Matthew Goldberg
Dunn Loring, Virginia (USA)
---
#006 from Yoshihiro"mick"Hongo(Yoshihiro"mick"Hongo, Sept. 15, '99)
hello. this time I write u in English.

sorry I have told u too much about ur mistakes but even there are some, this site is great and I can learn about Joe Pass even if I haven't heard his music and make me want to listen some of his music. actually I don't usually listen to jazz music but it doesn't mean I hate jazz. so sometime I want to try his music referring ur discography.

ok see u and good bye

Yoshihiro"mick"Hongo

---
#007 / Tabo
Hi, "mick", thanks for checking my bad English. I am very pleased that I know you want to listen Joe Pass music. Please try it and let me know your impression.
---
#008 from Nicolas Houllet(Nov. 9, '99)
hi there !
i'm 24 years old, french, and i've been listenin to joe pass' music since i was 17; i used to hate jazz....and listened once at joe's "the song is you" on "my song" on the local radio. i already had been playing electric guitar hardcore like things for 6 years and had to sit down in order to appreciate joe's solos : so technically fantastic and breath taking, i mean emotionally; i spent almost a whole rear of my life listening to his records, doing nothing else at the same time....just listening...one year....the same time doing it reading, or else.

live at yoshi's, checkmate, chops, for django, virtuoso's have been surrounding every part of my life since then.
when i was a student, joe was coming to lyon, france, for a tiny gig at the american center in which he had a friend he knew from boston.(about 6 months before he died.)
teacher told me to come, wich i was gonna do, till he said "great kid, you'll play with him!"
i said no, i was really scared to death, he insisted so much i didn't go.
joe died like two months later, the day after my birthday.....
from then i knew something special was taking place between joe and me: he gave me the knowledge of "secret, pure love"

i'll never dare reproduce his solos, even when i'm able to play them, if it ever happens.
---
#009 / Tabo
I wrote an e-mail to Nicolas, and knew that his family came from Italy in 1920 that's why he could know old Italian songs.(like Joe) And he spent ten years practicing guitar at least two hours a day.
---
#010 from Joseph Scott(Joseph Scott, Nov. 18, '99)
Hello Tabo,

Thank you very much for your wonderful Joe Pass discography!

The Eddie Vinson LP with "Pass Out" has also been issued on CD: I can't remember the name of the CD (it was a simple, boring name, possibly Blues Masters or something like that), but the CD contained two complete albums, one by Otis Spann (including "Moon Blues" featuring Tom Scott on flute), and this one by Vinson. I think the CD is/was stocked under "Otis Spann" in stores. The sound on the CD is excellent.

Also, Carol Kaye definitely played electric bass on "Alison," not Ray Brown; I have talked to her about her bass playing on "Alison" specifically (and the riffs on it are very characteristic of her).

By the way, I appreciate your comment that you personally must listen to the music you write about. Brian Rust, e.g., is considered one of the "great" discographers, but so often he e.g. mistakenly lists a vocal as an instrumental or an instrumental as a vocal--things that simple--and it becomes obvious he hasn't heard what he's writing about. (I have literally wasted a lot of money following leads of Rust's that turned out to be wrong.) Your approach is right: that is true discography!!

Best wishes and thanks again,

Joseph Scott
---
#011 from Joseph Scott(Joseph Scott, Nov. 19, '99)
Hi,

Sorry, Ray Brown played electric bass on "Alison," it was a misunderstanding, my fault.

Thanks again for your great discography!

Best wishes,

Joseph Scott
---
#012 / Tabo
Hi, Joseph. Thanks for the information.
Yes, the CD which includes "Pass Out" with E. Vinson (#39.The Original Cleanhead) was issued from BMG, titled as "Eddie "Cleanhead" Vinson & Otis Spann/Bosses of The Blues, Vol ll" (BMG8312-2-RB)---out of print

About "Alison" (on #47 "Better Days" ), I just read again the old letter from Carol Kaye answering my question about "Better Days", who plays in which tunes like that.
(It was July, '95, just after I bought her CD titled "the first lady on bass", I found her address on it. So I sent her a letter asking about "Better Days". Soon after she gently gave me a reply)
She wrote . . .
Ray Brown is playing string bass on "Balloons" and "We'll Be Together Again". The term, "double bass" is just another term for string bass. Ray is only playing elec. bass on one side, "Alison", named after Joe's then-wife. I'm playing elec. bass only on 4 tunes: "Better Days", "Gotcha", "Burning Spaear" & "It's Too Late"(July 17, '95)
So, your letter(#011) is right.
(Actually I sent an e-mail to Carol asking again, and she said Ray is playing elec. bass on "Alison". And Carol let me know Ray is playing string bass on "Head Start". thanks Carol !!)

The vinyl "Better Days" is very rare LP. But now, everybody can buy CD format issued from Hot Wire Records. I fonud 1 misprint on its liner note. The title "6.Alison" & "10.We'll Be Together Again" are up side down.(must be "6.We'll Be Together Again" "10.Alison".)
---
#013 from Herman H. Beekman(Herman H. Beekman, Nov. 21, '99)
It's sunday 21th of November 1999. I'm about to finish an arrangement for our BigBand "Tribute to the Duke" with a guitar solo (a bit look alike Joe) matching "In a Sentimantal Mood". It's just after that, I was playing Joe's version of "Just Friends" as he played it at Elder Hall, Adelaide University as part of the 1990 Adelaide Festival on 15th March.
Perhaps a coincidence, I passed your site. It seemed me right, regarding my own feelings of remberence, to write you this as a kind of tribute to Joe Pass.

Your's sincerely

Herman
---
#014 / Tabo
Hi, Herman. Thanks for leaving me a message. I hope your arrangement could work successful.
---
#015 from Joseph Scott(Joseph Scott, Nov. 30, '99)
Hello again,

The title of the CD I mentioned to you is "Bosses Of The Blues Vol. 2." It is credited to Eddie "Cleanhead" Vinson and Otis Spann, and consists of The Original Cleanhead plus one complete Otis Spann album (also recorded in '69).

(By the way the CD booklet lists David Cohen as playing "bass." I agree with you that Cohen's credit should be guitar.)

Best wishes,

Joseph Scott
---
#016 / Tabo
Hi, Joseph. I don't know about David Cohen, is guitarist ? Maybe you are right. There are many mistakes on liner notes.
By the way, do you know Joe Pass was credited as bassist on 1 LP titled "Head Start" ? (see #42 at "Album" corner) When I got the information of the record, I couldn't believe it. Fortunately I could find and buy it, and then I could believe Joe did play Dixieland style bass on it.( it was not misprint )
---
#017 Joe Pass Guitar Style(by Kelly Webb, Dec. 1, '99)
The reference in Carol Kayes' note hit close to home for me. The "someone" that prepared the manuscript for the Joe Pass Guitar Style was Bill Thrasher. I was fortunate enough to study with Bill when I was attending college in Santa Barbara in the mid 1970's. Bill was a fine player and outstanding teacher. In addition, he was a fine artist, doing the art work for the book, including the cover.

Thanks for the site.
---
#018 / Tabo
Hi, Kelly. I agree with your opinion that Bill Thrasher is a true artist. His illustration on "Joe Pass Guitar Style" is perfect.(you can see his art at "Video + Book" corner)
I love his style of drawing. And how lucky you are to study with Bill. Are you still keep playing a guitar ?
---
#019 from Joe Anthony Cadrecha(Feb. 27, 2000)
Hey Tabo.....
nice site dedicated to a great man and musician Joe Pass...I had the priviledge of private lessons with the man from 1971-73......for 10 dollars a lesson,and the lessons would go for hours because he liked me!!! He was a kind and generous man who will be missed by all Jazz Guitar fans world-wide.....
Stay in touch if you ever want or need anecdotes about what it was like studying with him...as the stories are warm and funny..for example...my name is Joe and he couldn't remember my name from one week to the next!!!
Anyway thanks again for doing such a great job on the site......
All the best,
Joe Anthony Cadrecha
former student and current professional
Phoenix ,Az,USA

---
#020 My Lessons with JP by Joe Anthony Cadrecha(Mar. 1, 2000)
I started lessons with JP in 1971....my church pastor Rev.Tom Vaughn, hooked me up with JP and gave me a formal introduction to get me started, as JP only took students by referral...I went to his house in Northridge, California for my first lesson for $10 dollars an hour.....quite a bargain....and we began by just playing "All the Things You Are" and talking about what I needed to learn. JP told me that 'I really don't teach in a traditional sense' meaning music theory was not his style of communication....he would just show me things and it was up to me to "Theorize"....so the lessons would consist of me bringing in a tune for examination and we'd simply play and he'd critique....mostly I would sit at his feet and "absorb" his"feel" for the music and learn the intuition of playing, rather than..."What scale works here?" type of study. As a college student who was learning the "Rules" of Music, this was a great way to learn by doing!!! During one such lesson I asked"How does this one type of chord move to this one?" and JP said, "man I don't know!!!! It just sounds good!!!", and me(filled with "College Knowledge")said something that to him...must have sounded like this....complete gibberish..."So Joe...the chords must move from sub-dominant relative Major thru the cycle of demolished 3rds to the enharmonic cousin of the ii chord....right????"and Joe closes his eyes and begins counting on his fingers and then says...
"Yeah Man...that's it...you should write my books!!!!"
and we both howled with laughter at the absurdity of my language.....but the lesson was learned.....it has to sound good..not just make "Theoretical " sense!!!!
---
#021 / Tabo
Joe used to say that he didn't know the chords name like "I-VI-II-V" before one of his students taught him. Maybe you taught him first.
---
#022/ from Mike Rosso(May 3, 2000)
Hi this is a great site. I knew Joe for over 20 years. He was a great man, great freind, and a great teacher. One thing you said in your picture gallery is incorrect. Joe almost never played his Ibenez. He only used it to pose for pictures, since he was under contract with them . I saw him play maybe100 times and he always played his D'Aquisto, the last few years of his life he played his Gibson quite a bit . But never really cared for the Ibenez. I'm glad that someone put this web site together. Joe was the best and I'm sure he like it. Thank you and keep up the good work if I can help in any way let me know.
Sincerly Mike Rosso .
---
#023 / Tabo(May 4, 2000)
Hi, Mike. I didn't know that Joe didn't play his Ibanez in U.S.
I only have a chance to see Joe's playing in Japan. He always played his Ibanez in Japan after he contracted with the company( I think from '81 ~ '90).
I know he played Ibanez in Europe during that time, too.
I remember Joe brought his D'Aquisto only one time to Japan, it was 1978 - his first arrival.

Now I think, Joe might think Ibanez for tour and other guitars for domestic gig. Because Joe didn't worry about "damage " or "burglary" while his tour.(if something happened, Ibanez would give him a new guitar)
It might be a reason that Joe played Ibanez outside U.S.

---
#024 from Mike Rosso(May 5, 2000)
You may be right abuot joe playing his Ibenez overseas so as not to risk damage or theif to his D'Aquisto. I know he loved that guitar. I have a Benedetto and i feel the same way about it. I've never taken it on an airline unless i can take it on board with me. Also after Joe moved to Germany i only saw him play his Gibson when he was in town.So that makes perfect sense.
Sincerly Mike Rosso
---
#025 Joe Pass memories by TONY CALABRO(May 13, 2000)
Hi Tabo,

Love the Joe Pass website and I'm pleased so many people from all over the world dig it. Well done and thank you . Joe Pass was one of the best things that ever happened to me in my life , I will never forget him for his kindness and for his encouragement and support given to me both in letter form and in person.

I first wrote to Joe Pass in 1979 and could not believe my eyes when I received a letter from him in September '79. That was the beginning of a whole new life for me. He invited me to study with him during a two week seminar in Sydney in 1980, 2 hrs every day. I still get very excited when I talk about it after all these years. We hit it off very well right from our first meeting during day 'one' of the two week seminar. He was as I said very encouraging, even though I made it very clear to him that my guitar playing was 'level one' and his was 'level 100%' He still insisted I have lunch with him the next day at his hotel room and he even insisted he give me a private lesson away from the seminar. I played "Here's That Rainy Day" for him and he made the usual comments , "now play it different", so we went through it bar by bar and Joe was able to help me get through it in a way I never new was possible, for me at least !!!!! Then we played a duet together of "Wave". He wanted to hear me do a variety of feels etc.... Joe was great, very encouraging,very supportive, even though he was a little tired and needed to rest he gave me the time of day and I'll be for ever grateful.

I loved his sense of humour, like during question time , one guy requested 'Tune Up ' and Joe very calmly says " it sounds o.k. to me man". An other day a guy played 'Spring Is Here' and Joe said "that was great, so now play it different " and the guy nearly dies and says "Man it's taken me 6 months to play this arrangement sorry I can't " so Joe says " well that's no good man , you need to be able to play it differently every time you play it if you want to really play jazz , so work on that, also throw in more bass notes to fill it out. I haven't played that tune for about 10 yrs but I'll show you what I mean". So Joe plays 'Spring is Here' and at the end the guy says " yeah all those bass notes you played, that's o.k. while you're in the key of 'D' but how would you go in 'Eb'?"
Joe, with his cheeky grin, looks at the rest of us and says "Hey what is this a test man ?" We all laugh !!!!! ha ,ha, ..... So Joe plays 'Spring Is Here' again , this time not only plays it differently but changes keys every verse , until all 12 keys have been covered. Now you think this guy would have got the message, but no, not him , he asks another question to Joe; "How would you go playing all this 'outside type playing' that some of the modern players today are doing ?"And Joe responds beautifully " Hang on man, did I pass the first test ?" Man ! did we all laugh, ha ,ha,...... beautiful man.......
Naturally , Joe then did a solo , playing 'outside' and blew every one away.

These are just a few great memories I have of Joe Pass, and they will stay with me forever . I feel really blessed to have to have known him, to have played for him, to have played with him and I will treasure his positive comments for the rest of my life.

Thank you for this opportunity to share with you and your readers this special moment spent with the great Joe Pass.

Sincerely, TONY CALABRO .
---
#026/ Tabo(May 14, 2000)
Hi, Tony. Thanks for sharing us your great memories. I love the sentence that Joe talk down the guy, especially.

When I visited Joe's house in L.A., 1979, I played "How High the Moon" which I copied from "Virtuoso" in front of Joe. In the middle of the tune, I lost my way, struggling on it, played the same phrase several times, . . . Joe was gazing me and finally brought me to land asking, "Tabo, how long did it take to copy ?" I stoped the playing and said, "It took me three months." Then Joe said, "Jesus!! . . . It took me three years !!"
Warm person !
---
#027 transrciptions by Mike Rosso(May 20, 2000)
I have dozens of Joe Pass transrciptions.If anyone is interested in trading.
I have the entire virtuoso 1 and 3 plus several others including days of wine and roses, blue bossa,I love you,you and me,Stay loose,Moment to moment,Secret love, Carnaval,I also have transrciptions of my lessons with Joe.
Cremona5180@aol.com
---
#028 from Flávio Cardona Alves(Dec. 28, '00) I am very glad to find such a page about Joe Pass on the web.
I'm from Brasil and enjoy his music very much.
As a beginning guitarplayer I pay attention to every detail and I became interested in his style of play.
My technique includes playing fingerstyle but I have some problems in letting my nails grow long. In your page I saw the photo from his hands.
So I have a question about this subject: did he use his nails to touch the strings (though they were shorter than classical players) or did he touch the strings with the flesh of his fingers and didn't use his nails at all?
This answer is important for me to develop my technique, though it will never be as great as the genious.
I wait for your answer.
Best wishes from Brasil.
Fl=E1vio.

---
#029 / Tabo(Oct. 30, 2000)
Hi, Fl=E1vio.(sorry, if I call your name wrong)
The answer is, YES Joe used his nails to touch the strings. If you cut your nails deeply, you can't used your nails to play, but it will make you hard to control your sound.
Look at Joe's hands photo again. His nails of right hand(left photo) is longer than left hand.
So please try to cut your nails like Joe's size and watch carefully when you play(touch the strings). You will notice that your nails touch the strings lightly except thumb. If you want to make big sound, you should grow your nails longer than the photo's.
Please look at the note on "72.Á Salle Pleyel" of "Albums".
---
#030 from Jean-Luc JAMAUX (Oct. 7, '00)
Hi Tabo, Thank you for your web site; it's great with many information. It's always a pleasure to have a look on it.
You know the CD "Unforgettable" where Joe plays on a classic-accoustic guitar I am wandering what kind of guitar is this one. Do you have any information about it ?
Best regards

---
#031 / Tabo(Oct. 9, '00)
Hi, Jean-Luc. Thanks for visiting this site.
You asked about Joe's classical guitar on the CD "Unforgettable". Unfortunately, I don't know the answer.
I know that Joe owns Mexican classical guitar but don't know its name. You can see it on the cover of his book titled "Chord Encounters for Guitar Book1/Blues, Chord & Substitutions"
And Joe owns Borys Roger's classical guitar named "B 20". But I don't know which guitar Joe used nor Joe used other guitar.
When I can get more info, I will upload here.
---
#032 from Calvin Wong(Jan. 8, '01)
Tabo,
Thank you very for the wonderful Joe Pass site. I will put it on my favorites and visit it form time to time. Keep up the good work.
A Joe Pass Fan,
Calvin Wong
---
#033 from Michael D. Young(Jan. 12, '01)
Mine is a simple story on how Joe changed my musical direction.
I've been a rock guitarist all my life. I frequented the record stores looking for whatever I was in the mood for that day. There was a bin of discounted tapes outside. Right on top was Joe's Whitestone release. I didn't know who Joe was but there was a guitar on the cover. I thought what the heck it's only $3.99.
The rest is history. Thanks Joe, Michael D. Young Aspiring Solo Jazz Guitarist.
---
#034 from Mike Childs(Jan. 16, '01)
Dear Tabo,

Thank you very much for your website - you did a great job!
I love jazz guitar and especially Joe Pass. I was able so see him in person only once and in that brief span of time found him to be a very kind and pleasant person besides of course, being a great guitarist.
Thanks again.

Mike Childs
---
#035 / Tabo (Jan. 16, '01)
Hi, Calvin Wong, Michael D. Young & Mike Childs !!! Thanks for leaving message.
I am very proud to know that you like this site. I will make the site more charming, so please visit "from time to time" and if you have any opinions, I love to hear them.
---
#036 Remebering JP by Joe Anthony Cadrecha (Jan. 17, '01)
If you've seen my other two letters, I hope you'll get a kick out of this one too...As I mentioned in letter #1(see #019 & 020),JP could never remember my name from one week to the next,and I always thought that funny since my first and middle names are indentical to his...He always instantly recognized my face from a distance,or my voice over the phone...but he couldn't make a connection with my name, when I would come to his house for lessons time and time again.
Now.....let's set the scene.....10 years pass and I bump into Joe at gigs,or at the union,and he always comes up to me and shakes my hand,apologizing for forgetting my name again and he hits his forehead with his right hand each time we meet at the embarrassment of it all...and I nothing I say can console him....he would feel so bad about this,because,( as those of us fortunate enough to have been in his presence know).......He truly cared for all his friends and pupils. Next scene..... Chicago....I had moved from LA to Chicago to do jingles for an account of mine who asked me to move and work for him.....anyway, one day the paper has an add about JP doing a solo gig at the Blackstone Hotel Jazz Club...so I called the club and told them I was a former student of Joe's and what time is soundcheck...? I thought I'd surprise him with an early dinner, after the 3pm soundcheck..so I walk in and he's just playing away.... He instantly recognizes me,smiles and waves me over to the bandstand....hands me his guitar and says..
"You play, right?"..I said "sure"...."great" Joe says..."play a chord melody...then do some lines and let me check out the room"......So I jump into Joe's note for note version of "Watch What Happens"..he looks up at me almost startled and says...."where did you get that?"..I reply...."from you!!!".... he says..."really... I don't remember playing it that good"....and as usual we both had a great laugh about that one.....we had an early dinner and he played his usual brilliant solo guitar concert,much to the delight of the audience.
Later during the encore portion of the program,JP introduced me from the audience as "the guy who's name I always forget...and he's a monster"...I was never more honored or humbled in my life..memories of Joe are always such wonderful treasures......
---
#037 from Paul Hintz(Jan. 20, '01)
Tabo,
Thank you for building this site, and continuing to maintain it. My heart is touched whenever I visit it. I only heard Joe in person twice, once around 1980 in Milwaukee, Wisconsin (in the middle of the US) when he played a small jazz club, solo, in the neighborhood where I and my wife (a jazz drummer) lived. The second time was here in Minneapolis/St. Paul, Minnesota, on the last tour he did with Ella Fitzgerald in 1989 or 1990. He's always been my biggest inspiration as a guitarist. To this day I can recall how I felt when, in April 1994, I went to a Great Guitars concert here in St. Paul only to find out he was sick and would not perform. When, a month later, he cancelled a performance at a local jazz club, I knew he must be dying. It was like losing a loved member of my family. After that, I had two dreams of meeting him, and of him encouraging me. I have lately returned to intensely studying his recordings and videos. This weekend, I'm writing an article for our local Guitar Society about Joe, and will describe your web site. I hope many more people will visit.
Sincerely,
Paul Hintz

---
#038 / Tabo(Feb. 13, '01)
Hi, Joe Anthony Cadrecha, your story is very interesting.
Yes your first name and middle name is the same as Joe(Joseph Anthony Jacobi Passalaqua). But Joe forgot your name in every week . . . and finally you were introduced as "the guy who's name I always forget...and he's a monster" by Joe to the audience.
The GREAT story it is.
I have a Japanese friend named "Age", a good harmonica player. I introduced him to Joe and Joe liked his harmonica. Then Joe used to pick him up on the stage and played some blues at the encore. Then Joe introduced him to the audience as "the blues man!! . . . came from "Chi-Chi" island.", 'cause Joe forgot his real name, "Age".
Your story is typical "Joe".
---
#039 / Tabo(Feb. 13, '01)
Hi, Paul Hintz. Thanks for visiting and leaving a message. Also thanks for introducing this web site to your local Guitar Society. Is your wife a juzz drummer ?! And you play guitar.
What a luxury circumstance, having your rhythm section at home !!
I want to say your wife big "hello", and hope you visit this site again and again.
---
#040 Joe Pass right hand technique by Flávio Cardona Alves(Feb. 16, '01)
Hello.
Last year I asked you about Joe Pass fingernails and I thank you for the answer.(see #028)
But I was left with a doubt. Does he used to let his thumb nail grow longer too?
I think the sound of the flesh of the thumb better resembles the sound of a bass and also it creates a contrast to the sound of the other fingers with nails. Does this makes sense? Was it the technique that he used?
---
#041 / Tabo(Feb. 17, '01)
Dear Flávio.
Joe didn't use his thumb nail to play.
Joe used the flesh of the thumb for his walking bass line. I agree with your opinion, "the thumb better resembles the sound of a bass and also it creates a contrast to the sound of the other fingers with nails"
That is exactly right.
Joe used his 4 nails(except thumb nail)to play. It is a natural things, because no one can play only with the flesh of his fingers and didn't touch his 4 nails at all, except if he cut his nails deeply.
I think Joe let his nails of right hand grow longer than left hand. But very little longer than left hand.

---
#042 / Tabo(Feb, 20, '01)
Hi, Flávio.
I checked my Video tapes, and found that Joe usually plays his walking bass line by his flesh of the thumb, but he occasionally uses his thumb nail to play chords and some phrase with other fingers(nails).
I think Joe uses his "thumb nail" when he needs plectrum sound and uses "thumb flesh" for walking bass feeling as you say.
(look thumb nail)
---
#043 Aloha from Hawaii by Ken Lara (Mar. 10, '01)
I happened to stumble across your website while surfing, and I enjoyed the stories of those who have had the pleasure of meeting Joe, and the privilege of calling him "friend."

I was introduced to the music of Joe Pass in the early 70's, by a friend who happened to learn that I too was interested in jazz guitar. He played the album "Virtuoso" for me and I was totally amazed at what I was hearing!

Several years later, I was playing bass at a dinner club in Maui, in which I was allowed 2 songs on guitar a night. On one of those nights, as we were a couple of bars into "Watch What Happens," I looked up to see a guy smoking a cigar looking over at us from the hostess stand, waiting to be seated.

The song, and the rest of the night, proceeded on from there without much ado. As we were finishing up the last set, here comes that same guy again, cigar in tow. He points to me and says, "You...keep playing that guitar," and then walks out the door. By now, my curiosity is definitely aroused, so I walk over to the hostess stand to check out the reservation list to find "Mr. & Mrs. Joe Pass," table of two, smoking section.

Even though I never had the chance to meet him personally, his parting encouragement has been with me, even till today, and his music still amazes and inspires me to "keep playing that guitar."

Just thought I'd share that story with you.

Aloha,

Ken Lara
Waikoloa, Hawaii
---
#044 from Michael Silberman(Mar. 22, '01)
i have always referred to joe as the greatest jazz guitarist of all time. i am also a guitarist and i had 2 jazz improvisational teachers in the early '70's. joe pass was one, and warne marsh was the other - at the same time. in fact i subbed for joe at dontes in los angeles, when he couldn't make it. i remember his advice well, his philosophy about what and how to learn. how to break old habits and grow as an improviser. his life was tough to be sure. many times i would see him perform and during his between-songs-banter he would betray his inner struggles by vague references to 'slipping back' into old habits. i recall a jazz show that had oscar peterson and george benson on it. oscar confronted george wondering why he was there and why joe pass wasn't! george is a great player too, of course. in terms of straight-ahead bebop his mcgriff years demonstrate that. but no one, including george, could basically become a complete orchestral arrangement - solo - newly improvised each time played - without backup working solo, chords and bass seamlessly intertwined with one another to create a whole picture. you never missed another instrument when joe was on stage playing. i was very sorry to hear of joes passing many years ago. he had come so far, but there was still so much to be done. i have no doubt that in some years, as the pendulum swings back yet again, that there will be unsurpassed renewed interest not only in jazz, but in that very small group of musicians that the greatest musicians consider the greatest of the great, namely joe (joseph anthony pasalagua). and i wouldn't be surprised to still see oscar peterson
---
#045 / Tabo(Apr. 6, '01)
Hi, Ken. I can understand that you felt you should check the name of the guy, you already recognized who he was though.
So you keep playing your guitar! Thanks for sharing your great story.
---
#046 / Tabo(Apr. 6, '01)
Hi, Michael. You subbed for Joe at Donte's Monday Night !?
What a great experience, you did !!
If you have any story with Joe to share, please write again !
---
#047 from Antoine Baret(Apr. 19, '01)
Hello,

Is there anybody here who knows how to get the transcription of "How high the moon" from Pass's Virtuoso album ? I'm trying to learn it just by ears but for some chords and some very quick lines it's so hard !!

Any clue ?

thanks

Antoine
---
#048 joe pass memorial(by mustafa altan, Apr. 26, '01)
Hi
my name is mustafa altan who visit your site a couple days ago.
I am from Turkey and dealing with jazz guitar and of my favorite is Joe.
Sometimes i am watching his videos and being sad. Because however i didnt know him but i feel that he is different.
he is like father, like a child sometimes like friend; he looks very smart and in great personality.
I am sad because he could live more and more years like the others.
I also noticed in hise last video in 1994 he looks very tired. I think it is not so easy to play like that without spending whole life to your instrument.He always mention about his dad saying ( fill it up, fill it up ) when he is playing.That means in his whole he carried his dad effects and try to race with himself. Anyway, he is lucky ( he also saying its gift from God ) because of loving him very much fans and student and friends....
I so far from his environment because in Turkey jazz guitar is not so popular to find something is difficult when i go to London or other cities due to my business i try to buy that kind of stuff like vcd, video, books...and also i got a gibson guitar from US ( my friend brought for me )
i created a jazzlife for myself but any case i feel myself far from jazz anyway...
Some words from me just to share with you...bye
best regards / selamlar
mustafa.altan @ Global Alliance

---
#049 / Tabo(Apr. 29, '01)
Hi, Antoine Baret. I think I have a transcription of "How High the Moon". But I lost your e-mail address!! So will you please write me e-mail ?.
I think it will be a great practice to copy only by your ears(not see the transcription).
---
#050 / Tabo(Apr. 29, '01)
Hi, mustafa altan. Please don't feel yourself far from Jazz. Joe used to say "simplify".
Whereever you live, you can enjoy and play your music. If you can sing or whistling a tune, and if you can put some good phrase on it, you can play jazz. If you can play it on your instrument same way, too, it's our goal, I say it is JAZZ.
---
#051 from Terry(May. 1, '01)
Great site , you have been blessed by knowing apart of Joe. Can you tell me,or maybe know where I can find out , what gauge and brand of guitar strings , Joe used in the later years 1985 up. Flat wounds ? thanks for your help .
---
#052 / Tabo(May. 2, '01)
Hi, Terry. Thanks for visiting this site. I think Joe didn't have any favorite for strings set except it was flat wound set and start from .013.
But I remember that Joe gave me a set of Thomastik-Infeld "Jazz Swing Series JS 113 flat Wound" saying, "Good strings ! My friend made it".
Joe used to prepare 2 or 3 spare strings for 1st to 3rd strings. And when Joe think the strings were "dead", he changed 1st to 3rd strings at the same time. You know, thinner strings were soon dead when thick strings kept good condition.
---
#053 from Marco Guerra(May. 29, '01)
Hi Tabo, compliments for the site, Joe is my "anchor" in the jazz guitar field. Do you know if he ever considered playing Beatles song, and if not why?

Thanks for the answer and good music!

mguerra@ulss.tv.it
---
#054 / Tabo(Jun. 3, '01)
Hi, Marco. Thanks for your compliments for the site.
I have no right to answer your question because I'm not Joe.
I checked my video library and found that Joe mentioned about The Beatles.
The interviewer asked Joe why he can play such a miracle way. Then Joe answered, "I don't know. I don't know, but one thing I can say is, I am left hand. I use my left hand for eating, writing everuthing except playing the guitar."
Then Joe smiles, "...when the Beatles came along, I don't know who plays like this way,(switching the neck of his guitar to his right hand) 'cause I don't pay much attention to them, but 80 million kids start to play like this way."
So I think Joe didn't pay attention to their music. That means Joe didn't know their music.
If Joe see this article, Joe would say to me, "How did you know it ?"
So I have to say this is MY opinion.
About the Beatles tunes, Joe played "Nowhere Man" on "A SIGN OF THE TIMES"(#26) and Yesteday on "Virtuoso #4" and "Among Friends"(#153-1). Joe used to play the medley of "Yesterday" and "Yesterdays" at his gigs. He put one phlase of "Eleanor Rigby" on it.
---
#055 from Paul Shupack(Jul. 5, '01)
Tabo,

Thanks for setting up this website. Joe Pass has had a HUGE impact on my life and my playing as a jazz guitarist. I used to live in Washington D.C. where I was going to school and playing gigs at nite and doing some teaching. Joe came to town to play a solo gig at a place called Blues Alley. I went to see him with another guy that I was playing jazz guitar duets with. When Joe was sitting up at the bar having a cup of coffee while taking a break between songs my friend and I went up to say hello to him. It was a rare moment when he was alone as during the other break he was flocked by middle age women. Somehow we worked up the nerve to ask Joe to give us a lesson while he was in town. His reply in kind of a mean voice "I gave one already". Then he kind of smiled and started asking us about our musical experiences and influences which we told him. He finally agreed to give us a lesson and asked us to meet him the next morning at his hotel. When we got to the hotel I almost fainted with fear. Joe was like a God to me, musically speaking. I had almost all of his records, (I would litterally buy a new one almost every week) and had memorized some of his solos, etc. Anyway, we went up in the elevator to his room and upon getting out of the elevator I smelt cigar smoke. Realizing the smoke had to be coming from Joe my stomach went into knots realizing that we were so close and I was about to have a lesson with my idol. We finally knocked on his door and he answered wearing a bathrobe and sure enough was smoking a cigar. He then told us before we could start on the guitars he wanted us to see if we could fix his television set as there was an LA game on and he could not get good reception. My friend fixed his set and we sat and watched the game for a while. Then we took out the guitars and he first had us play for him and then he gave us some new approaches to constructing chords, gave me some great suggestions on how to better intertwine my base lines and chords and gave us some amazing harmony exercises which are really helpful in training the intuitive playing over chord and tonal changes. Then Joe pulled out his Ibinez and we played together. (I never thought of Ibinez guitars as being that good but he let me try his and it was set up like a dream. Incredible tone and action.) We spent most of the day with Joe, playing, learning, talking, etc. At the end I gave him some good cigars that I brought with me as a gift since I knew he enjoyed them. And he gave me one of his. He also autographed an album cover I brought and wrote "To Paul, Too Loud!!!! Joe Passalaqua". He was making reference to my loud attack sometimes which was a holdover influence from my days playing Hendrix. We then took a walk with Joe as he did a little grocery shopping across the street (mainly to buy grapefruits). Before saying goodbye my friend asked Joe if he could get us "comps" for Joe's show the next nite. I was embarassed by this, but to my surprise Joe said "no problem!"

When we showed up the next nite at Blues Alley we told the guy at the door that we were friends of Joe and he invited us to the show. The guy of course did not believe us. But then Joe looked over from the stage where he was getting ready to play and when he saw us he signaled the guy at the door to let us in. The guy then led us to a great table close to the stage. Then Joe looked over to us and waved and started to play "I'll Remember April" which was one of the tunes we played together the day before, which he also used as a vehicle for teaching us some of his concepts. At the end of the nite, Joe had packed up his guitar and was walking to the door to leave. He stopped at our table and spoke to us for a while. Finally he asked us if we had a car. We did not and told him so to which he replied "ah you bums, see you the next time...". That was the last we saw of him. It was a magical experience and one of the most memorable days of my life. Though we only spent a day or so with Joe, he was very warm, friendly and extremely funny, and I felt as though I really got to know him. When I heard he died I felt like I not only lost a great mentor and someone to look to for great musical inspiration, but also a friend, or even an uncle. Musically I have come a long way but I always go back and listen to Joe's playing and every time I do I learn something and am still amazed at how great he was.

Thanks again for setting up this website. Joe was the kind of guy that could really touch everyone he met, people who care about Jazz guitar anyway. And I think your site makes a lot of people feel good as they join together to remember this great musician and friend.

Paul
---
#056 / Tabo(Jul. 6, '01)
Hi, Paul. Thanks for sharing your GREAT story to us !!
I love it !!
Now it's our turn. We should make good memory with others who we will meet, . . . like Joe did it for us.
---
#057 Poor JoeFrankie Sirait(Jul. 12, '01)
Hi there, I'm Frankie and I'm 19 years old come from Indonesia. Cool site!! can read exciting stories about him. Poor Joe, his name is unfamiliar here. Thus it's so hard to find his albums, books, or videos here. I only have Joe's "Whitestone", "Virtuosso #1", "My song", "Joe Pass Quartet Live At Yoshi's", and "An Evening with Joe Pass".

So i started to find all about him on the websites. Well, even i've found his albums or videos or books, i still can't buy it! It's so expensive when i use Rupiah (Indonesia's Currency) to buy it. So i just can learn about his music from all of my collection, and i take the music institute here to improve it.

I Love Joe!! Imagine how would be if i ever met him before he died. It would be the best time i ever had in my lifetime. His name always be reminded.
---
#058 / Tabo(Jul. 12, '01)
Hi, Frankie. So you should advertise Joe's name in your country !!
I'm sorry to hear that you are difficult to buy Joe's goods in reasonable price. But from your collections, you can find the gold mine of his music.
I recommend to see and understand what Joe said and play on "An Evening with Joe Pass". I love this video, 'cause Joe said about his childfood.
By the way, you can see a young girl who kisses Joe at the end of the video, she is Nina. Joe's daughter.
---
#059 from Frankie Sirait(Jul. 14, '01)
Hi Tabo, i would thanks for put in my e-mail to the website. Now i feel i realy have to advertise his name in my country soon, the jazz here has started familiar among the teens age slowly. Although this "parents music" has always been popular since the first time brought to here.
I'm very interesting on his playing, the minor lines had never been found in other jazz guitar players, like Kenny Burrell, Jim Hall, Wes Montgomery, etc. I also proud for his chord melody. Gosh!! he played so fast, even he didn't admitted it. Beside, i want to collect all of his goods, unfortunately like i said it's too expensive here. So, do you sell his goods right on the videos & books page on this website?? i realy want to buy it one by one. It will take the cost lightly if you're in Japan.
By the way, do you know the lattest recording of joe's playing?? was there the "An Evening with Joe Pass"?? 'cause i found it dated in the year 1994. Woww, i was at the 6th Grade when he was died. I didn't know everything about Jazz at the moment.
I realy love his guitar sound on the "An Evening With Joe Pass" Video. I found it made by Gibson, the "ES 175". Are they sell that guitar on the store?? i realy want to buy it when i have finished my study and become pro on the jazz guitar. Ha, ha, don't know when.. hope Joe wishing me for it..
My one and only love.. Joe Pass.
---
#060 / Tabo(Jul. 18, '01)
Hi, Frankie. Sorry but I don't sell Joe's videos or books on my web site. I suppose a video will cost around 5000 yen($40) here in Japan. MacDonald humberger cost 65($0.52) yen, so . . . I think the video is expensive in Japan, too.
I recommend you to check eBay auction site. There are many Joe Pass goods including those videos and books. You can buy those second hand goods in reasonable price.
http://search.ebay.com/search/search.dll?MfcISAPICommand=GetResult&SortProperty=MetaEndSort&ht=1&query=%22joe+pass%22
Or check at zShops of amazon.com.
http://s1.amazon.com/exec/varzea/subst/home/fixed.html/ref=n_asp_zshops/107-0561491-3152562
Joe's official last recording is "Roy Clark & Joe Pass Play Hank Williams"(CD). It was recorded Jan.,1994. "An evening......" was recorded in 1993(I think) and issued 1994.
The guitar on the video is a prototype "Joe Pass Custom". It is very simular to ES-175 but has thinner body. OK? So you can't find it at store.
By the way, I tried to send you an e-mail for letting you know above mentioned, but returned. jazzy_guitar@jazzlovers.net doesn't work.
---
#061 from Chad B. Gage(Jul. 19, '01)
Dear Tabo,

I really like your site - very interesting - keep up the good work!

I listened to Jazz a lot starting from the early '70's. One could always easily tell when Joe Pass was playing - you would think - let's see - whoever this guy is, he's playing very fast, and very interesting lines at the same time - and then you hear the harmonies played as though he were a pianist, and of course you would know - it's Joe Pass.

I was a classical guitar performance major at USC when I first met Mr. Pass - he was playing at the Lighthouse in Redondo Beach, CA, and a group of my buddies and I decided to go see him. It was wonderful - the lighthouse isn't a very big place, and so everyone in the room had seats practically in Joe's lap. After the first set, I went back to the dressing room to ask him the usual questions about how I could study with him - he said that he was giving a seminar in a week or two - but that's about the only contact I had with him, as I was busy with other studies at the time. I think that he gave a class at USC later that year, but I wasn't able to make it.

JP used to play at lot at the Toronto Competition (I would see him on the program for an evening concert) I'm sure that he wowed the classical guitar devotees with his magnificent playing. The scary part, of course, is that he could have probably played every tune he played some different way and it would still sound excellent.

My favorite thing to do with classical players I meet, is to have them try to sight read the Joe Pass/Herb Ellis duets and watch them fail miserably. Many classical players on any instrument sometimes have their nose in the air when it comes to jazz - but it is a well known fact that for some instruments the jazz players are far better than the best classical players - even in tone production and clarity.

I especially appreciated his harmonic playing - well beyond what most players are capable of - even Wes Montgomery couldn't touch his solo work.

Thanks,

Chad B. Gage
B.M. Classical Guitar USC, '79
---
#062 / Tabo(Jul. 26, '01)
So, Chad, are you keep playing jazz tuunes ? or classical numbers ?
---
#063 from Four leaf clover(Jul. 26, '01)
Hello, tabo! It is me again.
I found your photo here.
You look very nice.
I have get the CD of joe pass not yet and will find some in the library.
If you don't mind, could you exchange our
banner?
See you on my chat room.

---
#064 / Tabo(Jul. 26, '01)
Hi, Four leaf clover ! Thanks for the compliment for ... me !!
Hi friend, who is reading this article now, "Four leaf clover" is an artist of tole painting, and she has her own web site.(very cute one !!)
She is managing her site, and there are English "chat room", too.(I made friends with her at there)
I will visit there "from time to time", so if you have an spare time, why don't you visit her site and say "hello" to her.
(by clickng bellow banner, you can come her wonderful site!)


---
#065 Remembering Joe Pass by Dan(Aug. 10, '01)
Tabo,

You have done a great job with this site! I was lucky enough to have seen Joe Pass a few times and was always amazed at what a giant of a musician he was while at the same time being a very humble or 'down to earth' person. That is a rare combination. One time I drove down to Rhode Island with my friend Ernie, a guitar player and a great Joe Pass fan, to see Joe play in a small club on a Sunday afternoon in April 1988. Joe was unbelieveable as usual and was very gracious to us when we came over to say hello, but what impressed me most was that after he had finished playing, a local amateur Dixieland group began setting up to play their regular Sunday gig. Joe decided to hang around and asked the guys if they wouldn't mind him sitting in with them. You can imagine how thrilled they (and we) were when Joe sat in and played Dixieland for the rest of the afternoon!

On another occasion, we saw him play at Berklee in Boston as part of a concert that featured Joe as a solo followed by Wayne Shorter and his group. Later, when Joe had finished to a great ovation and Wayne Shorter had come on stage, we were not surprised to see cigar smoke drifting up from the wing and Joe leaning forward to listen to Shorter's group play. That impressed me very much - to realize that Joe loved music so much he wanted to stay and listen to Wayne Shorter along with the rest of us, simply as a fan. Many musicians would have been out the door as soon as their gig had finished. I don't think Wayne even knew Joe was still there - maybe he would have asked him to sit in too!

Thanks,
Dan
---
#066 RE: Remembering Joe Pass / Tabo(Aug. 11, '01)
Hi, Dan. This is Tabo, a manager of Joe Pass Memorial Hall.
Thanks for sending me a great story. I want to upload your story at "Salon" section of my web site.
So, will you give me your family name ? (Delaney ?)

By the way, did Joe play Dixieland tunes with the group?

---
#067 RE: Remembering Joe Pass by Dan Delaney(Aug. 12, '01)
Hi Tabo,

My family name is Delaney.

Yes, Joe sat in with the guys and played rhythm guitar on the traditional Dixieland tunes and also took leads with 'horn-style' solos on his guitar.
It was a lot of fun for everyone in the audience, but especially for the local musicians in the band who realized that they were playing with a 'world class' musician in Joe Pass.

Here is another story I remember Joe telling when we saw him in Boston: Joe said he had been giving lessons to this young guy who was in a rock band. One day the young man called Joe and said, "I won't be able to come to my lesson for a month because my band is going on tour in Europe". When he returned, he drove over to Joe's house for his lesson in a big Rolls Royce.
Joe asked him how much he got paid to go on the European tour, and when his student told him how much he had earned playing in the rock band, Joe said,
"I think maybe I should be taking lessons from you"!

Thanks again for the wonderful website you have created Tabo.

Best Regards,
Dan
---
#068 from Tony Calabro(Nov. 4, '01)
Hi Tabo,

Having read the comments from Chad B Gage on this site, I thought I'd write and tell you about a statement made by John Williams at the end of a two week seminar I attended,and was part of, in Sydney Australia in 1980 where Joe Pass gave a two hour workshop, every day, for the entire two weeks. John Williams said, and I quote, "here I am supposedly one of the worlds finest classical guitarists, and after seeing Joe Pass and his students, I thought I knew the fingerboard......" That was so great to hear John Williams say that because in the room was also a lot of classical guitarists who prior to these two weeks had no idea who Joe was and also had no idea how GREAT jazz is or how good Joe Pass was.

All the best,

Tony Calabro
---
#069 / Tabo(Nov. 5, '01)
Hi, Tony. That's good, everything O.K. now.
I want to ask you the explanation of John's saying,
"after seeing Joe Pass and his students, I thought I knew the fingerboard......"

Does it mean John said he didn't know about the fingerboard before seeing Joe Pass and his students ?

or John means after seeing Joe and his students, he thought "oh, Joe knows the fingerboard just like me"

I'm still not good at English, so will you please let me know about it by easy English !!

Tabo
---
#070 from Tony Calabro(Nov. 6, '01)
Very happy to explain Tabo.

What John Williams meant was that he was very impressed with Joe and all the students knowledge of the fingerboard and that Joe and the students knew things that John didn't know. Especially in the area of improvising and also when Joe would say "play me something" and then Joe would say "OK, now do it different".
John was very impressed how Joe in particular would be able to play any tune in any key and different every time. John was blown away by this. I think especially when John knows he plays an arrangement note for note just as he has learned it every time he performs it so to see Joe play and improvise and compose on his feet etc....was amazing for John.

I think also because the students picked up so quickly on some ideas Joe would come up with that were spontaneous, like the time someone played "Donna Lee" by Charlie Parker and Joe jumped in and harmonised it so quickly. Everyone was so blown away and asked Joe how could he do that ? So Joe said "oh haven't you guys heard of that over here?" "Just play the same line in minor thirds " Joe said. So then he got students doing Donna Lee in minor thirds and it sounded so cool and it all came together so quickly that John was very very impressed and smiled a lot.

Yes so you see John said "wow, I thought I knew thew fingerboard but these goes know stuff I don't know and here I am one of the worlds best Classical guitarists" John also said an other time that he wishes he had done at least three years of jazz in his early training period because his improvising is so poor.

I think it's great that John is so humble to admit to that.

So let me know if I have explained things clearly for you Tabo.

Thanks again for your interest.

Tony
---
#071 / Tabo(Nov. 6, '01)
Hi, Tony, thanks for the explanation. Now I can understand what John meant.
---
#072 from Abe Chachamovits(Nov. 6, '01)
I think the year was 1975 or so, when I first heard Joe's Virtuoso album. I was struck with such intense empathy to his music, and as a young aspiring Jazz guitarist, I knew that was love at "first sound." A few years later (of both practice and complete and utter dedication to listening to Joe's music) I saw him in the first "Free Jazz Festival" in São Paulo, Brazil (where I lived). From that point on, all I wanted was to become a professional jazz guitarist (and some said, I had some similar skills to Joe.)

I practiced much, and dreamed of one day playing for Joe. Ultimately, I moved to the USA to study at the Berklee College of Music (and graduated in 1986), and in my second year of school, Joe gave a clinic in a music store next to Berklee in Boston. I remember vividly, how I grabbed my Virtuoso #2 LP cover (I wanted an autograph) and went to hear his clinic. After the clinic was over, I stuck around (with my roommate, Nick Spiliotis) and decided, "it was now or never". I grabbed a store guitar (a ES 175 I think), and started playing · · · truly , fulfilling my dream. Joe came and watched me and said (as Nick would confirm it), "I can't play like that!" Ironically, after Berklee, I moved to others areas of interest, and did not continue my musical career, but my love and admiration for the greatest guitar boss ever continued on. May his name be always dignified, for he raised music and the guitar towards the heavens. Congratulation on your wonderful web site and your sincere friendship to Joe Pass. Abe Chachamovits
---
#073 / Tabo(Nov. 7, '01)
Hi, Abe. What tune did you play at the store ? I can understand what you felt at that time !
---
#074 from Abe Chachamovits(Nov. 15, '01)
Hi Tabo,

How are ya?
I think I was playing "All the things you are".
Can you imagine, after hearing that compliment from him, I actually and literally had fulfilled a dream and started to move to other areas? Sounds insane, but that is what happened. I really loved his playing. When I was a teenager in Brazil, I used to hear him all night with my headphones. Tabo, Joe Pass attained the fullest expression of the essence of the jazz guitar. In a sense, he was truly close to G-d.
---
#075 from Peter Autschbach(Dec. 19, '01)
Hello Tabo,
I like your site!
I'm a 40 year old guitar player and I'm living in Germany. I first heard Joe Pass when I was 18, it was the recording of Joes performance at Montreux Jazzfestival. I was completely amazed because at that time I played the guitar for almost ten years and it seemed I didn't know one single chord Joe was playing. I played folk-guitar, so this experience was my first contact with jazz music. I liked Joes music from the very beginning and wanted to learn how to play like this. We didn't have jazz-guitar teachers in our region so I had to find out all the new chords by myself. I took my stereo-cassette-player and started to transcribe "Lil' Darling". The first measures took me about one week, my stereo suffered as I was playing back the same small piece of music again and again. But it worked, and I learned a lot. After approx. one month I was able to play the whole piece, and this was very encouraging. So I did a lot of transcriptions and wrote down and practised almost every bar of Joe's recordings that I owned.
Later (about 1987) I went to Cologne Music College and my guitar teacher (from Holland) told me that one of Joe's booking agencies was in Holland at that time. They told me that he was in Hamburg and I got his address! Needless to say that I wanted to meet my hero. I recorded some of my transcriptions, some solo and some with accompaniment of drums and bass. I wanted to make sure that my recording sounded very close to the original. I remember that the first piece was "A foxy chick and a cool cat" from the album "Eximious".
I sent that tape to the address the agency gave me, asking joe for lessons, being quite sure that Joe would send me an answer. I made it easier for him because I attached a stamped envelope with my address.
Two weeks later we were doing recordings at my place with some of my colleagues, and I found exactly this envelope in my postbox. I told the others "This is a letter from Joe Pass.", and I got some answer like "Yes, and another one from the pope". But indeed it was a letter from Joe, he wrote "I think you don't need lessons" and invited me to come to Hamburg and visit him. He gave me his phone number and I had the pleasure to talk to the man himself!
I went to Hamburg to have a lesson from him, he charged me a box of good cigars for this. We were together from noon till the evening and I recorded everything on tape. I was well-prepared, had a lot of questions, and I got the answers! He let me play and stopped me when he felt that it would be better to continue differently. Then he showed me his version and that was the best lesson I could imagine. It was just what I needed, he always knew a way when I was stuck. Most players do a lot of big skips and arpeggios, but that was not Joe's style: He wanted to "keep it as simple as possible", he showed me that the notes I was looking for were right under my fingers and I didn't have to search the whole fretboard.
During this lesson I learned more than in my whole college-time! Joe was not only one of the best Jazz-guitar-players in the world, he was possibly the best teacher.
This was not the only lesson, I asked him for another one two years later and it was also very exciting (and another box of cigars). During that second lesson Joe had some trouble with stomach-ache, I asked him if I should go home and come back another time but he refused and was as patient and concentrated as the first time.
I'm very grateful that I had the chance to get all the information I wanted from Joe himself.
My playing today is not that close to Joe's style. I have two CDs out with original music, I worked on that for twenty years. So I don't try to copy Joe's playing anymore, but if you listen closely you still can hear that I learned from Joe how to "keep it simple". People who are curious can have a look at my site www.autschbach.com My advice for my students is that it is very important to for some time try to follow the footsteps of a true giant because it's the best way to learn how to play! They should try to find out what's going on and then try a lot of variations to transfer the ideas into their own playing.
Joe faded away too early. Thank you, Tabo, for the great site, it's good finding people like you who put information about this great musician into the internet. I ordered the Photo Book from Takao Miyakaku. Thank you, Joe, for everything, your records, music, playing and teaching!
Peter Autschbach
Auf der Gasse 37
57080 Siegen, Germany
eMail: peter@autschbach.de
Website: www.autschbach.com

---
#076 from Marchant Peachy(Dec. 23, '01)
I am just a musc fan. I never heard joe live . The first time I heard him play was a cd whith stephan grapeli. I love all kinds of music and especialy ainything that comes from the heart as well as the head.Ive lived in texas all my life and fell in love whith the blues at about 13.How deep the ocean was the song that caught my ear. This guitarist that I had heard (tearing it up) on privious tracks now played the most buitiful intro i had ever heard.I love the blues but this was a revilation melody and harmony from six strings whith heart and soul. I had seen Albert King Fredy King B.B. King and Stevie Ray Vaughn sevral times live but this was the the most heart felt joyfull music I had ever heard.Next I picked up six string santa the renditions of christmas favorits blew me away and got many inquires from famly and friends as to who it was. It seems that whith Joe and most jazz musicians their inability to just play the damn song is their comercial downfall but to those who can conect beyond the notes and tune in to the greater freqency Joe Pass is a master.
In future genarations I know Joe Pass will be rememberd not only for speed teqnique or mastery but for the ability to move people whith his music.
---
#077 / Tabo(Dec. 26, '01)
Hi, Peter. So, your visited Joe's apartment in Hamburg ? I'd been there 2 times.
I understood that Joe's lessons worked you a lot ! Joe used to say "to simplify the chords". I think if I can hum tunes and play them on the guitar, it will be my goal.
Hi, Marchant. I agree with you, fast playing only means "fast", and the important things is "the ability to move people whith his music".
Please keep listening Joe's music ! They are musical treasures.
---
#078 from Julio Allende(Mar. 8, '02)
First of all, Thanks !!!!!!!!!!!! for the site & Discography a very great job, nice and very complete in a few ill send you a list of songs, i have one question for anyone, im looking for the Sounds of Synanon cd anyone knows anything about it?
i started to play the guitar the last year when i meet the Joe's music (For Django//Fleur d'nnui) was a very impactant experience in my life and since this day i play the guitar for two hours minimum, is a hard road but plent of personal satisfaction, so thanks, thanks very much to all those that with his work can help all us know a little more about Joe Pass.Thanks Very Much.
Julio Allende.Madrid.Spain.aeronave@teleline.es
---
#079 / Tabo(Mar. 10, '02)
Hi, Julio.
Unfortunately, "Sound of Synanon" has never issued as CD format.
But you can hear 3 tunes of the album on "The Best Of Joe Pass"(Capitol Records CDP 7243 8 54944 2 0). It contains
1.C.E.D.
2.Aaron's Song
4.Projections

I think the CD is out of print now. But you can find it easily at eBay auction or used CD shops on the internet.
(you may find the same titled CD issued from Fantasy, it is the different CD)

---
#080 J.P.in Holland by Maarten Derksen(Aug. 16, '02)
Hello,

I saw Joe and Toots Thielemans perform together in Rotterdam, Holland.
Later I interviewed Joe for the newspaper "Utrechts Nieuwsblad".
This was the night before he performed for TROS-Radio the programm called
"Sesjun".

Yours
Maarten Derksen
---
#081 / Tabo(Aug. 22, '02)
Hello, Maarten. What a luxury experience it was !! to see Toots and Joe's playing together !!
I remembered one thing, when Toots came to here(Japan), I visited his hotel room and gave the Toots's post card that I drew. Toots said, "Oh, it's me !" with smiling. But never see Toots and Joe's playing together.
---
#082 from Greg Jones(Dec. 31, '02)
Hello Tabo;

I just wanted to write and say how much I enjoyed your site for Joe Pass.
Growing up in the 1960's I first saw Joe as the staff guitarist on the Woody
Woodberry show on New York Television. Joe was in the show's band and every
once in a while would get to play a solo. I used to watch the show every day after
school hoping Joe would be given a chance to solo. It wasn't until much later when
I was learning to play jazz guitar that I realized how well known Joe Pass
was.

The only time I got to see Joe was in Portland, Maine at a solo concert
he gave at the city hall. It was the thrill of a lifetime to see him play.

I noticed on your website a video that I've never seen before. The video is
Club Date Guitarist Collection
Joe Pass / Kenny Burrell
Live at Elario's Restaurant and Jazz Club

Would you be able to tell me where I could find a copy? Joe and Kenny
are my favorite guitar players. I have studied their playing for many years.

Thank-you for providing this website. It is wonderful tribute to Joe.

Regards, Greg Jones
gjones@cingular.com
---
#083 / Tabo(Jan. 14, '03)
Hi, Greg. I am very pleased that I could know you're enjoying this site.
How lucky you are that you DID see the Woody Woodberry show in the 60's.
I wish I could see the show, if I could.
You mentioned that Joe played "solo" every once in a while on the program.
Does it mean the band gave a room for solo to Joe ? or did Joe play unaccompanied solo already ?

I hope that you could buy the video.

Tabo
---
#084 from Devashish (Mar. 18, '03)
Thanks for the site. It's nice to see how deeply Joe and his music touched
so many people.
I've been trying to find transcriptions of Virtuoso # 2 without any luck.
If you know of any and can pass me that information I would greatly
appreciate. thanks.

Devashish
devashis@caribe.net
(If someone reading this can help him, please contact to Devashish/Tabo Jun.7,'03)
---
#085 from Peter Bradford (May 1, '03)
I wonder if you can help with a difficult request. Several years ago, I heard a tune on the radio by a group that included Joe, Oscar Peterson(I think) and Stefan Grapelli(I think). The tune was titled using a play on the word Pass, like Pass the Time, or Making a Pass, or something like that. Any ideas?
Thanks.
---
#086 / Tabo(May. 1, '03)
Hi, Peter, please check "Albums" section. There are only 1 album which contains Joe, Oscar and Stephane. (#100."Skol" In Scandinavia)
Joe played with Stephane on #101.Tivoli Gardens, too. But I can't find the title which you are asking. . . .
Might be "Makin' Whoopee" ?

Hi, Devashish sorry for no answer . . .'cause there are no transcription of Virtuoso #2. If you give me your e-mail address, I will upload it on this page so that someone could contact you directly.
---
#087 from Hartley Singer(May. 15, '03)
Hi, all -

I'm using an Ibanez Joe Pass model these days, was wondering what strings
Joe used when he played this instrument on his teaching series?

The man was a CLASSIC.
---
#088 / Tabo(May. 15, '03)
Hi, Hartley.
Joe used to use 13, 17, 24 to 26, 32 to 35, 42 to 45 and 52 to 56. Off course flat wound strings. He doesn't care about the maker, Gibson, D'Aquisto, D'Addario . . .Please check at #051 article.
I believe that Joe used this same strings on his teaching videos.
---
#089 from Stephen Morimoto(Jul. 25, '03)
Thanks, Tabo for a great site.
As a kid, I used to listen to Wes Montgomery. How I never heard Joe,
I'll never know.
I discovered Joe from a Jazz Guitar DVD and have been hooked ever since.
I've got all the DVD's of Joe, including the Genius of Joe Pass. Cant'
stop watchng them. He is my favorite artist of all time. Wish I could
have seen him preform in person.
Thanks to your web site, it has given insight to the man.

Joe recorded some records playing an acoustic guitar. Does anyone know
what kind of guitar he used in those recordings?
---
#090 / Tabo(Jul. 28, '03):
Hi, Stephan. About his accoustic guitar, I don't know everything.
Please check #31 article.
---
#091 A question about Joe by Zack (Sep. 10, '03)
Hello,
My name is Zack. I am a student of Barry Zweig, and I have one question... I know that Joe Pass did not do a commercial album with Bill Evans but did he ever collaborate with Bill or meet Bill. Also I was wondering if he did anything with Jim Hall? Joe Pass is my biggest inspiration in jazz guitar, and I really would lke to know more. I have heard that you knew Joe Pass quite well, and I'd appreciate any information that you can give me about a sort of relationship between Joe and Bill Evans or Jim Hall (Both are inspirations also). I thank you for making a great site, it is truly very informative. Thank you for taking the time to answer question.
-Zack
---
#092 / Tabo(Sep. 11, '03):
Hi, Zack, I don't think Joe played with neither Bill Evans nor Jim Hall at the concert or any gigs.
If someone know about this question, please let me know !
---
#093 from Barry Cowing(Apr. 16, '04): Please could you tell me whether Joe's arrangements on the Virtuoso or Unforgettable albums have been published in part or whole especially 'Night & Day', 'Have you met Miss Jones' 'The very thought of you'. Alternatively is there a particular publisher of his music in general? Thanks Barry.
---
#094 / Tabo(Apr. 17, '04):
Hi, Barry. There is no transcription of Unforgettable album.
As for Virtuoso album, Rocky Press(P.O.Box 603, Brookline, MA 02147) once published the Whole transcription. But of course, out of print now(I'm not sure Rocky Press is still active or inactive), and very hard to find.
There is no particular publisher concentrate on Joe's albums.
But you can get the transcription of "Have you met Miss Jones" at "Joe Pass Virtuoso Standards (Songbook Collection)" issued from Warner Bros. Publications, and "Night And Day" at "Legend Player" issued from Shinko Music Pub. ("Legend Player" is Japanese book, so if you REALLY want to buy it, please contact me. The book includes "Stella by Starlight", "How High The Moon", "'Round Midnight", "All The Thing You Are", "Giant Steps", "Joy Spring", "On Green Dolphine Street", "Autumn Leaves", "Come Rain Or Come Shine", "I'll Remember April", "Someday My Prince Will Come", "Django" )
---
#095 from Marco Leonardi(Apr. 17, '04): Dear Tabo,

you have made a wonderful Hall. I think Joe is very happy in the sky.
Marco Leonardi
---
#096 / Tabo(Apr. 17, '04):
Hi, Marco. Thanks for the compliment! I will do my best !
---
#097 from ---(Apr. 29, '04)
Here is my small but unforgettable story with JOE:

I am from Argentina (Tango country) Buenos Aires (our Capital) has a strong jazz tradition among who (as I) are now in our sixties.
I played guitar since I was 15 and I think I have an advanced-aficionado musical level.
I made always my living as an accountant (CPA).
In my youth time we admired mainly Tal Farlow, Kessel and Raney, then Johnny Smith, Jim Hall, later on Wes.
But when JOE PASS appeared his playing was something as a summary of all the great music of the others.
My first visit to New York took place in 1978 when I was 39 years old, then I travel there several times and I had the pleasure to met and make some friendship with Jim Hall, Chuck Wayne, Joe Puma and Tal Farlow, but I could never meet Joe Pass. He was always in a tour outside USA. So I decide to try, to bring JOE PASS to my country intending -of course- to get first the necessary financial help of a promoter.
I tried in 1979 dealing with the, for me, "Jazz Festivals Inventor" the late Norman Granz.
He gave me, I remember, a set of 25 JOE's vinil records to promote his music in Buenos Aires. But local promoters decided to quit and the tour went dawn.
Later in 1992 I tried again through Joe's manager Mike Magnelli and we succeeded. Keeping aside some final miserable attitudes of the promoters against me. Finally, I did it; JOE came to visit us in October 1993, making 10 concerts and a clinic in 1993.
He was, as a JOE's friend, Argentinean guitarist Pino Marrone told me later, very sick of a liver cancer.
"...JOE told him once that the only thing that kept him alive was to play till his last minute...".
For this reason he accepted every tour planned all over the world.
During his stay, Alejandro Moro and I went to visit JOE to his hotel (Crown Plaza) with our guitars. Alejandro was lending JOE his Minibrutte IV amp for JOE's performances.
When he open the door, for as was like a dream, here was JOE, in person, with his lovable moustache his rounded face very serious but approachable.
Simple, net and near us, as if we were comrades for long time. For me was -according with our same Italian ancestors- as if I was visiting a relative, let say, an uncle or a cousin- same blood.
We talked a little bit and I was anxious of telling him all the efforts I've made to bring him here, etc, etc, but can you believe this?
He was anxious to play with us (Moro and me) absolutely unknown people from Buenos Aires.
I should remark that Moro is a jazz professor who plays superb JOE guitar style. He proposed us to make a guitar trio immediately.
JOE asked me:
¿What would you like to play? After we uncased our instruments and sat in chairs.
I response him: ¿could be "On green dolphin street

---
#098 from Steve Tung(May. 2, '04)
Would anyone have the transcription for Tarde, recorded on Joe Pass University of Akron Concert? Thank you.
Steve Tung
---
#099 / Tabo(May. 2, '04)
Hi, a friend from Argentina !
Did you enjoy the gig with Joe ? Maybe your story will be continued, if so, please write me more . . . and let me know your name !

Hi, Steve. I have never seen the transcription of Tarde, but someone might done copy of the tune. I think it's better to write your e-mail address here, so that someone can contact with you.
---
#100 Here is my small but unforgettable story with JOE by ROBERTO N. SCAGLIONE (May. 4, '04)

I am from Argentina (Tango country) Buenos Aires (our Capital) has a strong jazz tradition among who (as I) are now in our sixties.
I played guitar since I was 15 and I think I have an advanced-aficionado musical level.
I made always my living as an accountant (CPA).
In my youth time we admired mainly Tal Farlow, Kessel and Raney, then Johnny Smith, Jim Hall, later on Wes.
But when JOE PASS appeared his playing was something as a summary of all the great music of the others.
My first visit to New York took place in 1978 when I was 39 years old, then I travel there several times and I had the pleasure to met and make some friendship with Jim Hall, Chuck Wayne, Joe Puma and Tal Farlow, but I could never meet Joe Pass. He was always in a tour outside USA.
So I decide to try, to bring JOE PASS to my country intending -of course- to get first the necessary financial help of a promoter.
I tried in 1979 dealing with the, for me, "Jazz Festivals Inventor" the late Norman Granz. He gave me, I remember, a set of 25 JOE's vinil records to promote his music in Buenos Aires. But local promoters decided to quit and the tour went dawn.
Later in 1992 I tried again through Joe's manager Mike Magnelli and we succeeded. Keeping aside some final miserable attitudes of the local promoters against me. Finally, I did it; JOE came to visit us in October 1993, making 10 concerts and a clinic in 1993.
He was, as a JOE's friend, Argentinean guitarist Pino Marrone told me later, very sick of a liver cancer.
"...JOE told him once that the only thing that kept him alive was to play till his last minute...".
For this reason he accepted every tour planned all over the world.
During his stay, Alejandro Moro and I went to visit JOE to his hotel (Crown Plaza) with our guitars. Alejandro was lending JOE his Minibrutte IV amp for JOE's performances.
When he open the door, for as was like a dream, here was JOE, in person, with his lovable moustache his rounded face very serious but approachable.
Simple, net and near us, as if we were comrades for long time. For me was -according with our same Italian ancestors- as if I was visiting a relative, let say, an uncle or a cousin- same blood.
We talked a little bit and I was anxious of telling him all the efforts I've made to bring him here, etc, etc, but can you believe this?
He was anxious to play with us (Moro and me) absolutely unknown people from Buenos Aires.
I should remark that Moro is a jazz professor who plays superb JOE guitar style. He proposed us to make a guitar trio immediately.
JOE asked me:
?What would you like to play? After we uncased our instruments and sat in chairs.
I responsed him: ?could be "On green dolphin street"? Yes, in "C". ok .
Then we began to play I don' remember who play melody. I was very moved for the situation and I must confess a little uneasy.
JOE with great experience, looking directly to my eyes made a move enfazaising a chord in his guitar to let me know.
".... We are playing seriously, I want to play with you boys, it is not for compliments, it is real music to me....".
So everybody noticed it in the room and we play the best we could for many choruses.
He seemed to be satisfied -when we finished- he told me "you made nice lines, ROB".
I nearly faint, this was the best I heard about my playing in all my life, now a very long one.
I must admit that sometimes I remember that date and my emotion goes to his memory with the best of my thoughts and feelings.
Then we said goodbye, and when we left the room I insisted to give him my raincoat, because it was raining outside, he refused, "...ROB,... we are not the same size add with a melancholic smile...".
For people that love jazz guitar entire world changed for better with the presence of JOE PASS. Music.
Thanks JOE for your art.
ROBERTO N. SCAGLIONE

TABO: Thanks for your page and for you did for JOE's playing.
Now you have friends in Buenos Aires !!!
---
#101 / Tabo(May 5, '04)
Hi, ROBERTO !!
Sure, it is that I got a friend in Buenos Aires!! Thanks for sharing us you GREAT story !
---
#102 from Steve Tung(May 5, '04)
Thanks, Tabo.
1) I am interested in a transcription of Tarde, from the University of Akron Concert.
my email address is: srtmd@columbus.rr.com
2) Would anyone know how to contact Roland Leone?
Thank you
Steve Tung
---
#103 from Joe Carbone(May 10, '04)
I was a very close friend of joe's for about twenty years. We spoke the day before he passed away. Whenever joe preformed in the New York area we would hang out every day. He was a great friend. Joe Carbone (jcarbone@cgps.org)
---
#104 / Tabo(May 11, '04)
Hi, Steve, I hope someone help you to find the transcription of Tarde.
Hi, Joe, if you have some story or memory of Joe Pass which you can share with us, please write again !
---
#105 from Matthew Vander Woude(May 16, '04)
Tabo,

In response to Zack's question regarding Jim Hall and Joe Pass(#090), the two did play together during a feature on the Merv Griffin Show -- late-60s/early-70s (I don't recall exactly when); Kenny Burrell and Herb Ellis also played with them. I they played a blues. It was beautiful and unexpected: it was daytime television, afterall! It would be nice if Vestapol could get their hands on it.

Could you tell me if Chord Encounters (Blues) is still in print and how I might get a copy of it if it isn't? I'm currently working my way through a number of Joe Pass solos and particularly intrigued with the relationship between the CAGED system and Joe's improvisational approach.

Great website, by the way!


name=Matthew Vander Woude -- Toronto, Ontario
---
#106 / Tabo(May 17, '04):
Hello, Mattew ! Thanks for giving me GREAT info. !! OK, I got that Joe had played with Jim Hall at Marv Griffin Show. . . I agree with you that Vestapol should get the right to issue the programm. I'm sure to buy them !!
They played blues, . . . must be great !

About the book you mentioned, "Chord Encounters for Guitar Book1 Blues, Chord & Substitutions", I think it is out of print.
But try to see bellow site, and ask them whether they keep it or not ('cause, the book is on their list).
http://www.finefretted.com/html/guitar_miscellaneous.html

If they don't have it, the best way to get the book will be check eBay auction. I think you can find it within 2 monthes.
If you want to understand "CAGED" system, the book titled "Joe Pass Improvising Ideas" introduce "CAGED", too.
you can buy it at
http://www.guitargallerymusic.com/jazzgim.htm
---
#107 / Tabo(May 18, '04):
I told Stefan Grossman(Vestapol) about Mattew's info(#104) and ask him why don't Vestapol get the right to issue the program, then he gave me reply, "We will try to find if the various footage is available and at what cost." . . . the GREAT person, Stefan is !!
Thanks again Mattew ! We will be waiting with hope ! Really hope Vestapol could get the right of the program.
---
#108 from Fato Macula-jazz guitarist(Jun.25, '04):
Tribute too Joe Pass-by Faton Macula jazz guitarist from Kosova
---
*109 from Faton Macula(Jun.25, '04):
Hi tabo its me Faton Macula u remember me? i am doing the tribute to Joe Pass in Duo With my heroo MARK WHITFIELD live in NEW YORK,i just wanted u 2 know that.take care Tabo i ma from Kosova once u trid 2 send me the tape u remember? peace Faton Macula
---
#110 / Tabo(June 25, '04):
Well, Faton, I remember you! I sent you some goods but it retured to me because your address is inactive at that time.
But, do you live in NY now? And will made tribute to Joe with Mark Whitfield ???!!! Sounds Great !!!
I want to know about it more, so if you have further info, please send me e-mail.
---
#111 from IRENE KAWCHAK(June 28, '04):
I haven't seen Joe since 1963 but I have many wonderful memories of him when we grew up together
and were just starting to dig Jazz , like Lester,
Hawkins, Bird and on and on....
from Irene & Pete(my brother)
---
#112 from Mark(Jul. 23, '04):
I once saw Joe on the ARTS channel. In the bay area I think it's 32. The films are archived somewhere in Thousand Oaks southern cal in an ARTS center. It is solo guitar and Joe is about 40 years old. It is some of his most abstract playing and really cool. I wish I could find it. It's Black and White footage.
---
#113 / Tabo(Jul. 27, '04):
Hi, Irene and Pete ! If you have some beautiful stories with Joe which we can share, please write me again !!
Hi, Mark. You saw the Black and White footage on a TV program in the bay area, right ? I never saw it, nor heard about it before.
If someone who are reading this article, and know about this TV program, please let me know more !!
---
#114 fromFATON MACULA-JAZZ GUITARIST FROM KOSOVA(Sep. 13, '04):
JOE PASS,MARK WHITFIELD,GEORGE BENSON THE BIGEST INFLUESNC OF THE KOSOVAS JAZZ GUITARIST
---
#115 from John Murphy(Sep. 17, '04): Tabo, thank you for creating this web site, this is wonderful. Jim Hughart told me about you and the site.
Jim said you might be helpful in directing me to where I might be able to get a cd copy of 'For Django', I know there is a Japaneese release of it but I can't find it in the States.
Joe was very kind to me when I first came to California. I called him for a lesson, and after him having to cancel several times for last minute work calls, one day my phone rang, I answered and a voice said 'Are you ready for the lesson?' I answered 'is this Joe?' After he said 'yes' I asked 'when?'. He said right now. I had a 1 yr old daughter in those days and didn't know if I could get a baby sitter on such short notice. He said 'bring the kid with you'. I showed up at his house on Vesper St. in Van Nuys Calif. with my daughter and he greeted me in the front of his house and said 'come around back. In his back yard was his wife and son Joey who was the same age as my daughter. His wife gladly watched my daughter while Joe took me into his garage which was converted to a little studio, nothing fancy, no recording equiptment, just carpet and panneling, very comfortable.
After about a 90 minute lesson I asked Joe, 'how much do I owe you?', Joe's reply was, 'forget it, next time'. Joe wouldn't take any money and turned me on to a gig on top of that. Joe was my hero before the lesson, afterwards, I'm still speechless to this day. What a beautiful gesture. Since I wore out my vynal copy of 'For Django' I would love to get it in cd version.
Thanks in advance for any help you can give me.
Congratulations on the site, it is wonderful.
sincerely,
John Murphy
murphmusic@socal.rr.com
---
#116 from John Murphy(Sep. 30, '04): Joe Pass was the greatest jazz guitar player ever; His music still is alive.
---
#117 from Marc(Oct. 22, '04): This is the closest thing to a Joe Pass fan club I've been able find. I've recently become a big fan of Joe Pass. Thanks.

He was one of the first guitarists able to the stagger parts in a song and make them sound like they flowed together. The more I get to know his playing the more I'm amazed at the simplicity with which he played.

For the intermediate guitar players (like me) out there, I recommend "blue side of jazz" and the "joe pass collection". I've been working on "blues for basie", very fun. You'll pick up alot of his voicings and techniques in that piece.

It's frustrating how much of his material can be hard to find - I finally found a copy of "blue side of jazz" when it showed up on ebay one day. This tape is packed with alot of material.

I have not been able to find a copy of "roy clark & joe pass play hank williams", which features "blues for hank", tabbed in the "joe pass collection". There are some very nice numbers he did that I can not find the tab for such as, "blues for two", "grooveyard".

Anybody know where these can be found? Anyone know of any amateur tabs for these?

Thanks!
---
#118 from Vaughn Smith(Oct. 23, '04):
An amazing, great and immortal musician. Rest in peace, Joe Pass.
---
#119 from Jim Rowan(Oct. 27, '04): Hello, and thanks for the wonderful website. I have a comment, and a question.

First, regardiing messages #022-024. I know that those were posted 4 years ago, but I didn't see any further discussion since. Of course Joe used his Ibanez, and perhaps more than we realize. He used it on domestic gigs. One I have seen on video was his "Club Date" (aired on PBS years ago) performance in San Diego circa early 80's. I think he also used it on at least one instructional video. So, just setting the record straight that Joe obviously liked his Ibanez enough to use it quite extensively.

My question is, does anyone know exactly what guitars Joe used for his "Virtuoso" album? (I'm mostly interested in knowing what he used on the original LP, now referred to as "Virtuoso #1"). It sounds like he used more than one instrument, and I'm guessing that the D'Aquisto was probably used. By the way, he sounds amplified (albeit at a low volume) on "Here's That Rainy Day'.
---
#120 / Tabo(Oct. 28, '04) : First of all, sorry for no respose from me ! (I'm very busy in these days)

to #114, hi John Murphy, I hope you enjoy "For Django" CD a lot! (I helped him to get it, anyway)

to #117, hi Marc, I think there are no transcription about "blues for two", "grooveyard". Why don't you try pick them by yourself ?
And I found "roy clark & joe pass play hank williams" at Yahoo shopping
http://shopping.yahoo.com/p:Roy%20Clark:1927001299
The CD is not rare, so I think you can HAVE it soon. (check above url, or check eBay site)

to #119, hi, Jim Rowan. I think Joe played his ES175 on his first Virtuoso album.
The reason I think so is, I had a time to ask Joe what is the band on the guitar on "Virtuoso #1" album. He answered the tape(band) is for stopping the sound came from pick-guard.
I have no time to check which Mag. is it now, but remember Joe answered on an interview about amplified tune on "Virtuoso #1" . The album was recorded thru amp and mike. And the mixer lost the amplified recording except few tunes.
---
#121 from Ishay Levin(Nov. 17, '04):
JOE PASS IS the only ONE!
JOE is GOD
Joe PASS LIVES!
:))))))))))))))))

---
#122 from Ori Ben-Zvi(Nov. 20, '04):
I totaly agree with the message above this one!
---
#123 from Ben Randazzo(Nov. 24, '04): Thank you so much for your beautiful site for such a wonderful artist. I first saw Joe at Sweet Basils in NYC when I was 19. That's almost 30 years ago. He was playing solo guitar. He was as nice as he was talented, and that's tremendous on both counts. He inspired all of the players of his time to be inventive and swing.
---
#124 / Tabo(Nov. 25, '04) :
Thanks for sending messages, Ishay Levin & Ori Ben-Zvi !.
Hey Ben, you are almost same age as I !! (49 years now !!)
---
#125 from Tom(Dec. 16, '04): Hello Tabo!

I wanted to send you a thanks for creating the site! I have recently discovered Joe Pass and you have put a lot of information right at my fingertips. I thank you for your efforts and want you to know they're not going unappreciated!

Best wishes,
Tom
---
#126 from TONY N1TKS(Dec. 22, '04): WHERE WAS JOE PASS BORN? WHAT WAS HIS FULL LAST NAME? THANKS
---
#127 / Tabo(Dec. 23, '04):
Hi Tom. Thanks for the compliment! I hope this website help you for understanding Joe Pass !!

Hi Tony. Joe was born in New Bruwnswick, NJ. His last name is "Passalaqua". (Joseph Anthony Passalaqua)
---
#128 from hans binder(Dec. 28, '04): being a living room player myself, I saw Joe couple of years ago in Vienna, Austria in a club called "Reigen". He was old then and looked tired, still played absolutely ingenious. Great site, keep swingin'
hans.binder@schule.at
---
#129 from David Wang(Jan. 14, '05): Hi, Tabo:
I just want to say it is great to have you pur up this site. I got into jazz about a year ago and I have tried very hard to learn to play jazz. I only played guitar for few years and have no musical background at all so for me to learn jazz is a lot information. I would learn all the theory and try to apply to them on my playing. It is until recently I picked the instructional book of Joe Pass (transcribed from one of his video) and I was not expecting too much at first. (You know how many jazz guitar books are out there...) However, Joe's personality really got to me. His passionate about jazz and creating music is so true. Everyone would praise about his technique but he is just "playing what he hear". To me, the most important passage I learned is when he said "you have to be able to play the same phase rather than just doing geometric movement". And he would talk about his picking/fingerpicking style as "whatever works". I think that is the true sense of playing
jazz - to play music you hear and play what makes you feel good. Not what works in theory.
Such a great lesson to me!!

David Wang
---
#130 / Tabo(Jan. 18, '05):
Hi hans, you are the same "Living room player" as I !! We can't steal Joe's technics of cooking, but just can imitate his taste.
Keep playing !

Hi, David. You found the REAL one ! Seeing Joe's videos and grab what's the important things is the best way TO UNDERSTAND THE MUSIC.
Hum the melody and play it on your instrumental, that will be our goal.
---
#131 from Heraldo do Monte(Jan. 30, '05):
I am a brazilian guitar player and a personal
friend of Joe. We played togeter in a place
named "Clube do Choro" (just for fun) and in
his hotel room. He was a lovely person.
He always asked the manajer to send invitations
to me and mi wife to his shows in São Paulo,
Brasil. He also said nice words about me in a
local news paper! I miss him, like all the people
in the music world, but as a friend, it is more
"dolorido", as we say in Brasil. I hope you
understand mi poor english. Good luck!
---
#132 / Tabo(Jan. 30, '05):
Hi, Heraldo. I understand what you feel, . . . I think that is the same feeling as I. But Joe left us such a marvellous music !!
His music still remains our hearts.
---
#133 from jos(Feb. 2, '05):
We all loved Joe´s guitar style and conceptions of how keeping the music playing.
As he always said, your music has to come from your head,instead of from your fingers!
---
#134 / Tabo(Feb. 3, '05):
Hi, jos. I agree with you !!
---
#135 OSCAR AND JOE by ANDREW MULLER(Feb. 5, '05):
Dear Joe

I picked up jazz from the Australian ABC radio show MUSIC TO MIDNIGHT.

I came to your music through Pablo label LP'S with Oscar Peterson.

I subsequently came to admire you as a wonderful,master musician in your own right,now having a lot of Oscar's CD'S with you on them, all of your Pablo lead musician CD'S and many others which you are included on.

With your own group recordings, I did not know the other musicians, but knew that anyone in your group had to be great,so ordered them, without first having heard anything, the end result is to my great delight.

Your work with Ella Fitzgerald is the finest pairing of voice and instrument ever recorded.

In Australia the shops don't keep that much jazz, only a few have decent stocks.

If I am looking for music from another artist,your presence in a duo or support band, makes it very likely that I will get it.

My first Carmen McRae recording VELVET SOUL was bought because you were on it.

I think of all your great music and know that you will live forever.

Hearing what was recorded, and I think of what more I would have like to have made.



Very sweet,very cool,very elegant and I love you madly.

Definately beyond category.

Oscar Peterson wrote in his autiobiography A JAZZ ODYSSEY , page 254.

" JOE PASS ; GUITAR ETERNAL


Joe Pass is a great piano player ! Such is the depth and tonality of his guitar playing that I often imagine him sitting at my own instrument,for he has truly managed to go ' where no man has gone before ' on the guitar. It is not mearly his command of the instrument that entrances me: it is his complete ease,and exact knowledge of where he is going harmonically and creatively. His musicality is awesome, and he has the rare ability to gain an inside understanding of tunes,thus enabling him to give listeners that true and unbroken flow of intepretation."

Oscar recalls how he became,your great fan on first hearing one of your early Gerald Wilson recordings,ending in the tune "Teri".,and recounts many happy memories with you.

His book includes comments on many who have passed on,you are the only one he writes with is, the present tense ,not was the past tense.

My finest live entertainment experience was the concert you did with Oscar,Neils and group at the Sydney Opera House in the early 1980's.

deepest and warmest regards


ANDREW MULLER
---
#136 Joe Pass in São Paulo, Brazil, chapter 1 by Heraldo do Monte(Feb. 6, '05):
To understand my first meeting with Joe, please memorise this: SFJE ( sorry, folks, just excitement) and SFJM (sorry, folks, just music). I know, good music lead to excitement, but in another level.
It was in a Jazz Festival in São Paulo, that was produced by the group of the Montreux Jazz Fest.

In the Guitar Night, they had many SFJE, and the SFJM were Joe Pass, Barney Kessel, Helio Delmiro and me.

At check sound time, despite a room for each one, all the guitarists were in Joe's room. (Except Barney).
Joe's guitar (I guess the D'Aquisto) was with the two woods of the bridge flat, the screws were smooth.
Minor problem, since the action was too low, but still good sounding.

Joe plays ballads and medium tempos with finger style, but real fast tempos he use a pick.
In the back stage room he was using a pick.

Plenty of guitar players, he put some picks in a place were everybody could see, steal, or ask for.

The picks were small, tear drops style and he cut them all, at the part we hold, some milimetros, forming a straight line. (Later I tried it myself, but I felt pain in my thumb).
Without knowin me, he looked at me, passed the tips of his fingers in the tips of mine,to feel if I had acid sweat, and passed me the guitar. Me and my friends were not wanting to change subject, therefore I played some chords and frases, made some coments about the guitar and passed back to him.

More tasteful private Joe and I left to walk a little.

At show time, the SFJE were loud and LOUD.
Pepeu Gomes (my friend) was in stage dressed like the Big Bang, the face red and crying out words, that the crowd cried out after him, with histeria! Guess who was the first SFJM chosen to enter this hell???
Me! Misproducion? Well, I enter and play my thing, at first a bit tense, but the crowd was becaming calm,

so lets be SFJM!

Joe was wonderful, his right hand even more soft with the extra low action(that bridge problem).
The TV Cultura taped the show and once in a while shows Joe playing Wave.
---
#137 Joe Pass in São Paulo, Brazil, chapter 2 by Heraldo do Monte(Feb. 8, '05):
Joe was at the Maksud Hotel, as ever.
The local manager call us (my wife and me), as Joe asked.
It was a day off for Joe. He invites us for some candy at the Hotel's restaurant. My wife ask:
"Just two, please! I am doing a fat regimen!"
Joe ask 3, and put one right near my wife.
After look, don't look, she eats the candy. Laughs...

Joe's local manager invites us to go to the Rua do Choro. (Choro Street) to hear this style of Brazilian music.
Poor Joe accepted.

It was outdoors, a stage in the street and chairs for the crowd. We seated to listen, Joe asked me a few questions about the style, every thing just fine...Until the the local manager surprises us annoucing Joe's presence.

The crowd, of course, asked :Play, play! In the stage they had tambourine, a nylon stringed accustic guitar and a mandolim. The nylon guitar had this piece of wood match in the first fret, third string.

Joe goes up to the stage, asked me to join (we need friends in top danger situations!) and asked what play?
I know some "choros", but no time to pass it to Pass (sorry). So, time to open the aid package:
Wave and a fake "choro" we improvised with the classical jazz-blues harmony.

The funny thing about our Wave was my playing the mandolim with finger style, like a João Gilberto in a wrong rotation!(The mandolim sound one octave above the guitar).

Can't comment on Joe's this time. I don't hear him, he don't hear himself...
Such a gentleman! The master Joe Pass! (Second chapter end).

At the third chapter, everything is wonderful, as if God telling us: Enjoy, its good bye !
---
#138 / Tabo(Feb. 9, '05):
Hi, ANDREW MULLER. Thanks for writing about your GREAT memories and introducing the book "A JAZZ ODYSSEY"(by o.p.). I recomend you to read Ella's "first Lady of Song", too.
Hi, Heraldo. Thanks for the "chapter 1 & 2" . I can imagine how "Capter 3" is joyful, important and memorable for you and your wife !
---
#139 Joe Pass in São Paulo, Brazil, chapter 3 by Heraldo do Monte(Feb. 10, '05):
I know with certainty what attracted me to Joe: His music and personality, that make old friends so fast.

But I don't know what attracted him for me. My music? (At our first meeting, the São Paulo-Montreux Jazz Festival, when I finished my show, I came back to his back stage room, he looked to me and sang a phrase that I remembered I played.) or the peacefull vibes of the cuple ( me and my wife, Lurdes ) spreads...

Anyway, one more show in S.P., he asked his local manager to arrange invitations and to invite us for the hotel( the same hotel,ever.) again.

Well, Joe received us in the hotel room, dressing bermuda shorts. My son Luís was with us this time. Joe was seeing t.v, news, cnn. Tv off, Joe showing how close he felt with us, started to tell on his domestic life, when arrived one more guest: Andrá Cristovão, a blues guitarrist and singer that loves Jazz.

He brought an amplifier to loan to Joe. Joe, Andrá and me started to play. Andrá was a little shy, so Joe asked:
"Play your things, do your bends! "

I was seated on Joe's bed, he did too, so that Ibanez was two open hands distant of my left hear!

We played some tunes, but I remember a version "Body and Soul" we did.

I decided to play my best without shyness, or laziness. Joe understood this and played his best. So, do you imagine what I heard from that Ibanez almost inside my left ear? Are you envy? Sorry!

Joe had show in a club named Palace that night. When he saw the size of the Palace, he commented to me:
"I am not big as Oscar Peterson!" But the club had a fine sound system, so the Ibanez filled the big house as a great piano. Joe asked for less treble, and that is it...
I decided make some musical jokes to him when we were in his room at back stage, half hour to show time. The joke is: You take a well know tune and play it with harmonys that are perfect in theory, the relation melody-harmony and all, but with a such bad taste that hurts, wound a human being!
(Hermeto Pascoal is a master at this kind of joke).
After 3 tunes, Joe called me to drink a coffee, then he caught his guitar and imitated a country guitar player he said lives in L.A.
He played a country rhythm in a pure Cminor (I repeat, minor) with the first string (a natural E)
sounding loud and clear!!! We laugh a lot...

Despite the anti inspiration jokes, Joe played that night in a level I never heard before.
At a point in the show he picked the microphone, said some nice words to audience and pronounced a weird, strange sound that I never had heard before. Then, he pointed to my table! "That" was me!

I made a gesture with my head, and lets hear music...
At the end of the show, he took a pick and..."Sweet Georgia Brown!" Fast, fast, alone in the stage, single notes, big band-like riffs... I don't take drugs, but it seems that I was in a kind of divine surrounding! He was not a simple human being at that moment!!!

FINAL BAR. GOOD-BYE, JOE! Maybe we play again...Other places...
---
#140 from don jirousek(Feb. 28, '05):
hi i am a pharmacist for walgreens here in las vegas...work #702-648-2732.. a good friend of mine here is roland leone, who worked with joe doing transcriptions for hal leonard and mel bay publishing... if your in vegas give a yell.. roland has some pics of himself and joe.. i met joe back in denver... brought him all my joe pass sheet music books... i know he appreciated it..
---
#141 from Tabo(Mar. 1, '05):
Hi, Heraldo. Thanks again. I enjoyed your chapter 3!
Hi, don. Yeah I know your friend by name. I have no chance to come to Vegas, I know there are some Joe's old friends though. Say hello to your friend !
---
#142 from Carlos Vilanova(Mar. 21, '05):
Thanks,
Me too, love Joe Pass, your music, guitar, fingers, ids, ok
carlosvilanova315@hotmail.com
---
#143 from kostas vavoulas(Mar. 24, '05): hi Tabo,
i like jazz and Joe Pass too, but i don't think myself as an expert. I write this note to thank you for your willingess to share all these documents you collected through all these years. great site, glad to visit,
Kostas
---
#144 from Han Lee(Apr. 29, '05): I play guitar in a band with a soul-rock singer. I jazz up the simple nature of the songs to add creativity and originality. Of course, I owe that to Joe Pass.

I grew up as a gifted classical pianist. At age 3, I was copying my older sister's Beethoven pieces by watching and listening. My parents realized I had natural talent my sister lacked and they made me take piano lessons and I played classical piano for 10 years until I was 13. I also took music theory during that time. But I found piano boring (which I later realized it was the copied medium of classical music that I found boring) and started to take violin at age 10. After 5 years, I found that boring and took trumpet for 4 years while taking violin. That was when I discovered rock music and one day, a classmate brought in an acoustic guitar and I was hooked. Within 2 years, the best guitarists I knew said I was the fastest learner they had ever seen. For the next 10 years, I only played rock guitar. I became good enough to play in bands late in high school and during college. My idols were Page, Hendrix, Ray Vaughan and the like.

Near the end of college, I realized I had maxed out on the guitar with rock. I got bored with rock in general. My classical training led me to seek more sophisticated music and eventually, I ended up listening to jazz. Having started out with classical music, I was afraid of jazz when I was playing piano because I didn't understand how to listen to it. Rock was my rebellion to classical. But everything started to come together - the theory training, the classical techniques, the rock emotion into one medium - with jazz. I started to listen to all of the jazz guitar greats to expand my skills again. Then I discovered Joe Pass and my jaw hit the floor.

After playing music for a combined 29 years, I couldn't believe what I was hearing. Suddenly, every 'idol' I ever had was thrown out the window. It was the most humbling feeling ever.

Joe Pass made me realize that after a decade of guitar playing, and two decades of classical playing, I only had been taught the basics of mastering your instrument. Since then, he's been the greatest teacher and the biggest influence in my playing. I learned more about music from him than all the rest of my years combined. Through Joe Pass' gifts, I learned jazz was the ultimate form of music and musicianship.

I believe Joe Pass plays guitar like I wish I could in my dreams. He is the greatest ever and the most gifted musician ever. There is no one who has been able to match the total combination of natural improvisational gifts, technique, mastery of melody, theoretical instincts, harmony, chordal perfections, musical conversation, speed and complexity within simple concepts in any musical medium. No one comes close.

As a seasoned player, I love meeting guys in rock bands who have been playing for 15 years thinking they are amazing and Hendrix is the best. I love watching their jaws hit the floor when I play them a Joe Pass song.
---
#145 from Jarot Mansilla(May 5, '05):
hi great site, really helps
---
#146 from adlene(May 12, '05):j'aim joe pass des morceaux me manque,je cherche musique mp3 albome virtuoso 1973 merci.

---
#147 from Ray Lindsley(Jul.17, '05): Tabo, thank you for this wonderful site and your touching story of getting to know Joe Pass. I was never fortunate enough to see him play in person, but thank goodness there are so many recordings of his remarkable playing.
---
#148 from Robert Frankenburger(Jul.24, '05): I have just recently found out about Joe Pass and his ingenious work with the guitar. I play guitar and I used to listen to guys like steve vai and Joe satriani and van halen, you know guys like that. I used to think they were the best, until I listened to joe pass the first time those guys cant hold a candle to him. I started studying his playing and it made me feel like I was starting over again. Anyway I plan on studying guitar at a university next year and I figure if I play something by joe I will be accepted immediately.
---
#149 from Tabo(Jul. 25, '05):
Hi, Carlos Villanova(#141), kostas vavoulas(#142), Han Lee(#143), Jarot Mansilla(#144), adlene(#145), Ray Lindsley(#146) & Robert Frankenburger, thanks for writing at "salon" !!
I am very busy for my daily job in these days, but I love to see your stories and want to share them to all who loves Joe Pass!!
Hi, Han Lee & Robert Frankenburger. I think you both were more talented than me when you first heard Joe Pass.
I was an amateur Rock kid when I was 19 years old. I listened and copied guys like Alvin Lee, Keith Richards, Eric Clapton & Jan Akkerman. And I discovered Joe Pass . . . that was like . . . suppose, I thought I was a climber, because I could climb Mt. Fuji.
Then found Mt. Everest or K2 without notice.
Like Han, my jaw BROKE the floor.
Hope this site helps all Joe Pass fan !!
---
#150 from Ron Lee(Aug. 3, '05):
I found Joe's music as a teenager by accident in 1974. I was helping do inventory at a record store and as a part of my pay I got to pick any album I wanted. I picked Joe Pass "Intercontinental"! What luck.I never had listened to much straight jazz guitar but reading interviews with my favorite players of the time, John McLaughlin and Larry Coryell had got me interested in checking it out. I could not have picked a better introduction to it. One of the best jazz guitar trio albums ever recorded. After that I bought some of the Virtuoso albums and went to "jazz guitar school" without ever leaving my house. I play rock,jazz and fusion and count Joe as my biggest jazz influence. Joe and Wes are my favorites. I never did see Joe Play live and I regret it very much. Thank you for making this site. It's a great tribute to a great artist.Thank you.
Ron Lee Minneapolis Minnesota
---
#151 from Jatinder Devgun(Aug. 19, '05): Hi
does anyopne have the sheet music (in tab form)for Sultry (from Virtouso 3) and Blues for sitges (from Live Montreux 77)

i would greatly appreciate it as i'm doing a tribute concert for Joe!

regards
---
#152 from Tabo(Aug. 19, '05):
Hi, Ron. It was pity that you didn't see Joe live, but can see him on many videos!! Seeing him and tasting his sense of humor will make you understand Joe Pass, himself !!

Hi, Jatinder. I think I never see both tunes in tab form. But you can find "Sultry"(music score, not tab form) on "Joe Pass Virtuoso #3 transcribed note for note off the record by Alan de Mause". You should hear the record and try to understand score !!
The book is out of print, but I just find it at bellow site.

http://s1.amazon.com/exec/varzea/ts/exchange-glance/Y01Y4278867Y9241989/qid%3D1124459677/002-4739914-9221629
---
#153 from jan(Aug. 23, '05):
Many years ago,around 1977? I had the good fortune to listen to Joe Pass and Niels Pedersen in Tivoli Gardens in Copenhagen. It was a concert in a small club in Tivoli, maybe 150 people.
I don't know how well Joe Pass knew Niels Pedersen before their concert, but as the concert started Joe Pass seemed a little tired. Now the thing about Niels Pedersen was, that between each time you heard him you always thought: Well, he can't be as good as I remember him, nobody can; and every time you heard him you thought after 10 minutes: He is better than I remembered him. That hit Joe Pass too that evening, because after his first solo, he looked at Niels Pedersen to solo a little, and Niels Pedersen played him his own flawless line, double tempo, on acoustic bass. You could see Joe Pass surprised swallow, and then he looked at Niels Pedersen with a happy look in his eyes: Lets have fun. The rest of the evening was absolutely marvelous, with two spacepilots effortlessly cruising the sky of jazz, teasing each other, surprising each other, and pleasing each other. The audience was in the back seat of their flight, seeing and listening things you never heard of before, or thought possible. It was heaven.
I was drinking a cold Gewurtztraminer from Alsace, and that taste and music to me now belongs together, fragile, earthy and exquisite.
There was a lot of fun during the evening, and Joe Pass really enjoyed himself and the audience.
One thing they toyed with was, who could make the most elaborate ending to a song, and some of the things they made, especially Pass, was hilarious. Joe Pass would make fun both verbally and musically. This is probably the first time I've heard musicians talk together in music.
Next year they met again, and it was fantastic, but not quite the same magic.
I never talked to Joe Pass, but his playing and personalty made an everlasting impression on me. Musically, he seemed free as a bird, never thinking about doing things, that seems impossible to the rest of us. He was a true virtuoso, and I am happy that I saw him with Niels Pedersen, who is also of that breed: Virtuoso.
---
#154 from Tabo(Aug. 24, '05):
Hi, jan. Thanks for sharing us your great memory. I agree with you, Joe and Niels were true Virtuosos.
---
#155 from Lorenzo Vanzinni(Aug. 29, '05): This is absolutely a wonderful site & tribute to Joe. I am watching the Genius of JP as I write this. I feel I am visiting an old friend. Thanks again. If only I could play that good! LV
---
#156 from Vjekoslav Miling(Sep. 4, '05): Hy Tabo Oishi! My name is Vjeko, i am from small state in east europe-Croatia. JOE PASS is my idol. For me, his way of playing guitar is the best way. Joe comes in Croatia to play many times, in Zagreb. He was raised by Croatian woman in his neighbourhood and he learnd some words on croatian language. Because of that he like to come in Croatia. Many times i speak with him. Greatest moment was when he call me behind the stage and give me his guitar and said: play. When i finished of playing, i look at him and wait, he said : gooood. It was year 1988. Now i am 50 years old and i am a goood player of guitar in my town(OSIJEK). Thank jou for this site.
---
#157 from Vjekoslav Miling OSIJEK(Sep. 5, '05): Hello Tabo!
I can not stop thinking about this site. Because of you, I see now, how many people love JOE PASS and his playing guitar. THANK YOU FOR THAT.
---
#158 from Tabo(Sep. 6, '05):
Hi Lorenzo, thanks for visiting this site! "The Genius of JP" is really great video for understanding Joe Pass, himself.

Hi Vjekoslav, I love the CDs which were recorded in your country. I showed some of CDs(JAZZETTE RECORD) sold in your country when Joe came to Japan circa 1991, then Joe said, "They must be sold only in domestic. How did you get them?"
Of course I bought them in import music store in Tokyo, but now they are very hard to find albums.
---
#159 from Vjekoslav Miling OSIJEK(Sep. 12, '05): Hi Tabo!
It is hard to find CD of JOE PASS on JAZZETTE REC.
There are not many copies distributed.I have only
two CD (J.P.with Strings and J.P.& Duo & Trio.Bye.
---
#160 from Tabo(Sep. 13, '05):
Hi Vjekoslav, I love J.P.with Strings ("What's New"), there are only 2 tracks which Joe plays on the CDs that you are missing.
I think it will be very difficult to find 2 CDs, the best way to find out is checking eBay site.
---
#161 from Faton Macula(Sep. 21, '05):
guitar geniuse.
---
#162 from Tabo(Sep. 22, '05):
Hi Faton, thanks for the message as usual.
---
#163 from Nicolas(Sep. 29, '05):
hey all, years after posting here, one thing is sure : Joe's alive for us all !
---
#164 from Julius Csoka (guitarist)(Sep. 29, '05):
Joe Pass is a mythological and legendary figure of great strength
and ability. Joe Pass became a passionate devotion for guitarists.
I highly admire his achivements and qualities.

Thank You Joe!
---
#165 from Tabo(Sep. 30, '05):
Hi, Nicolas (in France??), there is no days that I don't remaind Joe Pass. Yes he still alive in our mind !

Hi, Julius. I think Joe's playing style came from very simple thinking. But it's sometimes very hard to simplify everything for educated player . . .
---
#166 from Julius Csoka (guitarist)(Oct. 2, '05): Hello,
Do you have any information where can you order or purchase
the Joe Pass Gibson model with thinner body (ES 175).

Thank You
---
#167 from burak yurttas(Oct. 2, '05): i am 21 year old guitarist from turkey. one day i met joe pass and got addicted. i asked my teacher one day "can we start to play chord solos, teach me" he said"why an 18 year old boy wants to play chord solo go play smthg for your age" and i said "i believe this is how a guitar should be played". joe pass a real masterpiece of god. thank you for letting him shine for us.
---
#168 from Tabo(Oct. 3, '05):
Hi, Julius! The last guitar that Joe used, ES-175 thinner body, was not consumer model, was just the prototype model for Joe. I had played it once, has good tension and smooth to play, and very beautiful guitar.

Hi, burak. There are a lot of books & videos that Joe Pass wrote. You can understand how Joe was thinking about his playing and also understand his personality, too. Keep on playing, not only just copying, but also understand what Joe said !
---
#169 from Lucien Rhodes(Nov. 4, '05):
Greetings,

I just discovered your Joe Pass web site and I thank you for creating it.
The site is very interesting.

I'm a beginning jazz guitarist. I'm interested in the Joe Pass style and I
want to ask you a question

Please tell me what guitar and amplifier Joe Pass used on his famous
"Virtuoso" recording.

Thank you for your help,
Lucien Rhodes
---
#170 from Tabo(Nov. 4, '05):
Hi, Lucien.
The answer is . . . Joe used his old ES-175D(1962) & Polytone Mini-Brute(60watt) for "Virtuoso". But the mixer lost almost amplified tracks.

Keep on playing and not copy all but think as Joe did !!
---
#171 from greg ellis(Nov. 15, '05): Do you know of any more of Joe's music will be transcribed in the future, especially the virtuoso material?
---
#172 from Tabo(Nov. 16, '05):
Hi, greg. There are two type of transcriptions. Type 1 are transcriptions which Joe permited. Type 2 are just transcribed by whom didn't ask to Joe. Please check "Video+Book" section, then you could know "#13. Joe Pass Improvising Ideas" was the last transcription of Type 1.
Actually I don't know and much care about Type 2 transcriptions and think there are possibility to issue Virtuoso series transcriptions in the future. It depend on supply & demand.
By the way, if you are asking about transcription of "Virtuoso" (the first album of the series), Rocky Press (P.O. Box 603, Brookline, Ma 02147---I'm not sure the Company is acctive or inactive now) once issued as a "Master Colloquium series" in 1981.
I don't list the book yet, because I don't have it. (Hard to find item)
---
#173 from "looking out for Joe's kid"(Nov. 23, '05):
Has any one heard about the missing ES 175 Gibson of Joe's?
---
#174 from Tabo(Nov. 24, '05):
Hi, "looking out for Joe's kid". Will you please write your name from next time ?
If you know Joe's kids as a person, please ask them what happen with the ES175 and what did I do for them.
I gave every info that I had to them.

BTW, most of all Joe's fan doesn't know about the missing Joe's 175. So they will be surprised to see this article.
Yes, it's true, that Joe's Gibson ES 175D was missing just after his funeral, 11 years ago, . . .
But suppose if someone stole it, he or she could just HAVE it, couldn't show it to anyone, couldn't sell it as Joe's of course, only could keep it.
I can understand that Joe's kids want to keep it as their father's monument, so I did help them as possible as I could, but I live here in Japan, and could not find it.
So forget about Joe's guitar !! The instruments is instruments !! Joe loved to play it, I know, but there will be no meanings to have it anymore except his family.
And if the guy who keeps Joe's guitar see this article, he or she won't say, "Hey I have it !!"
If I have a chance to see the guitar, I think I can identify it is Joe's or not, though.
I don't want to talk about this article anymore.
---
#175 from andres coduras(Dec. 18, '05): Im from argentina
i start to listen this wonderfull music some time ago so i find this excellent musicians AMAZING the armony in the sound and all PERFECT
well my done my friend
---
#176 from Tabo(Dec. 18, '05):
Hello andres! I hope you like this website!!
---
#177 from simon leatham(Dec. 30, '05):
what was joe's main amplifier
---
#178 from Tabo(Dec. 31, '05):
Hi, Simon. Joe used to use Polytone Mini-Brute in 70's.
Joe said that he was playing Benson amplifire before Polytone.
In middle of 80's, he switched to use direct box plus house speaker system for his unaccompanied solo.
Joe played house amplifire when he played in a group, and he didn't carry his amplifire for the stages.
---
#179 from Tomislav Maretic, HR(Jan. 9, '06):
two guitars
searching each other by
rapid clear tones


I very miss Joe Pass, because he was an often guest in Zagreb, and he played with his good guitarist-friend Damir Dicic, who passed away last year. This music was realy something special, it is saved, but we miss their smiles and jokes, we miss them here, in life.
---
#180 from Tabo(Jan. 13, '06):
Hi, Tomislav. I didn't know that Damir Dicic had passed away. I love his style of playing, maybe they meet again in Heaven.
---
#181 from Frank Dibussolo(Jan. 18, '06):
Tabo,
My solo CD "Rite of PASSage" is finally released! The company ( Lost World Music ) is sendin you a copy for your review. I hope you enjoy it as it is my tribute to the Maestro.
Frank
---
#182 from Tabo(Jan. 19, '06):
Hi, Frank. I will review your CD at "What'sNew" section when I got it.
---
#183 from Garry Rosen H.(Jan. 21, '06):
Since the early 1970s I became very interested in studying/performing jazz. I play 6 instruments - semi-pro. The guitar is one of my favorite's. During this period, I was influenced by the recordings, radio, and/or personal appearances in concerts by: Joe Pass, Johnny Smith, Lenny Breau, also, Ed Bickert!

Later on, I met, and/or was further influenced by other jazz guitarists. ( i.e. Jim Hall, Martin Taylor, John Etheridge, George Benson, et al.)
Altho' I admire all of Joe's work - to me, his MPS/SABA BASF ( German ) LPs with (accordionist) Art Van Damme -- plus the solo album he recorded ( also in 1970 ) entitled: INTERCONTINENTAL - are my absolute favorite JP albums!! The sound quality of the latter LP is unsurpassed --- I expect Joe utilized his 1964 Gibson ES-175 --however, I'm curious to know if anyone can tell me what amplifier he used. It certainly does not sound like a Polytone --in fact, to my 'ear' - I'd guess it was a Fender --like a Deluxe Reverb --or Pro Reverb model - very clear, warm, and with noticeable reverberation!
Congratulations on the continued success of your web-site ---would like to see the addition of a "transcriptions" feature in the near future!

Kind regards,

Garry Rosen H.

[CANADA ]
---
#184 from Tabo(Jan. 22, '06):
Hi, Garry. Actually I didn't pay much attention to Joe's guitars and amplfiers what he used in what albums. I loved his melody lines and chords, so I can enjoy his music even when I haerd them from AM radio, that's it.
So I didn't asked Joe about those things, but I read some article in which Joe said he used Benson amplifier before he started to use Polytone. And I think I saw another article in which Joe said that he was playing Fender amplifier, not sure and don't remember what type.
Bellow photos are rare reacording pictures in mid 60's. If you can identify amplifier on the picture, will you please let us know ?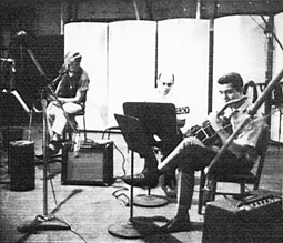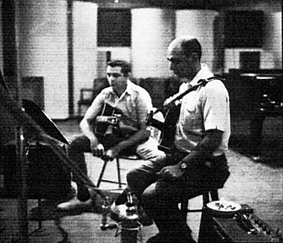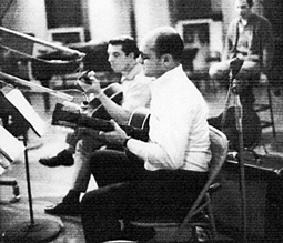 And Bellow photo is from the album "55."Music Makers" · Guitar" (1972). Can you identify what the amplifier is ?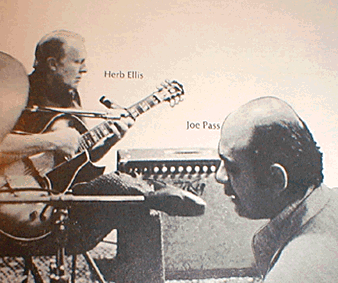 ---
#185 from Tabo(Jan. 22, '06):
Hi, Garry. I think Joe's 175D is 1962 product.
---
#186 from GERRY C. QUIBLAT(Jan. 25, '06): JOE PASS IS THE MOST AMAZING GUITAR PLAYER I'VE EVER HEARD. SAD TO SAY THAT NOT ALL OF JOE'S ALBUM ARE AVAILABLE IN THE PHILIPPINES! GERRY QUIBLAT OF THE PHILIPPINES
---
#187 from Tabo(Jan. 25, '06):
Hi, GERRY. Why don't you check eBay auction for searching and collecting Joe's LPs ?
---
#188 from Janey(Feb. 1, '06): I am not a musician like the rest of you talented people, but I long ago decided that if I could keep only a few CD's, they would all be of Joe Pass.
---
#189 from Tabo(Feb. 2, '06):
Hi, Janey. Yeah I only keep Joe's CDs, LPs and so on. I sold the rest of my CDs and LPs at the auction.
---
#190 from Art Schwartz(Feb. 10, '06): A few years ago,at the age of sixty, I switched from "kitchen" guitar to the real thing, jazz, and discovered the genius of Joe Pass. I listen to them all but Joe's playing seems to stand out as something very special and motivates us all to higher things..
This is an incredible site, Tabo, you deserve great credit for establishing it. I felt that I was among friends as I read every comment.
---
#191 from Marko(Mar. 13, '06):
Hi people!!! I am from Belgrade, Serbia.I am great Joe Pass fan.I've been searching for some JOe Pass' video guitar school,but in my country is impossible to find something like that.If some have some Joe's guitar schools, I beg him to contact me on this address : omega@scnet.yu Of course, I would do something in return.
---
#192 from Tabo(Mar. 13, '06):
Hi, Art. Thanks for the compliment for this website. I just want to share all Joe's products and memories to you all.
Hi, Marko. I recomend you to see eBay auction and some internet stores to find Joe's instructional videos.
---
#193 from Steve Lombardo(Mar. 30, '06): Hello,
I had a question about the Big 4 laserdisc. I have a Beta copy and I've been looking for a better copy for 18 years. I purchased a LD online from Japan but it had a bad case of laser rot so the picture is very snowy. Is it possible to purchase a copy (LD or DVD) of this performance?

Thanks,
Steve Lombardo
---
#194 from Tabo(Mar. 30, '06):
Hi, Steve. I don't concentrate on which video is on sale NOW, so I'm not sure, but I think the video you mentioned is not on sale as DVD format. And I think the LD was issued only in Japan.
I find one copy at eBay auction today(see below site). So it's the way of a collector to buy another one hoping it's good quality. (I did the same way)

http://cgi.ebay.com/Oscar-Peterson-Big-4-J-A-T-P-83-Live-in-Japan_W0QQitemZ4837651989QQcategoryZ618QQssPageNameZWDVWQQrdZ1QQcmdZViewItem

Hope you could have a good copy !!
---
#195 from Robert(Apr. 9, '06): I am looking for a transcription of Joe Pass's version of the Montgomery Brothers Grooveyard.

rgboucher@sympatico.ca
---
#196 from Tabo(Apr. 10, '06):
Hi, Robert. I think there are no official transcription of "Grooveyard" (Perkins,C) . I hope someone looking here help you.
---
#197 from ori ben-zvi(Apr. 20, '06):
hi there , my name is ori ben-zvi and i live in israel. love your joe pass site. i was wondering , you wrote in the salon section of your site that you used to change strings on joe's guitar. what type/make/gauge of strings did he use? im curious....

if you want to hear some new prog/jazz music of my band: www.sympozion.com

peace!
---
#198 from Tabo(Apr. 21, '06):
Hi, ori. Thanks for visiting my website. I already answered the same question, please see #051 and #052 is my answer.
---
#199 from gabe rondon(Apr. 29, '06): HI TABO. GREAT SITE LET ME TELL YOU. I'M 64, BEEN PLAYING JAZZ FOR 40 YEARS. NOW I'M TEACHING IT AT THE UNIVERSITY "EL BOSQUE" IN BOGOTA, COLOMBIA. THE GUITAR PLAYER I USE TO TEACH THE KIDS ABOUT JAZZ IS JOE PASS. I HAVE QUITE A FEW OF HIS RECORDS. ESPECIALLY THE 5 HE MADE WITH ELLA.
GOOD LUCK. ANY ONE CAN WRITE TO ME AT: GARONDON@CABLE.NET.CO
---
#200 from Leo Finale (Jun. 16, '06): Thank you Joe for your wonderful music!!! I've discovered him only since one year, but he changed my musical life completely (I'm a guitarist and live in Bologna Italy... He's got a marvellous touch on his guitar (unique!!!) He gave me a marvellous gift; his cds and dvds making him still alive into my heart and my ears...
Thank you Joe!!!

Leo Guitar (that's my nickname).
---
#201 from Tabo(Jun. 17, '06):
Hi, gabe. Thanks for the compliment. Please teach your studets not only Joe's technique but also his heart !
Hi, Leo ! If this site helps you to understand Joe Pass, that will be my pleasure.
---
#202 from Luiz Marcelo S. Maya (Jun. 23, '06):
My name is Luiz Marcelo S. Maya >>>> lmsmaya@hotmail.com
Brasilian guitarrist. Love Joe Pass, the best guitarrist.
---
#203 from DannyT (Jul. 9, '06):
Just before Joes death I saw him playing a gibson 175 that was made for him. I was wondering if that model was produced for the public and if so where I could get one.
Thanks DannyT
---
#204 from Tabo(Jul. 10, '06):
Hi, Luiz. I know that Joe loves Brazilian music and many Brazilian friends love Joe's music.

Hi, Danny. Thanks for visiting my website. I already answered the same question, please see #166 and #168 is my answer. (The guitar was not sale for the public)
BTW, John Pisano keeps Joe's last guitar now.
---
#205 from Chad B. Gage (Aug. 1, '06):
I'm assuming that Joe knew how to read music - is this true?

Some amazing information that came out of interviews that he
gave - he said that his father was responsible for making him
the virtuoso that he was. This was not because his father was
necessarily a musician at all - he was a steel worker. But he said
to his son - if you want to play guitar then you have to work like
I do - 8 hours a day. So at some young age, Joseph Passalaqua was
practicing 8 hours a day in addition to his regular school work.
On Sundays - his father's day off - they would gather around the
Victrola radio and listen to music. His father would first say -
play along with the radio - then he would say - fill in the gaps!

By the time he was 18 Joe was a band leader. It wasn't long after
that he said that he came home after one weekend with more money
in his pocket for that weekend than his dad had earned working in the
steel mill all week.

Joe said - "You didn't know my father..." he made me do it...


Thanks to Father Passalaqua!
---
#206 from Tabo(Aug. 2, '06):
Hi, Chad ! Long time no see ! Yeah, Joe could read the music, that's true. But he and his father didn't concentrate on just "reading" at that time.
Mariano (Joe's father) forced Joe to play the same melody came from the radio or whistle Mariano did. (Joe could "read music" slowly when he was teenager,I guess, but he had to "read music" when he joined in the George Shearing quintet in 60's)
You wrote . . . "By the time he was 18" might be "By the time he was 14" or "15" I think, and he was not a leader of the band at that time.
Yeah, Mariano didn't know about the music, but he gave "the seed of Virtuoso" to his son.
---
#207 from Telmo Garãfo Lopes (from Portugal) (Aug. 11, '06):
Here am I, glad to tell you how such a good influence Joe Pass is in my way of look at music... and life: What a sense of good taste he had! Thanks Mr. Joe for being such a good teacher! I learn more in your DVDs and Books than in any other class I've ever had.
---
#208 from Tabo (Aug. 24, '06):
Hi, Telmo. Knowing Joe Pass will makes you happy. He had a GREAT sense of humor, too!
---
#209 from Frank Ruggiero (Aug. 24, '06): This is Frank Ruggiero, I am an Accordionist.
I came to know of Joe Passalacqua through a friend of mine Joe Cangemi also a guitarist. Mr Cangemi told me the story of how he met Joe Pass and I would like to share with you and all Mr Joe Pass fans
Mr Cangemi, on a Sunday afternoon, was playng his guitar in Washington Square Park among a group of Italian musicians ( I was one amongst them ) during an interval of our playng Mr Pass approched Mr Cangemi,intoduced himself and invited him to one of the clubs of Greenwitch Village were he was perfoming at that time, I do not recall,I do not recall if it was " Top of the Gate" or "Rack Bottom" has been a few years ago and my memory does not help me very well,Anyway, to make the story short Joe Pass and joe Cangemi Became very good friends.
Joe Cangemi was an Immigrant from Capo d'Orlando, Sicily (Italy) were he had a beautiful home overlooking the Mediterrenian Sea.
The way I understood,at that time, Mr Pass was having serious helth problems,and one day maifested his wish to my friend Joe Cangemi.
" Before I die I would like to visit the birth place of my ancestors.
Mr Cangemi, being generous as he was, did not hesitated a minute on inviting Mr Pass to Capo d'Orlando to stay at his house.
They both went to Sicily and as Mr Cangemi told me they had great time; while they were at his house Mr Pass would play his guitar and Joe Cangemi was able to record Mr Pass playng.
Back to New York, Joe Cangemi gave me one of those tape recording.
I most confess I am going throgh all my possession of tape recording, ( They are not CDs it would have been easyer)but I will find ( know I am in possession of that tape.)
Now coming back to me,a week ago August 13th 2006 as my family was having our usual Sunday dinner my daughter Maria (Classical trained violinst) came out sayng that wile at work she listens over and over the Joe Pass recording. I told my daugter what I am telling you and my daugter coud not beleve it.Thank you so much . from a new Joe Pass fan . Frank Ruggiero
---
#210 from Tabo (Aug. 24, '06):
Hi, Frank. I know that Joe took a trip to Sicily circa 1992 with his wife, Ellen. But didn't know about the story of Mr Cangemi. I have the photo from Sicily trip(<--click), can you find your friend ? I want to hear the tape if I could. . .
---
#211 from Martin Manzor Lauria (Sep. 8, '06): Hi , this is a great web site , i`m an admirer of Joe's music and i'm trying to play some of his songs ,i would like to know how can i get all Joe Pass books in pdf format .
my e-mail is : martinmanzor@hotmail.com, i'm from uruguay.
thank you.
---
#212 from Tabo (Sep. 8, '06): Hi, Martin, hope my e-mail helps you.
---
#213 from THIERRY (Sep. 15, '06): I met Joe Pass in Paris and had a chat with him and his wife during one of the breaks. My friend and I sent him a tape of French songs played in Joe Pass style and received a complimentary letter from Joe the following week. When I met him, I told him I had transcribed all his Virtuoso albums but he seemed to think that kind of was crazy if not unnecessary work as he did not like people trying to intellectualise his work. So, I never got round to trying to get them publuished but it demystified what had seemed to be completely unplayable before.A few years later I found out that a Japanese guy had published his own version of all his transcriptions and wished I had done it myself before as I found some of it was not too precise.

Joe was so unpretentious and so instinctive in his playing. I remember going to see him playing solo and sitting next to Bireli Lagrene and Christian Escoud
---
#214 from Tabo (Sep. 17, '06):
Hi, THUERRY. I am NOT the Japanese guy that you mentioned ! (ha, ha, . . )
I had heard about the book you mentioned from Joe, see my note at "Video&Book" section.
When Joe came to Japan, he made me to call the publishing company and ask them why they published the book. The company answered that they picked up standard tunes and paid copyright fee to JASRAC (Japanese Society for Rights of Authors, Composers and Publishers) so they didn't think that they need to ask Joe Pass, himself.
But they used Joe's NAME on the book, and yeah, they paid the royalities to original composeres, but they DIDN"T USE original scores, USED scores that some guy transcribed (I agree with you, "it was not too precise") from Joe's records.
---
#215 from Thierry (Sep. 17, '06): Hi Tabo,

The book I was referring to is a black book called Joe Pass Jazz Guitar Solo transcribed and adapted by Hiroyuki Suzuki (ATN, inc.) and it pretends to be transcriptions and adaptations (is more the word in this case)for the original recordings of Virtuoso 1 & 2 both in music notes and tablatures.

Cheers

Thierry
---
#216 from Tabo (Sep. 17, '06):
Hi, Thierry. Yeah, that is THE BOOK, Joe got angry !!!
They used Joe's name for sale, copied from Joe's record but didn't pay nor ask to Joe. So the book has nothing to do with Joe Pass.
---
#217 from Thierry (Sep. 17, '06): Tabo I agree with you. The book can in fact be misleading for people wanting to understand and learn the Joe Pss guitar style. Some of the chords are unnecessarily far more stretching that Joe played them himself and it could put beginners off learning. Joe's principle was to always go for simplicity and not forget the musicality There is another bok which I don't see in your list called Famous Jazz Guitar Solos by Ivor Mairants (1988). It has 14 pages on Joe Pass including Night and Day, Have you met Miss Jones and All the things you are from Virtuoso. I beleve that one is pretty accurate but has no tablature.

Thierry Scheidwasser
---
#218 from Thierry (Sep. 17, '06): Sorry to be ominipresent but I just went through your JP discography and could not find the album called Living legends Joe Pass/Robert Conti on the Dicovery label. It has Joe playing 5 interludes, Joey's blues, a "would you believe it" Debussy composition called the Maid with the flaxen hair and a really corny bossa nova song backed up by Joe called Long ago yesterday. As usual his playing (from 1969-1970 period) is superb even when he plays classical or variety unimprovised stuff where fo some reason, he is immediately recognizable. As to Robert Conti, I don't know much bout him but he plays a bit like Joe Pass but without the salt and pepper! Do you know it? Thierry
---
#219 from Tabo (Sep. 17, '06):
Hi, Thierry, please check "37.GUITAR INTERLUDES (DS-776)" of album section. "Living legends" was originally issued as "GUITAR INTERLUDES" (i think) circa 1978. And there is another story.
The producer of the record first asked to Joe to make pop style album and suggested to use female chorus for good sale.(the side B of "GUITAR INTERLUDES") So Joe recorded it but the producer didn't issue it at that time.
Then Joe forgot about it untill the producer issued it in circa 1978.
You see, "GUITAR INTERLUDES" is not Joe's will but the producer's for earning good money. (I think Joe didn't get any money from it)
I don't know about Dick Conti, but probably one of Joe's friend, 'cause I had a chance to see Joe & Dick's picture at Dick's website.
---
#220 from Thierry (Sep. 17, '06): Great. Thank you Tabo.
---
#221 from Thierry (Sep. 17, '06):
The Living Legends
Released On Discovery Records

Joe Pass/Robert Conti Recorded In Los Angeles, October,1984

There is an interesting story attached to this album.

In October Of 1984, Executive Producer Albert Marx brought Conti to California to produce another solo recording. Conti recorded fifteen songs at Monterey Studios in Glendale on October 22, 1984. In 1969/70, Albert Marx produced a Joe Pass album entitled "Interludes." For reasons unknown to Conti (or anyone else), in the mid part of 1985, Albert Marx chose to eliminate one side of the original "Interludes" album. Albert Marx then contacted Robert Conti in Florida to advise him that he was releasing "The Living Legends," an album which includeed one side of "Interludes" plus the following five songs from Conti's recording session of October 1984: Hello Young Lovers, Stella By Starlight, Little Girl Blue, Nuages, My Romance.

In the early part of 1985, Albert Marx released, "Laura" which embodied ten of the songs from Conti's recording session of October 1984.

In the latter part of 1985, Albert Marx released a Compact Disc entitled: "You Are The Sunshine Of My Life" which included All Fifteen songs from the recording session of October 1984
---
#222 from Tabo (Sep. 18, '06):
Hi, Thierry. I just find Robert Conti & Joe Pass picture at
http://robertconti.com/photo_archive.html
Please check "1970" folder, then you will find "conti_and_pass" folder.
---
#223 from Thierry (Sep. 18, '06): Thanks Tabo. Did Dick Conti ever play with Joe. I also believe John Pisano (long time Joe Pass rythm guitarist) is quite sucessful in his own right. Have you heard them play?
---
#224 from Tabo (Sep. 18, '06):
I never heard that Joe had played with Robert Conti, about John Pisano, what do you mean ? There are many Albums which John took part in . . . if you mean "live performance", yes I had many times that Joe and John play together.
Joe Pass Quartett (Joe, John, JIm Hughart & Colin Bailey) came to Japan in '91 and '93. So I saw Joe and John play together even at the backstage. (they didn't do rehearse, just play for fun)
---
#225 from Thierry (Sep. 18, '06): Have you heard any solo album by John Pisano? I know he has a band called Flying Pisanos including his wife singing but I wondered if he also improvises. If so, how does his playing compare with Joe Pass after having spent so much time with such a great musician ?
---
#226 from Tabo (Sep. 19, '06):
Well, John Pisano plays solo on his album. If you want to know that how much John Pisano was infullenced by Joe's style of playing, you won't find anything. John has his style already.
And I think John loved to comp with Joe. He didn't want to claim loud, just accompany with Joe's solo line with GREAT chords.
---
#227 from Thierry (Sep. 20, '06): Hi Tabo,

Let me know if this is becoming too much of a dialogue.

Do you know if Joe Pass ever used open tuning ?

Thanks
---
#228 from Tabo (Sep. 20, '06):
Hi, Thierry. Don't mind of long dialogue.

I think Joe had experienced open tuning.
You know, Joe did play 7 strings and even guitar synthesizer ! So, I suppose that Joe did try open tuning, too.
But there are no recording of 7 strings, open tuning and (of course) guitar synth. Joe loved to play regular tuning and using regular "6 strings guitar".
There are few recordings that Joe used wow wow pedal and fuzz (not Joe's will), one is "55''.Shaft's Big Score !" and the other one is . . . I can't remembber which album . . . but one of Polytone recording. That's it.
---
#229 from Thierry (Sep. 20, '06): I wonder what Joe sounded like using a wah wah !

On his last tour, did he actually play with classical guitarist Pepe Romero, along with Leo Kottke, and Paco Pena ? Is there any recording of his last performance ?

Thierry
---
#230 from Tabo (Sep. 21, '06):
Hi, Thierry. Joe actually toured with Pepe Romero and others. Please check "Memorable Goods" section, now you can find "Guitar Summit".
At first Joe didn't know about Pepe Romero well, so Joe didn't talk to him until found that Mr.Romero smoke a cigar !!
There are no official recordiong of "Guitar Summit", but the concert was partitioned as 4 part. So I guess they didn't play together.
---
#231 from Thierry (Sep. 21, '06): Tabo,

Here is an excerpt from a Leo Kottke interview which seems to imply that they did play together with a funny story at the end..

We lost Joe Pass a little while ago too. Can you offer some thoughts on working with him?

Oh yeah, oh yeah! You know, there are a lot of guitar players who've died in the last handful of years-a lot of them. And a lot of them in plane crashes and violent, accidental sudden deaths. But Joe died in his smile. [pauses] I suppose he did! What I meant is he died in his sleep with a smile on his face. In my experience-and this can't always be true-great musicians are usually people you'd love to be around even if you hadn't heard them play or didn't know they played. Joe was one of the most straight-ahead, in-your-face people I've ever met and it was such a privilege to play with him. He was just being the height of generosity to play with me in that situation [the Guitar Summit tour]. I'm certainly not what he does-it's not his cup of tea. But he was perfectly happy to step to a 12 bar blues and play with me. It was really a great gift. A lot of players of his ability wouldn't have done that. He was happy to do it. Some nights it was a collision, but some nights it actually worked and was so nice.

I was hung up on his tone on that tour. When I saw him a few times in Australia, he would get this great tone and it kind of changed my mind about those big humbuckers and plywood tops. Joe was convinced these carved, archtop guitars weren't worth it-he said they're just a problem on a pick-up because you're going to use the pick-up anyhow, so just get a pressed plywood top and put a pick-up in it. He's got a lot of support for that argument. I loaned him my Demeter DI [an acoustic guitar "tube direct box" designed to support natural-sounding amplification] and toward the end of the tour, he thanked me for giving it to him. I couldn't bring myself to say "I didn't give it to you Joe. I gotta have it back." [laughs] I don't know where it is now, but I'm glad he got it. He would come off stage several nights on that tour and say "What a great night for the guitar." When I met him the first night in Australia, we were playing on a TV show together with John Williams and Paco Pena, and we took a cab somewhere to another part of town and he said "I'm intellectually tired." He didn't really want to play anymore. And then he would go out and play his ass off on that tour. He mentioned a couple of times how much fun it was to be playing again and how nice it was to play solo. It was quite a wonderful thing for all of us and I know I'm not putting words in anyone's mouth.
---
#232 from Tabo (Sep. 21, '06):
Hi, Thierry. (Above quotation is from Leo's website)
Thanks for the info. I don't understand the words "play his ass off". What does it mean ? Quit ?
My English is still poor. . .
---
#233 from Thierry (Sep. 21, '06): I am not a native English-speaker but I think it means " to give the best he could despite his illness".

Regards

Thierry
---
#234 from Rory, Dublin, Ireland (Oct. 16, '06):
Hi, I've been listening to lil darling for some years now, and have only recently discovered more of Joes work. Lil Darling for me is among the most beautiful guitar playing i've heard. Does anyone know how I might learn it, tab , script, DVD etc ?..thanks a lot
---
#235 from Tabo (Oct. 18, '06):
Hi, Rory, thanks for the e-mail, too.
Unfortunately, there are no official transcription of ""Lil' Darlin'"
But I hope that you can GRAB the sense of Joe Pass in the future.
Nobody can imitate Joe Pass style perfectly, and no way to imitate his style. But we can understand how much Joe was pleased to play. We can do this, right ?
---
#236 from koyas mail (Oct. 23, '06): tanks for this page on net and I and my friend musicions love music Joe Pass.I search scool book by who can teach Jazz music Joe Pass.this is mesage from Serbia.
---
#237 from Tabo (Oct. 23, '06):
Hi, koyas. You can see Joe Pass Instructional book and video at "About Videos+Books" section of this website. Maybe you can find some of them at second hand shops or internet auction site. (ie, eBay)

---
#238 from tica (Nov. 28, '06): I love Joe......................!!!!!!!!!!!!!!
---
#239 from Len DeLoma (Nov. 30, '06):
Thank you Tabo for your important work with this Joe Pass tribute website. Joe Pass certainly romanced the strings and his jazz took us in a rainbow of directions. Check out the distoted solo on "About Time" on the POLYTONE album... Herb Ellis said that Joe was the best ever, and like Herb, Joe Pass taught me the importance of listening - a lost skill these days. It was my uncle who told me to listen to him - "This guy, Joe Pass, his guitar lines are much like that of a horn player's..." And as always, when ever I look at my Gibson ES-175, I think of Joe Pass, and there's no greater inspiration. Your website - what a great tribute to Joe...
---
#240 from Tabo (Dec. 2, '06):
Hi, tica. Thanks for visiting my website!
Hi, Len. Thanks for the compliment of the site. I have ES-175, too. And when I play it, I think of Joe Pass, too.
---
#241 from Andrea (Dec. 5, '06): First of all, thanks for this site.
If you'd like to play something like Joe Pass, go this site. This is not to advertise at all, because the site is free.
Download the files, unzip them, turn the volume up, double click and you'll have tabs and music + fret.
http://www.lickbyneck.com/SoloGuitar-JoesPass.html

Byes all,

Andrea From ItalY
---
#242 from Tabo (Dec. 5, '06):
Hi, Andrea. Thanks for introduce useful software.
I am old-Mac user, so I can't use it but my friend said it is GREAT.
Windows user, and if you need transcriptions of Joe, it's worth to check above site.
---
#243 from John Flynn (Dec. 15, '06): Excellent site, thank you very much. I've been a JP fan for about 35 years. Around about 1980 I read in a music paper that a public house (bar) in Oldham, Lancashire (UK) had invited Joe Pass to play in their jazz club. I phoned the pub and asked how much the tickets cost. The guy said 50 pence (about 25 US cents). The guy thought I was mad because I asked several times if it was Joe Pass, THE Joe Pass, the JOE PASS who plays jazz guitar? The guy said yes of course. Now, Joe was on tour with Oscar at this time and people had paid $40 and more to see them in London. My wife and I set off on a round trip of about 100 miles. The local jazz combo played a set then Joe came on and was his usual brilliant self. There was a short break when the pub owner gave us all free food! Joe returned, played for another hour or so then the band returned and Joe sat in as a guest rhythm guitarist. No soloing, just a man enjoying himself playing with a local band for the fun of it. What a great evening, 25 cents to see & hear THE Joe Pass and a free meal to boot. Now that's value:-)
---
#244 from Tabo (Dec. 15, '06):
Hi, John. It is really GREAT experience !! I love to read this kind of story !
---
#245 from Daniel Nunes Pimentel Pires (Dec. 17, '06): I'd like to know about the chords and the scales thar j.pass used more.
---
#246 from Tabo (Dec. 17, '06):
Hi, Daniel, that's our common dream !!
---
#247 from Michael Silberman (Dec. 31, '06): Tabo - just read your response to mine in 2001...rofl. o well guess it took a bit of time to get back to you! i have great memories or taking lessons with joe and warne marsh. Yes i did sub for joe at dontes in between woody herman the night prior and don ellis big bands the night after. i used chester thompson (drummer for weather report) for this gig only and ed bennett, an old friend and fellow musician from the cal state northridge 1973 'a' jazz band that we both belonged to (including grant geissman, gordon goodwin amoung others....). the track that i recorded as a 19 year old in 1973 was a tribute to joe and herb ellis performing seven come eleven from concord jazz festival days. i recorded it the night before i went on to los angeles's jazz station kbca for an interview with gerald wilson. i had to record it quickly since i was recording at a friends house on a reel to reel (curt slettens house - he was also trumpet player in csun 1973 jazz band). i rec orded in one take the solo track first then the backup track. joe liked my version. his biggest compliment was when he asked if i was improvising or had written it down.... (the link to the recording = http://www.michaelsilberman.com/mds/michaels_music/711.mp3). i don't check this site often so if anyone responds, cc: silberman1@earthlink.net.
---
#248 from Tabo (Jan. 1, '07):
Hi, Michael, it took quite long time from you wrote #044, but better than never !
I heard your "7 comes 11" very fast version. You recorded melody first, then backup track second, . . . Joe did the same way when he recorded "Alison ll" on 87.Guitar Player (MCA2-6002). He recorded solo first then then did the rhythm track.
When Joe got home after the recording, Joe thought, "hey wait a minutes, I should have laid the rhythm track and then improvised"
---
#249 from Andy Giacobbe (Jan. 11, '07): Hello Tabo,
I accidentally discovered your web site. I am a friend of Joe DeMello who speaks with you quite often. I also was a friend of Joe Pass for close to 20 years (until he passed away). I was amused to read that you changed Joe's strings and tuned his guitar. I did the same thing for him many times. He would also bring me to his sound checks to set his amp. If the sound engineer tried to change my settings, Joe wouldn't let him. They weren't very happy about that. As a matter of fact, I always supplied Joe with his strings, I was a sales rep for GHS Strings and Polytone Amps.
I will continue to check out your site.
Andy Giacobbe
Hernando, FL

---
#250 from Tabo (Jan. 12, '07):
Hi, Andy. I remebered that Joe keeps GHS strings set in his gig bag !! Because GHS flat wound strings is RARE hear in Japan at that time. So that was you who supplied Joe strings.
---
#251 from tal morton (Jan. 20, '07):
my father is barry morton jazz guitarist and teacher at qit in brisbane queensland australia joe when on tour would catch up with dad they would spend time together my father spent his early years in canada in the 50's travelling down to new york to get lessons from tal farlow and also barry galbraith they were his teachers and my father kept intouch with them right up till there passing if you reqire any information please email me and i could pass on to my father he would get a great thrill if he could contribute in any way to joes outstanding life and the music regards tal
---
#252 from Tabo (Jan. 20, '07):
Hi, tal. I think Joe's first visit to Australia is March, 1973. His second arrival might be Feb. 1978. When did your father meet with Joe? If your father have memories of Joe to share us, please write here or e-maol me.
---
#253 from Dominic (Jan. 22, '07):
Hi I"m not able to find the Blues For Hank in cd, .wma.mp3
Where can I buy it ?

Thank #254 from Tabo (Jan. 22, '07):
Hi, Dominic. There are 2 version of "Plays Hank Williams" CD.
You can see the original at #163 on "album" section of my site.
Recently they release short version. (They cut 2.I Can't Help It ( If I'm Still In Love With You ) &10.There'll Be No Teardrops Tonight from the original)
I'm not sure which CD is but you can find "Roy Clark & Joe Pass Play Hank Williams CD" at CD Universe. If you want to get original CD, you should check eBay or used CD shops.
---
#255 from Craig Cortello (Jan. 24, '07):I wrote this tribute to Joe for AllAboutJazz.com last year:

http://www.allaboutjazz.com/php/article.php?id=21510
---
#256 from Tabo (Jan. 25, '07):
Hi, Ctaig. I know your contribution on last May thru Colin Bailey.
Actually when I walked with Joe in Hamburg (1993), Joe found the boy playing violin, a street musician, then Joe came to him, asked where were you from but he didn't understand English. Then Joe gave him small money saying, " to my fellow"
---
#257 from John (Feb. 5, '07): Good info.
---
#258 from Marcel Maier (Mar. 28, '07):
Hello Everybody,
I'd like to show my gratitude to Joe Pass with this little message !!!
I'm 20 years old from Munich - Germany and started to learn Jazz intensively about 4 months ago.
My teacher Philipp Stauber a loyal fellow of Joe Pass' music awoke in me the interest to know more about Joe. I came to a music shop few days later and found that great dvd "An Evening With Joe Pass at Concert Clinic Interview"...
When I read his biography and found out that he passed away, I was deeply upset and couldn't believe that such a great musician, a man with passion, wisdom, heart and sympathy is not among us anymore... And though, he wasn't that old !! not at all !

Nowadays, I just wished that people like him should be mentioned in every school! No matter what special academic direction... People of my age, now listen to Punk, Techno, Hip Hop etc ... And I ask myself "Do they believe I am a freak?" when I tell them: "Hey guys, you know I learn to play Jazz music?".

I almost feel like 'being left apart' in this 20th Century! There is such a lack of knowledge of music!!! And there is almost no justice: Newcomers with no talent for Music (but 'sex appeal' when they show their sex ) earn more money as they could ever spend in their whole life, while others "truly talented people" get to live with a few pennies...

Joe Pass, I miss you

Best Regards,

P.S If anyone would like to write me back here is my Mail address: marcelmaier260486 at msn.com
---
#259 from Tabo (Mar. 29, '07):
Hi, Marcel. Reading your message, I remembered that I had heard (or read) bellow mentioned story.

In late 60s to early 70s, people of that age listen to Rock music, and Joe had a few Rock guitar students at that time. (The lesson fee is very cheap, like . . . $10 for the lesson)
One day, his student said, "Joe, I won't come to next lesson, 'cause our band will go to Europe ture."
Then Joe asked him, "Can you earn good money from it?" The student said, "Yes"
Joe said, "Well, I have to learn Rock guitar from you in next time"
---
#260 from michael zwierzina (Apr. 15, '07): Can anybody help me with transcriptions to night and day or stella from the virtuoso album!
I am also searching for the shadow of your smile from the songs for ellen album
Best wishes ,Mike
---
#261 from Tabo (Apr. 16, '07):
Hi, michael, please check #093 & #094 articles of here. I think there are no transcrition of "shadow of your smile" from the album (the song for ellen).
---
#262 from John (May 3, '07):
Some people are wondering what guitar Joe used for his acoustic work. I was told by
someone who knew him that it was a nylon string acoustic guitar made by Jimmy D'Aquisto.
Unfortunately that's all I know.
Best Regards,
John
---
#263 from Marcel (May 8, '07):
Hey Tabo,
a few days ago I went onto the Link video.google.de and by searching after Joe Pass I found some
interesting clips from him... and I'd like to buy the video, but I don't know its name:

the video links are here:
http://www.youtube.com/watch?v=jgNcajMmMYY
http://www.youtube.com/watch?v=RhfbK2MHbtk&mode=related&search=

I love this music so much that I can't resist to it.
May you please tell me the name of the Dvd or VHS where it is? I so wished to buy this Recordings with Joe Pass and Ella Fitzgerald
but I couldn't find anything
---
#264 from Tabo (May 8, '07):
Hi, John (#262), I don't know about the nylon string acoustic guitar made by Jimmy D'Aquisto. I only know that Joe had 2 guitars that Jimmy made for him, one is without pick-up and the other is with pick-up, not with nylon strings. Did Jimmy used to make nylon strings type guitars ? If I find something, I will let you know.

Hi, Marcel. I'm old Mac-user, so I can't listen tunes at YouTube site. So I just SEE 2 stage that you mentioned, they are probably from Chicago TV "Soundstage" (A Celebration Of Ella/1979 June). I think both video from the same program.(not sure)
You can't BUY them, because they are TV video. (I'm not sure but there might be some way to RECORD from YouTube, so why don't you ask someone who is very good at PC ?)
---
#265 from Marcel (May 8, '07):
Hi Tabo,

thank you for your quick answer and for the info!
It's actually a pity that you can't see the videos with your Mac... I believe they are really good.
Just to be 100 % sure that we both are talking of the same tape:

I found out the names of the titles that are on the same video
Joe Pass played the songs "Ain't misbehaving","Prelude to a Kiss", "Meditation" and as big final song "Once in a While". (of course most of them together with Ella)

You may be definitely correct with its date of 1979 ...
Is it possible that the video is called "Ella 1979 Special"? (just found out, but I'm not sure)

Details: There is a big "ELLA" written on the roof of the stage and I found out that Count Basie appeared on that video aswell.
Last but not least, I want to thank you again for your patience
Best regards,

Marcel
---
#266 from Bob Jones (Jun. 17, '07): I had the extreme pleasure of seeing Joe Pass in concert twice while I lived in Austin. Once was his solo gig at Katz's, the other was with Ella and Oscar on the UT campus, and I walked away from both events a changed man. Joe was the best guitarist I ever saw, an extraordinarily remarkable musician, and his music-making will always remain a very special part of my life.
---
#267 from Juan Kacho Montalvo (Jun. 30, '07): Thanks for the information about Joe Pass. Do you know some relation between him and Tizol? He recorded and played many times Caravan. Tizol lived and died in Los Angeles. Thank you Kacho Montalvo, Puerto Rico.
---
#268 from Tabo (Jul. 1, '07):
Hi, Bob (#266), thanks for writing a message. Joe Pass, not only his music as a guitarist, but also his personality as a human being, is REALLY speciall for me ,too !!
Hi, Juan (oh, you are the same name as Tizol !), I'm sorry but I don't know any relationship between Joe And Tizol. I didn't heard about Tizol from Joe Pass, and can't find any article that Joe comment on Tizol.
---
#269 from paul r. latone (Aug. 18, '07):
The guitar was not my most favorite instrument, but when I first heard Joe I was immediately hooked. Joe has given me many hours of music appreciation. You do a great job. thanks
paul latone
---
#270 from Salvador Andrades (Aug. 25, '07):
Conoci la musica de Joe Pass cuando tenia 16 aÐs, siempre le he admirado, mi profesion es guitarrista de flamenco pero siempre me a gustado el Jazz, y por supuesto la musica de Joe, senti mucho su muerte pero a todos nos queda la alegria de conservar su musica.
---
#271 from Tabo (Aug. 25, '07):
Hi, paul. The guitar was my most favirite instrument when I was young, but didn't know anything about it before I heard Joe.
Hi Salvador, will you please write in English next time ? I am not (of course) a native English speaker, but it is useful to communicate to many people using English.
---
#272 from Mark Miller (Sep. 26, '07):
As a music major years ago in California at El Camino Jr. College, I was fortunate enough to see Joe Pass perform with the Gerald Wilson band. I asked Gerald if he would introduce me to guitarist, and he was nice enough to do so. That began my relationship with Joe, as I selected him for my elective class at El Camino. I transcribed many of his early solos, saw him perform at the Baked Potato club and even got a guitar lesson at his home. His depth of jazz knowledge was to him second nature. A true original, a compassionate artist with a fluid command of his instrument. God bless you, Joe Pass!
---
#273 from Jack Vanderwerf (Oct. 3, '07):
Joe you will always be with us
---
#274 from Tabo (Oct. 4, '07):
Hi, Mark. You have GREAT memories of Joe from very early years. Have you ever seen Japanese sax player in Gerald Wilson Orchestra ? I think this guy played at Monterey Jazz Festival, Sep. 20,1963.
Hi Jack. I REALLY agree with you !
---
#275 from Mike Nakamoto (Oct. 26, '07):
Conoci la musica de Joe Pass cuando tenia 16 aÐs,
Met/Seen musician the Joe Pass when I was 16 yrs,

siempre le he admirado,
Always will admire

mi profesion es guitarrista de flamenco pero siempre me a gustado el Jazz,
My profession is a guitarest of Flemenco, but I will always love Jazz.

y por supuesto la musica de Joe,
and of course the music of Joe,

senti mucho su muerte pero a todos nos queda la alegria de conservar su musica
I feel much sentiment, he died was a loss to all, happy in preserving his music.

This is loosly translated, just using the net and knowing no spanish.
All I can say is wow! It's is unbelieveable how eight years plus has gone by and how much information has been passed down by others. I'm learning Guitar and now I know of the direction I have to take to get the results I've been looking for. Reading about all these experiences shows some insight on how Joe taught, but also about how to feel and simplicity. I have bought a guitar on e-bay and I now know of what materials to collect.
It is amazing to see all the years have gone by and the lives Joe has touched. And you finally met the GHS string man!
The information in reading all these postings was INVALUABLE!
Thank You Mr. Tabo Oishi for having this insight in posting this page.
---
#276 from Tabo (Oct. 26, '07):
Hi, Mike. Thanks anyway, and I am very pleased to know this section is invaluable for you !
(Your family name sounds Japanese. 1/4 Japanese ? . . . better than none!)
---
#277 from Vinicius Barros BRAZIL (Nov. 19, '07): joe pass !! a partir do momento que conheci o som de joe !!! minha vida mudou !!vi que eu nao sabia era nada !! comprei todos os albuns da serie virtuoso !! o cara e de mais !!!
foi uma pena que ja se foi !!! JOE PASS O ÚNICO !! thanks JOE !!!!
---
#278 from Barry Branco (Nov. 20, '07):
Do you know what amp Joe used on the CD recorded in Japan Itnercontinental. thanks and what a great site for all of us to enjoy.
---
#279 from Tabo (Nov. 20, '07):
Hi, Vinicius. I can't understand Portugal language. You bought all "Virtuoso" albums ? Hope you like this site !
Hi, Barry. "Intercontinental" was recorded in Germany, MPS-Tonstudio/Villingen. Joe used his ES-175D, but I don't know what kind of amp he used at the studio.
---
#280 from Marcel (Dec. 26, '07): My guitar teacher told me that Joe Pass, when he used to be in Germany, always borrowed the equipment (amp or occasionally a guitar) from friends around there ... So I guess if the recordings come from Germany, he was using a Polytone Mini-Brute amp.
---
#281 from Tabo (Dec. 26, '07):
Hi, Marcel, thanks for the great info. Joe lived in Hamburg from circa 1988, so I think your teacher told about that era, maybe . . . not sure though. On article #279, I mentioned Joe's first recording in Germany.
---
#282 from Dave (Jan. 2, '08): Might anyone know if a recording exists of Joe Pass's solo at the Hollywood Bowl Playboy Jazz Festival back in 1982 (I believe). It was a concert with Oscar Peterson & NHO Pederson, and the Herbie Hancock Quintet. Oscar & Herbie played a dual-piano set. But what I REALLY would love is a recording of Joe's solo: it was sublime. Maybe the best thing I ever heard him play...and I saw him play many times and have heard all his albums. THANKS! Please reply to grandcampfriend@yahoo.com
---
#283 from Tabo (Jan. 2, '08):
Hi, Dave. I don't have the recording you mentioned..., but if you get it, I want to have it, too !
---
#284 from Steph Lacas Ouellette (Jan. 6, '08):
Nice website, thanks a lot ! Does anyone know how I can reack MIKE ROSSO, i'm interested in
his transcriptions and lessons with Joe ... The e-mail adress at post #027 is not valid
anymore
---
#285 from Marco Guerra (Jan. 18, '08):
Hi Tabo, do you know Joe's opinion about solid top archtop guitars in comparison to laminated top ones?
What did he think about Benedetto guitars if he ever played one?

Thanks and good music
---
#286 from Tabo (Jan. 18, '08):
Hi Steph, I'm sorry but I don't contact to Mike Rosso in these days. Why don't you try to transcript by your ears ?
Hi Marco. I never heard and read Joe's opinion about "solid top" archtop guitars in comparison to "laminated top" one.
I hope next Joe's opinion helps you . . .
Joe said, "I don't think a good electric sound comes from a good acoustic guitar. You need a guitar that has some kind of laminated wood or whatever it is they use. Wood that's not really good, doesn't resonate. I think the electric jazz guitar sound quality comes from two things, the pick-up itself and the player's technical approach particularly the right hand."
I don't know Joe's opinion on Benedetto guitars, but I know Joe plays Benedetto Cremona at '87 NAMM show.
---
#287 from Michael Bersten (Jan. 21, '08): Did Joe ever play a Gibson Johnny Smith on any of his recordings? Did Joe have any connection with Ike Issacs, a guitarist well known in England, who move to Australia and died in 1996?
---
#288 from Tabo (Jan. 21, '08):
Hi, Michael. I don't know what kind of guitar did Joe use for what recordings. I had never imagine to ask Joe, 'cause I didn't care about the instrument, itself.
But I know Joe and Ike were good friends. I'm not sure when Ike died, though.
(Jan 22, '08)····Actually, I'm not sure that they were good freiend or not. I only know that Joe come to Ike's house and play together. And I suppose that Joe had never used Johnny Smith guitar on his recordings.
---
#289 from Juan Jos (Feb. 17, '08): Does anyone know if the concert Joe Pass gave in Argentina was recorded? I can't remember the exact date but was in october or november 1993 in a place called Oliverio, in Buenos Aires. Thanks.
Great site.
---
#290 from Tabo (Feb. 17, '08):
Hi, Juan. Is "Teatro Municipal Bahia Blanca" the name of the place? where Joe played? There are no official recording in Argentina, but you can find bootleg DVD.(maybe) The bootleg DVD said, "Teatro Municipal Bahia Blanca Argentina 10-12, 1993".
---
#291 from Ben Barron (Feb. 24, '08):
The name of the trio in the photo when joe is 15,is called,and I got this from an interview joe did with andre previn is "the gentlemen of rhythm".I could be wrong but it may very well be.
---
#292 from Tabo (Feb. 25, '08):
Hi, Ben. You look very deep fan of Joe. The photo you mentioned (--->"LookPhoto--->"From the Passalaquas Photo Album") may be "the gentlemen of rhythm". But I think "the gentlemen of rhythm" may be 4 person, bass, rhythm guitar, violin and Joe. . . . not sure though.
---
#293 from Ben Barron (Feb. 26, '08):
The name of the of trio is"The Gentlemen of rhythm" joe spoke of
this trio in a radio interview with Andre Previn.This for the photograph
of Joe with the trio when he is around 15yrs.old
---
#294 from Tabo (Feb. 26, '08):
Hi Ben, you mean you've heard "Andre Previn High Perfomance Show" on radio broadcast and in which Joe spoke "The Gentlen of Ryhthm" was TRIO ? I never heard the radio broadcast (don't have the tape of "High Perfomance Show"). If you have the copy of it, and can send it as mp.3 file, I want to hear it very much !
I know Joe was a memeber of "Mason & His Madcaps" (negro combo) at that time. "Mason & His Madcaps" was trio format. (but the photo is not theirs) I never imagined "The Gentlen of Ryhthm" was trio format.
---
#295 from Robert Rillamas (Jul. 5, '08):
I have an old poster that I bought maybe 17 years ago at a Salvation Army in Arizona signed by a Joe Pass that was apparently given to someone in Hermosa Beach, California. It appears to be a framed poster (Old wood in good condition)titled "Hermosa Beach Jazz" and I am attempting to find out if this old framed poster is an originally signed copy signed by this Joe Pass. Could anyone send me Mr. Pass's signature copy?
---
#296 from Tabo Oishi (Jul. 5, '08):
Hi Robert, do you want to make sure is your signature on the poster real or fake ? If so, please send me the photo of the signature to tabo@g00.itscom.net (my mail address).
---
#297 from Eric Swolgaard (Jul. 31, '08): I was honored to see Joe Pass play twice- 1st time at the 1973 Berkeley Guitar Explosion with fellow great Herb Ellis. A later Guitar Player article described Joe as "chewing off a broken fingernail in between 32nd notes"!
The 2nd time was a couple years later at the Great American Music Hall. Herb was unable to make it so Joe played a solo concert and later held a workshop playing one on one with local jazz guitarists.
The humanity and modesty of the man was as awe-inspiring as his prodigious technique and harmonic brilliance. As the mighty Joe Pass once said-"The name of that tune was...FAST!!"
---
#298 from Tabo (Jul. 31, '08):
Hi, Eric. Thanks for sharing your great memories. "The name of that tune was...FAST!!" sounds really Joe!!
---
#299 from Julio Ponce (Oct. 15, '08): I'm from Mexico.I've been studied some Joe's books and songs.There are so many people on Mexico that love Joe's sound. Thanks.
---
#300 from Darrell Rose (Nov. 26, '08): I'm working on an arrangement of "Blue Moon". I plan to incorporate Joe's walking bass jazz style with Tommy Emmanuel's chick'a boom feel. During my research I've learned how versatile Joe was with his style.
---
#301 from Gustavo Roa (Mar. 10, '09):
Hi just comment something completely obvious, and Joe was to be the best, "Tabo" thanks for having this website, Joe deserves it. greetings from the Canary Islands. Gustavo
---
#302 from Jacqueline Passalacqua Fish (Apr. 1, '09): Greetings, My father just told me about this man and I am now researching, oddly my maiden name is the same.
---
here is a part of Joe Pass Memorial Hall(J.P.M.H.)
If you happened to visit here by searchig something --->
Go to Top Page of J.P.M.H.