---
Recent flying days
---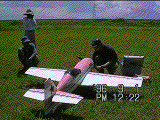 1996/9/1
Second attempt to fly this Sukhoi.

Model: Su26-mx (N26-SU)
Built by A. Kawabata from Ohio R/C kit.
Engine: Komatsu Zenoah-G620PU
Radio: Futaba 1024ZA(twin)
Airscrew: Bolly 21x12




---
1996/9/8
Attended in 13th Futaba model aircraft competition in Kyushu.
Entry class: expert. (Futaba original sequence)
Take off---humpty bump with 4/4 point roll ascending, 1 positive snap roll descending---stall turn with half roll ascending, inverted exit---1 slow roll, inverted entry and exit---tail slide (wheel down) with half rolls ascending and descending---45 degrees ascend with 1-1/2 snap roll---2 negative spin---8/8 point roll---free style aerobatic---landing

I selected Romcevak for free style aerobatic.
Results: 9th in 16 entrants.
I'm very satisfied with this result competed with very special fyiers appearing in Japan F3A aerobatics championship.


---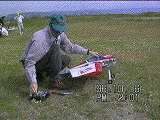 Morris SpinsationTM.
It really does 540degrees stall turn!
I demonstrated her at "Kyushu R/C Scale Competion" on Oct 20, 1996. I partcipated in KRCA Scale competition with my Sukhoi.




---
Other R/C sites
Return to AK's Hobby Life