The gorgeous town-ownership hot spring in deep of the mounntain.



Outline

Niharu-mura is a village in the north of the Gunma prefecture. The hot spring which Niharu-mura built is the Okudaira hot spring Yuzin-kan. It is in the entrance of the Kawate forest park of Niharu-mura.
Since it has separated from the national highway line of No. 17 there, a car outside the prefecture seldom comes. It is comparatively vacant and is the complete hot spring institution. The building of Yuzin-kan is the tiled roof which melted into scenery, and is quite large-scale.

We used this hot spring for skiing return from before. This time, we came here in late autumn. Since twilight was early, the photograph is the scenery of night.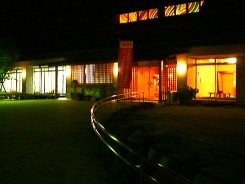 Location

Gunma prefecture Tone-gun Niharu-mura Kami-irisugawa 378
TEL:0278-64-2626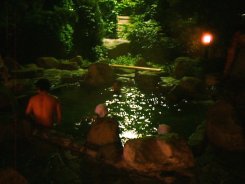 Impression

A Jacuzzi, a cascade bath, and a sauna are situated in the large bathroom of Yuzin-kan. An open-air bath is situated in the outdoors. Every baths seem to be the baths of a high-class hotel. Since the open-air bath is an exactly good temperature, I am soaking calmly. Many stars were visible when I looked up at the night sky from the open-air bath. The Milky Way will also be seen if there is no light of this building.

It is widely bright in the rest room. "Kaminari-ju" which is the fly of a catfish is the noted product here. There is other nice food, such as hand-made buckwheat noodles. It is the hot spring of clean and good touch.
We recommend you.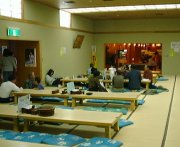 Visit day: November 1998

Business


Hours
10:00 - 21:00
(Apr. - Oct.)
10:00 - 20:00
(Nov. -Mar.)
Closure day
2nd, 4th Thursday
Business is done at the time of a public holiday.
The charge
500 yen
(2 hours)
700 yen
(4 hours)
1000 yen
(one day)

Access

Get down from Tsukiyono IC of the Kan-etsu highway, and go the national highway line of No. 17 north. Turn left by the signal of a Yujuku hot spring, and progress a prefectural-road Nakanojo Yugawara line. You need to run about 7km from the signal. You should find the hot spring to the opposite shore of the Sugawa river. Since the signboard of the place of a signal is not conspicuous, be careful.
A parking lot is large.