Public hot spring of a post town

Outline

The post town of the Mikuni highway (national highway 17) which connects Niigata to Gunma is a Mitsumata colony. Although a Kagura-Mitsumata skiing area is here and it was crowded with the skiing visitor, there was no hot spring. The municipal hot spring made recently is Kaido-no-yu. The building is the style of a log house and is still new.

There, it is an inner bath and an open-air bath. Mountains can be overlooked from the open-air bath. The nature of the water of a hot spring is a weak alkalinity high- temperature spring. The temperature of the fountainhead is 46.3 centigrades. There are also a rest space and a dining- room.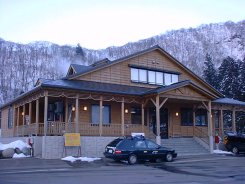 Location

Niigata prefecture Minamiuonuma-gun Yuzawa-cho Mitsumata 1021
TEL:0257-89-9229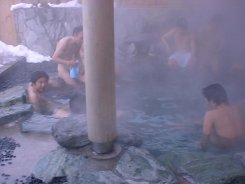 Special report from Kumako

If I go into inside through the curtain of a bathroom, there is an undressing room like a public bath and it is in confusion by young ladies. A bathroom has about 20 stools and hot water is overflowing from the big bathtab. The nature of the water of a hot spring is tasteless no odor in weak alkalinity. The water can be drunk. Water of a bath is somewhat hotter. There is an open-air bath with a roof. Since snow has lain in front of it, scenery is not in sight. However, I am very pleasant.

There are many young snow borders here. They monopolize makeup desks, in order to make up by setting hair after bathing. Probably, surely smart sweethearts are waiting outside. Since my sweet- heart was waiting, I should make up my face. However, I did not do so. It is never omission. The reason is that my face without make-up is probably the most beautiful. (??)

Business
| | |
| --- | --- |
| Business hours | 7:00-21:00 |
| Closure day | Tuesday |
| Charge | 500 yen |

Access

Get down by Tsukiyono IC of the Kan-etsu expressway, and go in the direction of Niigata by the national highway No. 17. Cross the Mikuni peak. It is in the place which passed the Kagura-Mitsumata skiing area.
In the case of another route, get down by Echigoyuzawa IC and go a No. 17 line in the direction of Tsukiyono from the Yuzawa-cho. It is in the place which passed Sekirei-no-yu.
A parking lot is about 40 sets.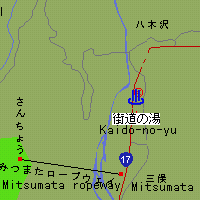 Visit Day: 1999 January



Tashiro skiing area

Panorama photo of Tashiro skiing area.