A hot spring famous for the hotel to which a raccoon dog comes

Outline

A Yunokoya hot spring is situated in the very back ground of the Minakami hot spring. It is in the western side of the Shibutu Mt. in Oze, and is in the shore of the Yunokoya river of a Naramata-riv. branch. Although Dogenso is in a mountain, it is a modernistic big hotel. The wild raccoon dog is fed there. The prefectural road connects Katashina to Minakami for sight-seeing, and a large- sized sight-seeing bus passes along it frequently. Many organized visitors come also to Dogenso.

Although Dogenso is situated in the opposite shore of a Yunokoya river, a day's trip hot spring is in the drive-in side along a prefectural road. Bathrooms are in the first floor of a drive-in, and the open-air baths are situated in another ridge. The charge is paid at a drive-in.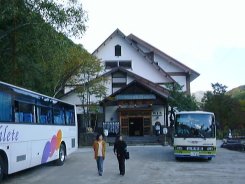 Location

Tone Fujiwara Yunokoya, Gunma prefectur
TEL:0278-75-2211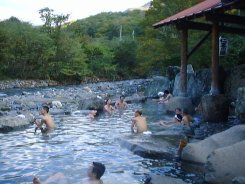 Impression

The open-air baths are situated in the shore of a Yunokoya river, and are quite large. The view of mountains is wonderful. A man's open-air bath seems to connect to the river. The nature of the water of a hot spring is an alkaline simple hot spring. The mixeding- bathing open-air bath by the side of a main building can also be used at the same charge. There is a rest room in the second floor of the drive-in.

There are many people who drop in at the occasion of Okutone sight-seeing. The sight-seeing bus carried the visitor of an open-air bath also on the day which we visited. We were imagining that it was the rustic place there. However, unlike anticipation, it was the fairly modernistic tourist resort.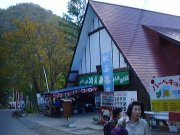 Drive-in

Visit Day: 1998 October

Business
| | |
| --- | --- |
| Business hours | 9:00-19:00 |
| Closure day | Having no holiday always |
| Charge | 1000 yen |

Access

Get down by Minakami IC of the Kan-etsu expressway, and go the national highway of No. 291 north. Turn to the right in front of Ohana skiing area, and go to the prefectural road which continues to Katashina. The hot spring exists near the Naramata dam of the place of about 25km distance from interchange.
You can park a car at the parking lot of the drive-in. The parking lot is large enough.