Rustic mixed bathing hot spring in Oku-aizu

Outline

The public bathhouse in the opposite side of the river of Yunohana colony is Ishi-yu. A big rock is in the shore of a Yumata river, the stone in front of the rock is shaven, and it is made the bathtab. A part of wall of the hot spring hut is on Ooiwa. A bathtab is the width of about 3 tatami mats. It is mixed bathing.

I asked the local old man about Ishi-yu. He taught me "Go down-stream by three bridges." The 3rd bridge is a big new bridge. There is not Ishi-yu. I asked nearby a man about Ishi-yu. He answered "You need to go more." When we arrive at Ishi-yu, we have noticed that there is a small bridge. We understand at last. The old man forgot the new bridge. If there was no new bridge, surely the hot spring was situated in the 3rd bridge.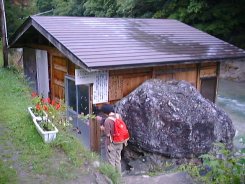 Location

Fukushima prefecture Minamiaizu-gun Iwadate- mura Yunohana 529
TEL:0241-78-2564
(Iwadate-mura sight-seeing association)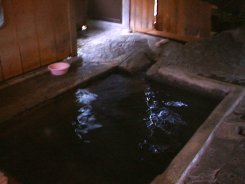 Impression

Water of Ishi-yu is transparent and is hot. A big rock is in the face of us. There is a household Shinto altar in an opposite side. The local old man was the preceding visitor. We the husband and wife were calmly soaked in hot water.

The sound of a river can be heard at a quiet place. It is rather good. The flow of a river is not visible from our bathtab. The nature of the water of a hot spring is a chloride spring, and is effective against neuralgia etc.

Since it was just before the prohibition-of-fishing season, there were many people who fish. I think that fishing may also be happy-go-lucky.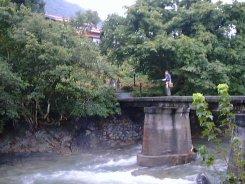 Visit Day: 1998 September

Business
Business hours
9:00-20:00
The other time is only for village people.
Closure day
Having no holiday
Charge
200 yen

Access

Get down by Nishinasuno Shiobara IC of a Tohoku expressway, and progress with the national highway of No. 400, No. 121, and No. 352. If you find sighnbord to Yunohana hot spring near the Iwadate village office, turn left. Be along a Yumata river and progress about 4km. Turn to the right in Yunohana colony, and cross Yumata river. If you find a hotel, go down to the shore of the river.
There is no parking lot. You cannot but park a car out of a road.