The symbol of the rustic hot spring town

Outline

The Yamada hot spring is an old hot spring town which is separated from Obuse about 15km, and is in a mountain. Ohyu is a public bathhouse which exists in the center of a small hot spring town. Ohyu is surrounded by the hotel and the souvenir store. It seems to be the set of an old movie.

The building of Ohyu was rebuilt in 1988. Seemingly the building is a bathhouse with a splendid roof using wood in plenty. The ingredient of hot water is quite strong.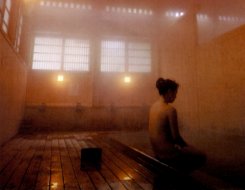 Since steam was deep, I was not able to take a photograph. This photograph is a photograph of a pamphlet.



Location

The Nagano prefecture Kamitakai-gun Takayama-mura Yamada-onsen
TEL:026-242-2314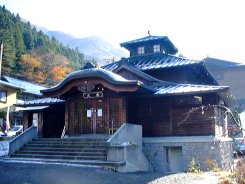 Impression

The tiket vending machine is used also in such places. We buy tickets with it and hand a receptionist. Since it is cold in the outdoors, the inside of a bathroom has very deep steam. All are careless with steam. The floor of a bathroom, the bathtab, and the wall are built all with wood. The bathtab is long and slender, and eight persons can soak in a line. There is no faucet which takes out hot water. Instead, there is "Yumon" which used the board as the stopcock. Move a board. Then, hot water flows.

The color of hot water is transparent and is quite hot.
The smell of hot water seems to be sulfur. It resembles the smell of creosote in a school. The nature of the water of a hot spring is a calcium sodium chloride spring. It is said that it is effective against neuralgia, a joint ache, and hemorrhoids.

The Yamada hot spring skiing area in which can do tour skiing is situated in near.

Business
Business hours
6:00 - 22:00 (Apr. to Oct.)
7:00-21:00 (Nov. to Mar.)
Closure day
the 3rd Monday
Charge
300 yen

Access

Get down from Suzaka Nagano east IC of the Nagano expressway, and go the national highway line of No. 403 north. If you go into the Obuse street, turn Kamimachi crossing to the right, and go the prefectural road No. 66 to west. There is a Yamada hot spring in the center of a hot spring town. There is no parking lot near the Ohyu.
A parking lot is situated in the entrance of a hot spring town.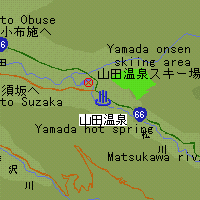 Visit Day: 1998 October