A big spa house of municipal management

Outline

Yaita known in the name of interchange is the town of the agriculture in the north in Utsunomiya. Yaita-shi Shiro-no-yu hot spring is situated in the western side of the central town of Yaita-shi. The hot spring is situated in a country zone. It is the public hot spring built by the governmental subsidy.

Since equipment is substantial, it is popular. Buildings are the gable roofs of the Japanese style, and have two places, No. 1 and No. 2. The No. 1 hall with open-air baths was built first. The No. 2 hall of the kurhaus style was extended. Therefore, it is the institution with two bathrooms.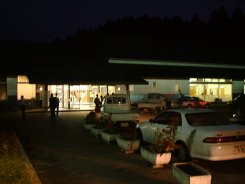 Open-air baths and main bathrooms are situated in No. 1 hall, and bubble baths, lying baths, cascade baths, and saunas are situated in a No. 2 hall. The entrance is situated in No. 2 hall.



Location

Tochigi prefecture Yaita-shi Kawasaki Sori-machi 295
TEL:0287-44-1010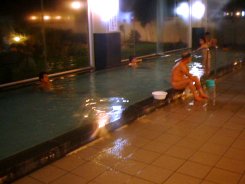 Impression

Since we visited at night, we were not able to take a photograph well. However, probably, you understand that this is big institution. The open-air bath of No. 1 hall is large.

The water is a little hotter. I hear the voice of an insect, looked at the moon and have been happy-go-lucky. The nature of the water of a hot spring is a sodium- chloride sulphate spring (weak alkali high- temperature spring), and there is neither a color nor a smell. The temperature of the fountainhead is 73.3 centigrades.

Rest rooms are in each of No. 1 hall and No. 2 hall and are large. Although there is a dining-room, since it is the dining-room level of the service area of a express- way, we cannot not much recommend you. A charge is cheap although it is large equipment. It is a good place although relaxed with your family.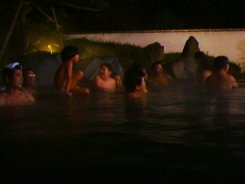 Business
Business hours
9:00-21:00
Closure day
The 1st, the 3rd Monday
It is the next day at the time of a holiday.
Charge
400 yen

Access

Get down from a northeast expressway and Yaita IC, and go the national highway No. 4 north. If the Yaita street approaches, go into the national highway No. 461, and go to west. Since there is a sign of Shiro-no-yu when a city office is passed, turn left there. Progress to as a guidance sign from it.
A parking lot is large.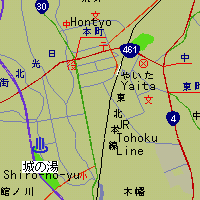 Visit Day: 1998 October