Public-bathhouse between quiet mountains

Outline

Tokusa hot spring is famous for the open-air bath at the shore of the Nishine river. In order to be calmly soaked in a hot spring, Hiroses-no-yu which is a public bathhouse is good. Hirose-no-yu is situated in the entrance of a Tokusa community. You can find it immediately.

The building is wooden and has man and woman's bathrooms. By reception desk, a local old woman welcomes with smile.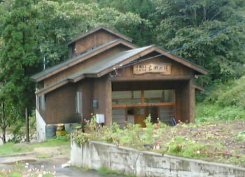 Location

Fukushima prefecture Minamiaizu-gun Tateiwa- mura Tokusa hot spring
TEL:0241-78-2546
(The Tateiwa-mura sight-seeing association)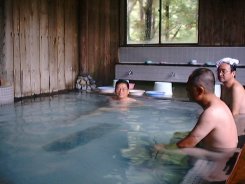 Impression

The reverse side of Hirose- no-yu is woods, and looks good from the window of bathrooms. It is a pleasant view. The washing place of the bathroom is narrow. There is a big bathtub in the center of the bathroom. This is a country typical public bathhouse. Water of the hot spring is a little hot, and warms up in my body. When I asked the preceding visitor photography, he made it lighthearted. I felt the friendship of the people who like a hot spring.

Water of this hot spring is slightly white. This hot spring was drilled in 1985. The nature of the water of a hot spring is an alkaline simple hot spring. Water is heated slightly. This is a quiet public bathhouse. I want to come here again.

Visit Day: 1998 September

Business
Business hours
11:00-21:00 (weekday)
7:00-21:00 (weekend, public holiday)
Closure day
Having no holiday
Charge
300 yen

Access

Get down by Nishinasuno Shiobara IC of Tohoku expressway, change with the national highway of No. 400, No. 121, and No. 352, and progress in the direction of Oze. Pass an Iwadate village office 5km, and if you find guidance to a Tokusa hot spring, turn left. Be along the Nishine river and progress about 8km.
Since there is no parking lot, park your car out of a road.