The hot spring which you can enjoy open-air baths

Outline

It is said that the Hakone Yumoto is a very old hot-springs resort. Since many day's trip hot springs were made now, it is a popular hot spring town. Tenzan is situated in the very bottom of the Hakone Yumoto hot spring.

Since it is far from the Hakone Yumoto station, 1 or 2 shuttle buses have started in 1 hour. It is better to come by the car. If a weekend comes, since car parking space will fill, entrance of cars is sometimes restricted.

Tenzan is a building of the Japanese style. Although I thought that it had a calm atmosphere, since it is popular too much, it is loud with regrettable.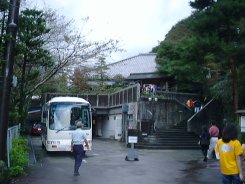 Location

Kanagawa prefecture Ashigarashimo-gun Hakone-cho Yumoto-tyaya 208
TEL:0460-6-4126

Visit Day: 1998 October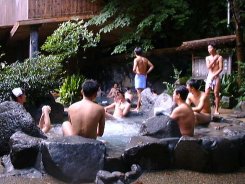 Impression

There are four open-air baths and you can enjoy various baths. There is a main bath, open-air baths, a Jacuzzi, a cascade bath, and a steam bath. Many baths are situated in the site which is not so large.

Since the day which we visited had the bad weather under the influence of a typhoon, we thought that it was probably vacant there. However, it was crowded with many people (young people's group). Rather than I enjoy emotion, I felt like playing in the leisure center.
There were no shower and shampoo for washing my body.

It becomes famous too much, and it becomes crowded too much. It may be the good example "To much is as bad as too little."
With regrettable, I have not been happy-go-lucky.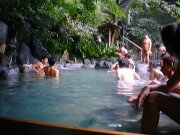 Business
Business hours
9:00-23:00
reception- desk close 22:00
Closure day
Having no holiday
Charge
900 yen
a coin locker charge (100 yen) and a shoes-box charge (50 yen)

Access

Go by the Odawara Atsugi road to Odawara IC from Tomei expressway Atsugi IC. Go on the national highway of No. 1. Turn the Sanmai-basi crossing of the Hakone Yumoto left, and go into the old road. Since you arrive at an Oku-yumoto bus stop by 3km from a crossing, find guidance of Tenzan.
A car parking space is large.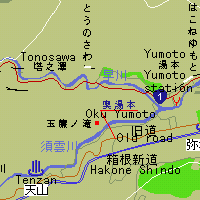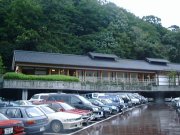 Adjoining day's trip hot spring "Ikkyu"