The hot spring of the waterfall of the Yoro ravine Kurimata

Outline

Chiba prefecture is no ravine not much. Yoro ravine is one of a few ravines, and is a tourist resort in Chiba prefecture. Takimien is near the waterfall of the Kurimata in the upstream of Yoro ravine. Although it is a splendid hotel here, it is "a secret hot spring hotel." A day's trip bathing visitor also accepts.

When rebuilding the hotel in Showa 57, the fossil was found by groundwork. From this, the master of a hotel bowled in quest of ancient water. The hot spring came out at last. In Takimien, the main bathroom is called "fossil bath."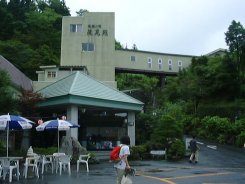 Location

On the Chiba prefecture Ootaki-cho Takinoue
TEL:0470-85-0101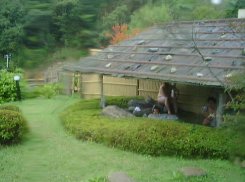 Impression

The open-air bath is situated in heights, and a view is good there. There is a roof made from the log and atmosphere is also good. Hot water is made a little hotter. The hot spring of the Chiba prefecture has much water of black brown. However, it is clear here.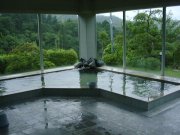 A main bath is widely clean and its view is good also here. A dining-room is also near a front.

A charge is higher. After walking along the Yoro ravine, we took the bath here. We were very pleasant.

Visit Day: 1998 July

Business
Business hours
9:00-15:00
Closure day
Having no holiday
Charge
1200 yen
With a towel

Access

Get down by Ichihara IC of an Higasi-Kanto express- way, and go the national highway of No. 297 south. Go in Ushiku into the prefectural-road of No. 170, and pass over Yoro ravine. Furthermore, progress toward the upstream. Takimien is situated in the waterfall entrance of Kurimata.
A car parking space is a charge. The hot spring visitor is 2 hour no charge.