An open-air bath to see the sea in Nishi Izu

Outline
It seems that an open-air bath was built by filling the seaside pool . Two old pools are still left. A bathtub is completely in the open air though an undressing place is a building made of the concrete.

There is a reception of the hot spring in a place to come down to the hot spring from the road, and so we pay a charge.
We pass through the side of the old pool to go to the undressing place.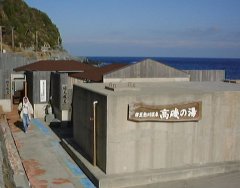 Location

Atagawa-onsen Higashi-Izu-cho Kamo-gun
Shizuoka-ken
TEL:0557-23-1505


Visit day : February, 1998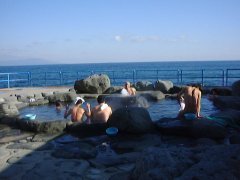 Impression

The open-air bath is in the seashore, and wave spray rises to it from the other side side of the rail. There is a big stone in the center of the bathtub, and hot water flow from there.

We can taste the best feeling of freedom when we are soaked in the hot water as for us because the Pacific Ocean can be seen.
This is a pleasant open-air bath.

The water of the hot spring is very hot. When we are soaked quietly, it feels that our skin is painful. We cool a body with sitting down on the rock and a sea breeze blowing after a body becomes hot in the hot spring. We feel very refreshing by this.

When we came, at least 10 people were making themselves at home in the hot spring. A visitor's age is comparatively low unlike the usual hot spring.

Business
| | |
| --- | --- |
| Business hours | 9:00 - 17:00 |
| Closure day | Open throughout the year |
| Charge | 500 yen |

Access
Go south along Route 135 on the east side of the Izu Peninsula. Turn from Route 135, and come down the urgent slope in Atagawa- onsen direction. Go through the way of the hot spring town, and go down to the bottom coastline. Turn to the left, and proceed along the breakwater. There is Takaiso-no-yu. Be careful because a place to pass through the hot spring town is hard to understand though there is a guidance sign in several places.
A car can be parked only by the side of the road.