The national hot spring of Hakkoda

Outline

Sukayu is a famous hot spring in the Hakkoda mountain of the south in Aomori. The name has become known widely all over the country as the base of mountain skiing, and a complete watering place. Boast of this hotel was chosen as the national hot spring of No. 1 in 1954.

Although a hot spring is an one house hotel, it is huge. Many buildings connect. Discovery of this hot spring was 800 years ago. In the Edo period, the Tsugaru han was operating this directly. Although this was closed in winter, from 1982, the snow is removed from the road and it will do business always.

A very big hinoki bath (Netu-no-yu) is famous. There are undressing rooms independently by the male and the lady. However, the inside of a bathroom is the mixed bathing.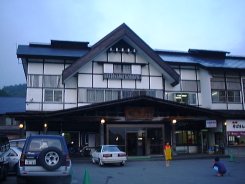 Location

Hakkoda, Aomori-shi, Aomori-ken
TEL:0177-38-6400

Visit Day: 1998 August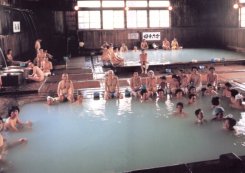 The photo from the pamphlet



Impression

It is the large hot spring of a mixed bathing. Netu-no-yu (a main bath) is decided to the male place and the female place. Ladies are soaked in the right of a bath. Males are soaked in the left. Since hot water is cloudy, ladies are soaking without caring about males. (Here swimming suit prohibition) Hot water is very sour. The temperature of Netu-no-yu is high.

This side of the photograph is Netu-no-yu. The other side is Shibu-rokubu- no-yu, the left is Rei-no-yu, and the right is a cascade bath (Shika-no-yu). The recipe of a hot-spring cure is as follows. Netu-no-yu 5 minutes, and Shibu-rokubu- no-yu 5 minutes, and Rei-no-yu 3 minutes, and cascade-bath 3 minutes, and Netu-no-yu 3 minutes

Tama-no-yu can also use ladies. There is a female time (from 23:00 to 1 hour) in main bathroom.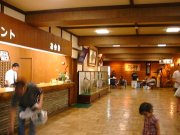 A modernistic front
Modernization progresses to the rustic watering place.

Business
Business hours
7:00-21:00
Tama-no-yu
9:00-17:00
Closure day
Having no holiday
Charge
420 yen
720 yen
With rest (8:00 - 15:00)

Access

Get down from a Tohoku expressway and Kuroishi IC, and go on the national highway No. 102 to east. Change to the national highway No. 394. Turn to the right at a national highway No. 103 crossing at a Jyogakura hot spring. Progress 2km. Then, you arrive at Sukayu. From Kuroishi IC about 20km When you leave Aomori-shi, go the national highway No. 103 south.
A car parking space is large.